The images and text used on this and all other USM web pages are the copyrighted property
of USM Inc. Those images and the text may be used by others ONLY AFTER completion
of a formal international licensing agreement and payment of a licensing fee!

---
NAZI FANFARE TRUMPET IN BRASS - ORIGINAL!
AN AUTHENTIC CHILD'S
NAZI FANFARE TRUMPET
WITH RINGS FOR A BANNER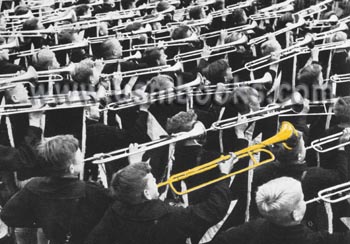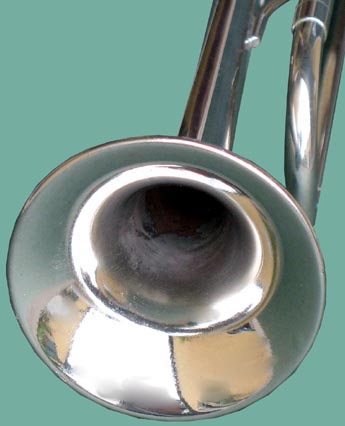 This is a genuine Nazi period paramilitary or military organization style fanfare trumpet approximately 14 inches long. Attached to the bottom of the tube in which the mouthpiece is inserted are two small brass rings spaced 125 mm (about 4-7/8 inches) apart for attaching a miniature embroidered banner like the large ones shown in the accompanying black& white photographs.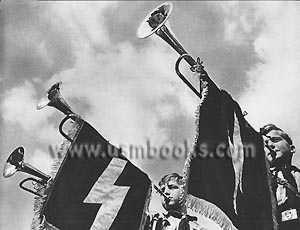 Full-size fanfare trumpets of this sort were commonly used by the SS, SA, HJ, RAD, Army, Luftwaffe, and other Nazi military and paramilitary organizations during the Third Reich of Adolf Hitler. The fanfare trumpet we offer here is identical to the large ones of the period and in the ad below for Hitler Youth regalia, except that this one is one-third the size of a large one.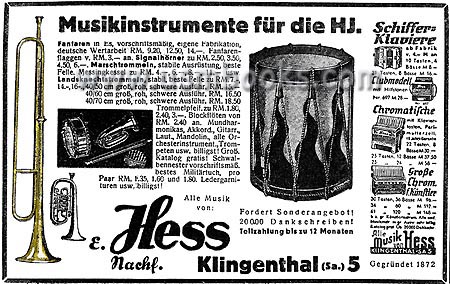 This fanfare trumpet is extremely well made of brass and nickel plated, just like the full-size instrument.
Like most very high quality German toys of the Third Reich period, this one was almost as much trouble to make as the full-size version. It is made of at least 16 different pieces of heavy gauge metal all assembled into a perfect instrument with a tiny, authentic mouthpiece. The trumpet can be played!
This original Nazi era fanfare trumpet is
**SOLD**.
We are happy to ship abroad at additional cost. Please inquire.
This USM Books website is Copyright © 2010 by USM, Inc., and the text and images on it are fully protected by international copyright law. It is therefore, illegal for anyone to take any of the material found here and use it for their own purposes without our written permission, irrespective of any excuse they may feel they have for doing so.