KdF VACATION TRIP TO TRIER ENTRANCE TICKET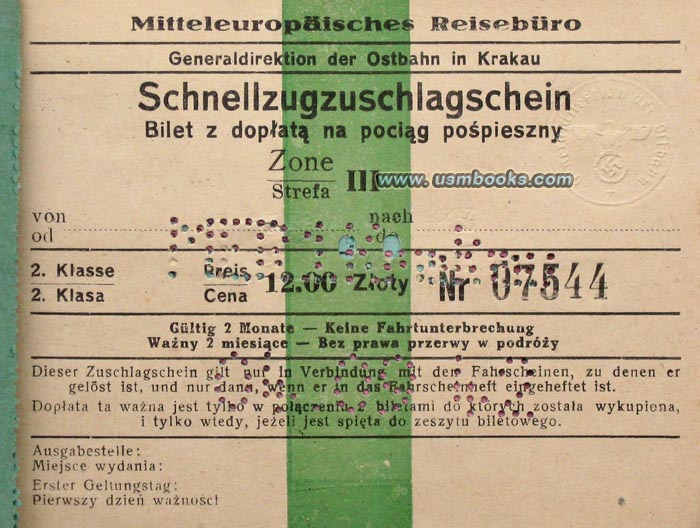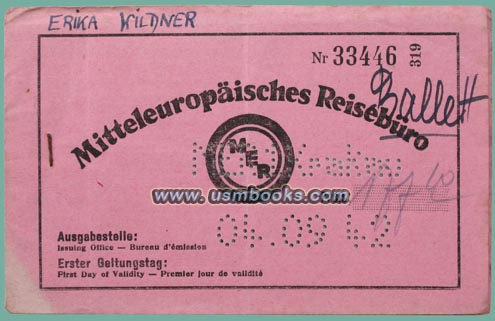 1942 NAZI TRAVEL AGENCY TRAIN VOUCHERS
This is an interesting original Third Reich travel souvenir, a 3-1/2 x 5-3/8 inch booklet containing vouchers for train travel to Poland.
It is voucher booklet number 33446 issued on 4 September 1942 by the Mitteleuropäisches Reisebüro or the Central European Travel Agency to a woman called Erika Wildner.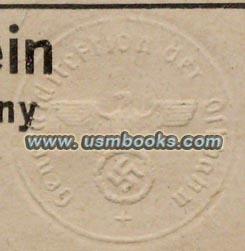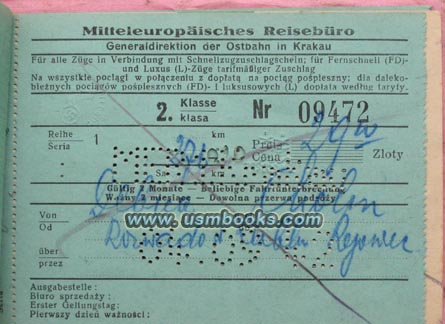 The blue vouchers were used by Ms. Wildner for travel to Reischof (now called Rzeszow), Lemberg, Debrica, Cholm, Tschenstochau (now called Czestochowa) but she never used the three Nazi eagle and swastika embossed Schnellzugzuschlagschein vouchers (shown above) that would have allowed her to take a more direct train to her destinations.

In true German fashion, the booklet contains detailed rules, regulations and instructions on the use of these train ticket coupons in German, French and English.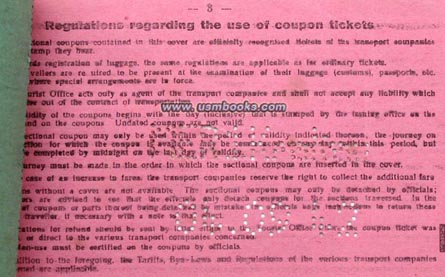 This rare piece of Nazi German ephemera is used condition, exactly as shown.
Offered for sale for
$21.50
delivered by 1st Class Mail in the USA.
RARE TICKET TO THE NAZI WHW CHARITY RALLY OPENED BY HITLER
AT THE DEUTSCHLANDHALLE IN BERLIN 5 OCTOBER 1937
This is a 100% original 4-¼ x 6 inch entrance ticket to the opening of the 1937/38 Winterhilfswerkes des Deutschen Volkes in the huge Deutschlandhalle in Berlin on Tuesday 5 October 1937 at 8 pm. This ticket was for seat 1011 in row 40 in Area Left.

This huge event starting the 1937/38 WHW charity 'season' was officially opened by Führer und Reichskanzler Adolf Hitler, after Propaganda Minister Joseph Goebbels had announced the official results of the 1936/37 WHW charity collections. We have never seen another ticket to this event.
We personally are very much attracted to old Nazi ephemera like this piece, a ticket to a very important event, which was never intended to be saved after it was used.
Note that the lower left corner was cut off by the ticket taker when the owner entered the Deutschlandhalle. Stained condition exactly as shown. $50.00 by 1st Class Mail in the USA.
1939 KDF DAY TRIP TICKET BERCHTESGADEN - KÖNIGSSEE
This is an original Third Reich voucher for a bus outing organized by the NS-Gemeinschaft Kraft durch Freude of Gau Oberdonau for their trip number 14c called Berchtesgaden-Königssee. The one-sided ticket has the beautiful alpine route on it: Ebensee - Bad Ischl - Salzburg - Berchtesgaden - Königssee - Hallein - Mondsee - Vöcklabruck - Gmunden - Ebensee.

This 3-1/8 x 4 inch Gutschein has the date 7 July 1939 stamped on it and the back has a handwritten addition, maybe for lunch taken en route.
Absolutely original to the Third Reich period in Germany, condition as shown. $23.50 by 1st Class Mail in the USA.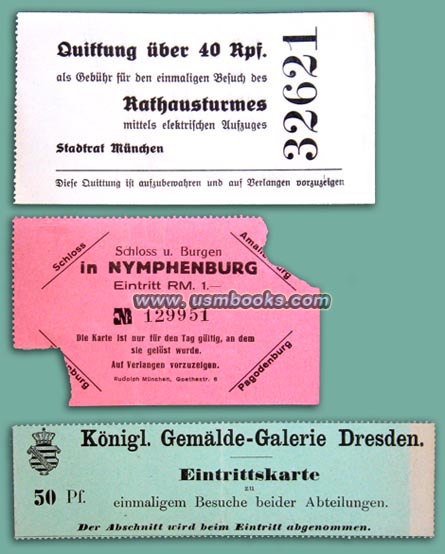 NAZI ERA MUSEUM ENTRANCE TICKETS MUNICH AND DRESDEN
This lot consists of three original Nazi era entrance tickets to museums that are still tourist attractions today, the entrance price is just a little higher...

The tickets are for visiting Nymphenburg Palace on the outskirts of Munich, the famous Rathaus or City Hall tower (with electric elevator!) in downtown Munich and the worldfamous Royal Painting Gallery in Dresden.

Condition as shown left and offered for sale for $9.50 delivered by 1st Class Mail in the USA.
DAF EVENT ENTRANCE TICKET
This is an original Third Reich ticket that was used to enter an event sponsored by the KdF (Strength through Joy) division of the DAF or Deutsche Arbeitsfront in Gau Niederdonau. The original owner paid 40 Pfennig to attend.

Condition exactly as shown left. Black back.
$16.50 delivered by 1st Class Mail in the USA.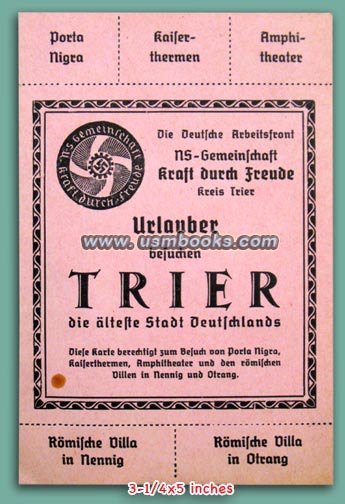 The Third Reich Kraft durch Freude or Strength through Joy organization was part of the Deutsche Arbeitsfront (DAF or German Labor Front). One of the many things the organization did for German laborers was to organize trips, holidays and recreation for millions of German workers, as they believed travel should not only be for wealthier Germans. This 3-¼ x 5 inch ticket was meant to be used by a KdF vacationer to see the sights in Germany's oldest city, Trier. Never used, condition exactly as shown.

$16.50 delivered by 1st Class Mail in the USA.
ORIGINAL TICKET TO A 29 MARCH 1938 SPEECH BY HERMANN GÖRING
At 7 PM on Tuesday 29 March 1938, Generalfeldmarschall und Ministerpräsident Hermann Göring gave a speech at the Eggenberger Waggonfabrik, a railway locomotive and railway car factory near Graz. Note the Pg. for Parteigenosse or Nazi Party member in front of Hermann Göring's name!

This one-sided 3 x 4-¾ inch blue card stock Platzkarte was a ticket for a seat in Hall 2. It is an absolutely original and rare ticket to a Göring speech as most tickets like this were discarded shortly after the actual speech.
This ticket dates to a the historic time of the Anschluß, from the very month that Austria became part of Adolf Hitler's Nazi Germany! The Eggenberger Waggonfabrik is still in business, under a different name and part of the German Siemens company.

Condition exactly as shown. $55.00 by 1st Class Mail in the USA.
NAZI TICKETS - SPEECHES - TRAVEL - CONCERT - MUSEUMS


The images and the entire text used on this and all other USMBOOKS web pages are the copyrighted property of USM Inc. Those images and the text may be used by others ONLY AFTER completion of a formal international licensing agreement and payment of a licensing fee! It is therefore, illegal for anyone to take any of the material found on USMBOOKS.com and use it for their own purposes without our written permission, irrespective of any excuse they may feel they have for doing so.