The images and the entire text used on this and all other USMBOOKS web pages are the copyrighted property of USM Inc. Those images and the text may be used by others ONLY AFTER completion of a formal international licensing agreement and payment of a licensing fee! It is therefore, illegal for anyone to take any of the material found on USMBOOKS.com and use it for their own purposes without our written permission, irrespective of any excuse they may feel they have for doing so.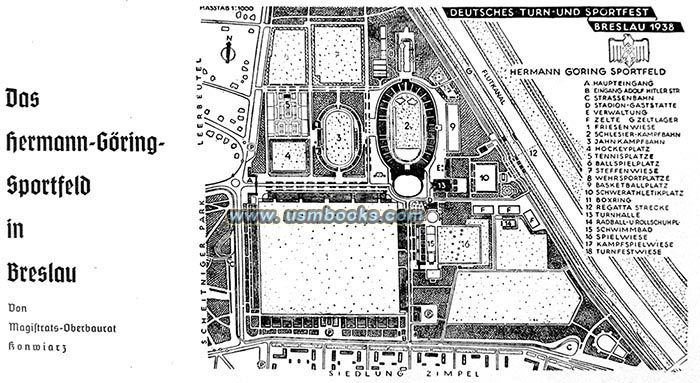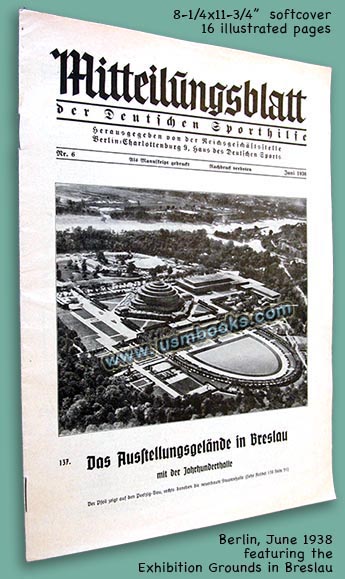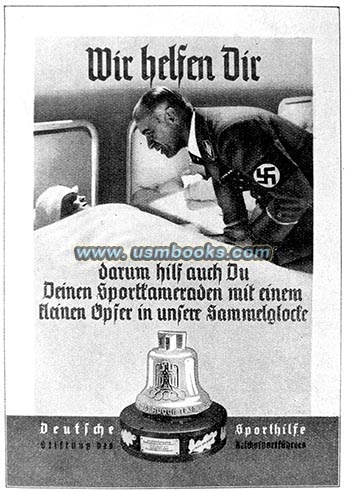 This is issue 6 of the Third Reich sports publication Mitteilungsblatt der deutschen Sporthilfe, the news bulletin of the Deutsche Sporthilfe organization that promoted sports and assisted athletes in Nazi Germany for June 1938. The 8-¼ x 11-¾ inch magazine with 16 illustrated pages was published by the Reichsgeschäftsstelle in the House of German Sport in Berlin.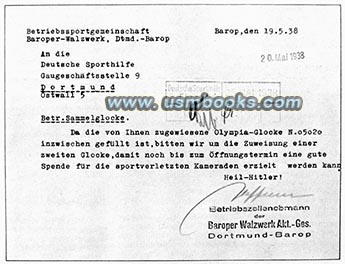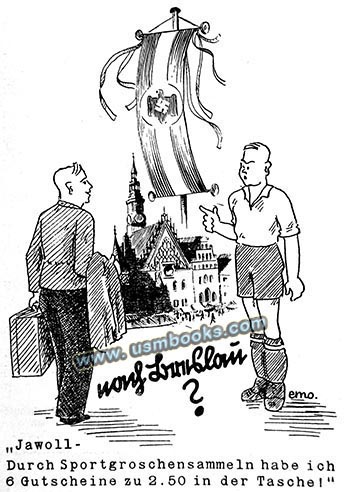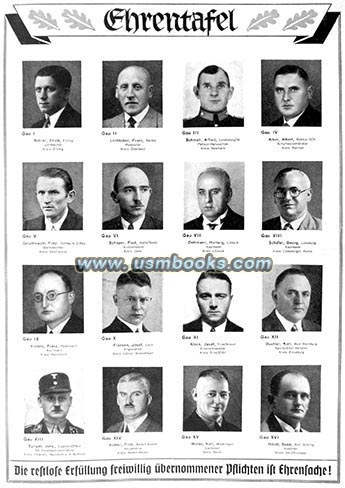 This issue focusses heavily on Breslau in Silesia, Germany (now Wroclaw in Poland). From 24 - 31 July 1938 it would be like an Olympic city as the finest gymnasts and athletes in all of Germany (and ethnic German athletes from other countries all over the world) would compete in dozens of events during the Deutsche Turn- und Sportfest Breslau. The new Hermann-Göring Sportfeld is shown and the modern facilities in the new sport stadium are highlighted, the organization for the approximate 240,000 visiting athletes for 262 competitions is covered, as well as other information worth knowing about the upcoming sport festival.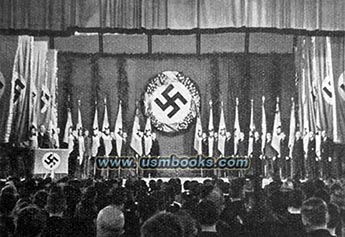 There are also announcements for other coming sport events in different Gaue of Nazi Germany, sport trophy winners from different areas in the Reich, social welfare and insurance options for German athletes, guidelines for applicants of the SA-Kampfspiel und SS-Sportgemeinschaften, new employees of the Deutsche Sporthilfe organization, and photos of members from different Gaue who volunteered for military service in the Wehrmacht.

This June 1938 Mitteilungsblatt der deutschen Sporthilfe also has advertising and prices for sport trophies and the Reichssportblatt, the official magazine of the Reichssportführer (SA-Gruppenführer Hans von Tschammer und Osten) and the Deutsche Reichsbund für Leibesübungen (the German Gymnastics Association which in December of 1938 would become the Nationalsozialistische Reichsbund für Leibesübungen (NSRL or National Socialist Gymnastics Association).

This 77+ year old Nazi magazine is complete and in very nice used condition. Very rare!
This June 1938 Deutsche Sporthilfe organization news magazine is
**SOLD** .
• IF you prefer Priority Mail shipping with USPS Tracking add $6.50.
• IF you wish to purchase highly recommended, but optional insurance, add $2.95.
• We will be happy to ship abroad at additional cost. Please inquire.
ORIGINAL JUNE 1938 NAZI SPORT ASSOCIATION MAGAZINE
- HEAVILY ILLUSTRATED
THE RARE ORIGINAL HEAVILY ILLUSTRATED MITTEILUNGSBLATT DER DEUTSCHEN SPORTHILFE FOR JUNE 1938