The images and the entire text used on this and all other USMBOOKS web pages are the copyrighted property of USM Inc. Those images and the text may be used by others ONLY AFTER completion of a formal international licensing agreement and payment of a licensing fee! It is therefore, illegal for anyone to take any of the material found on USMBOOKS.com and use it for their own purposes without our written permission, irrespective of any excuse they may feel they have for doing so.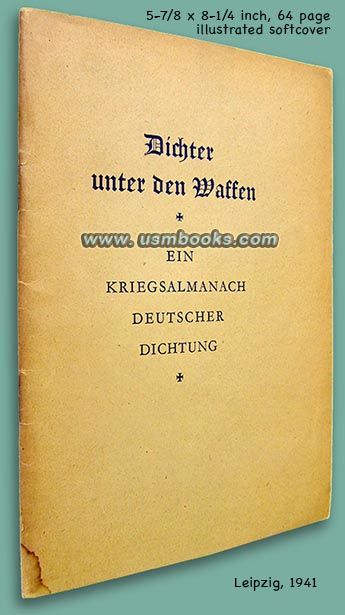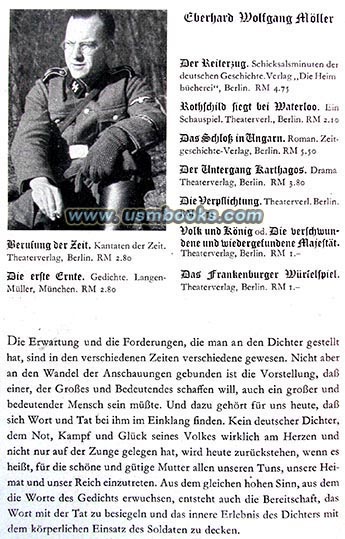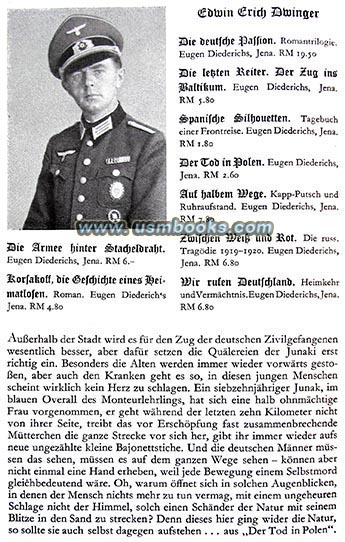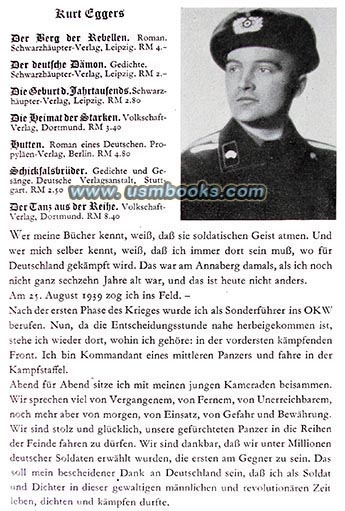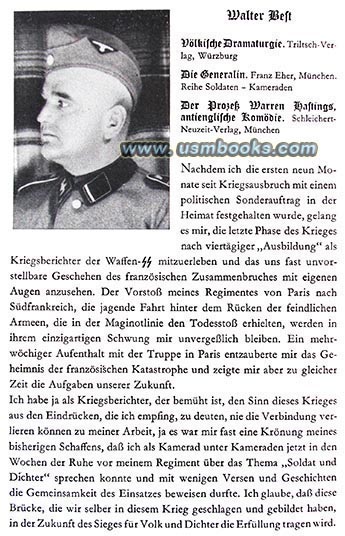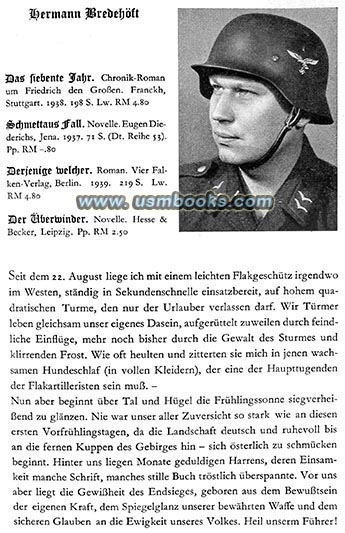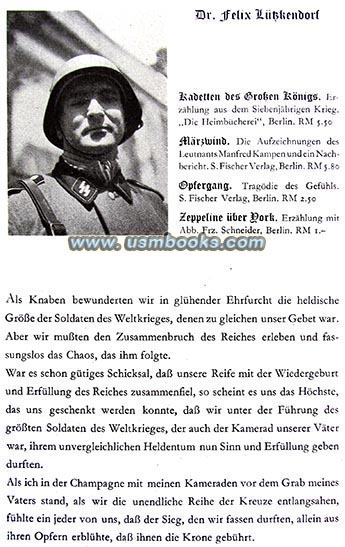 Dichter unter den Waffen (Authors in the Service) is a 5-7/8 x 8-1/4 inch, 64 page softcover wartime almanac of German authors at war published in 1941. It was compiled by Dr. Heinz Riecke of the Reichsministerium für Volksaufklärung und Propaganda, the Nazi Propaganda Ministry of Dr. Joseph Goebbels.
The book contains work by regular soldiers but also by well-known people such as Kurt Eggers (shown in his Panzer uniform, in 1943 he died in a tank regiment on the Eastern Front), Wulf Bley, Kilian Koll (pseudonym for Walter Julius Bloem, a member of the SS), Dr. Felix Lützkendorf (LSSAH War Correspondent), Eberhard Wolfgang Möller (Theater Critic for the Nazi Propaganda Ministry), Heinz Schwitzke, Kurt Ziefel (shown with Totenkopf insignia), Edwin Erich Dwinger (SS member and recipient of the 1935 Dietrich-Eckart-Preis), Walter Best (Waffen-SS War Correspondent), Heinz Waterboer, Hans Zöberlein, well-known author Alfons Freiherr von Czibulka (in 1938 he had received the "Literary Prize of the City Munich") and even Ottfried Graf von Finckenstein who became a Professor at the University of Ottawa in Canada after the war.

A very interesting, not very well-known Nazi book. It is complete and the interior pages are in very good condition. The spine is a bit discolored.
This Nazi wartime almanac of German authors at war is offered
for $95.00 delivered by Media Mail in the continental USA.


USM book #774
• IF you prefer Priority Mail shipping with USPS Tracking add $6.50.
• IF you wish to purchase highly recommended, but optional insurance, add $3.50.
• We will be happy to ship abroad at additional cost. Please inquire.
RARE 1941 NAZI BOOK FEATURING WORK BY AUTHORS IN THE WEHRMACHT
DICHTER UNTER
DEN WAFFEN
RARE ILLUSTRATED 1941 SOLDIER AUTHOR BOOK