The images and text used on this and all other USM web pages are the copyrighted property
of USM Inc. Those images and the text may be used by others ONLY AFTER completion
of a formal international licensing agreement and payment of a licensing fee!
This USMBOOKS web page is Copyright © 2014 by USM, Inc., The text and images on it are fully protected by international copyright law. It is therefore, illegal for anyone to take any of the material found here and use it for their own purposes without our written permission, irrespective of any excuse they may feel they have for doing so.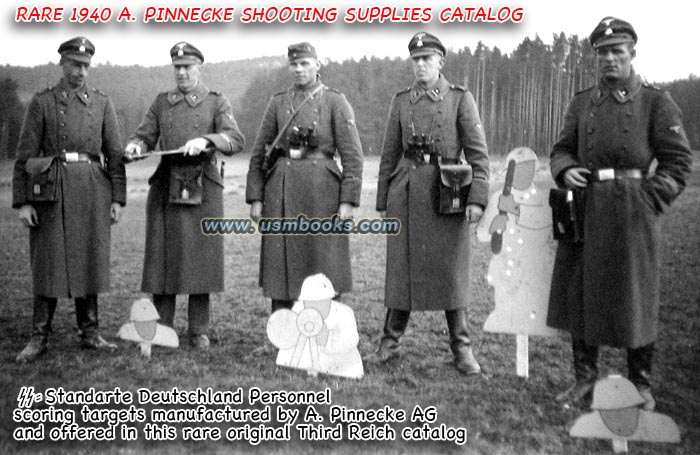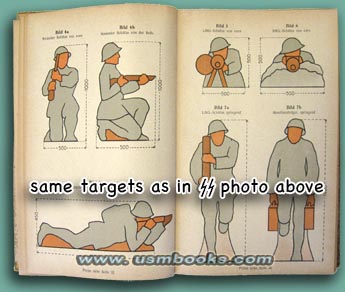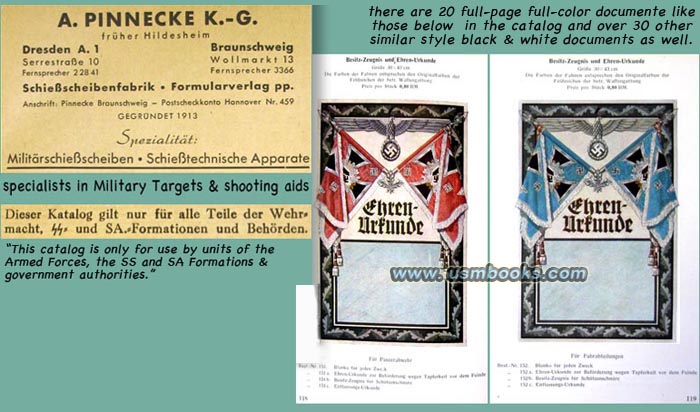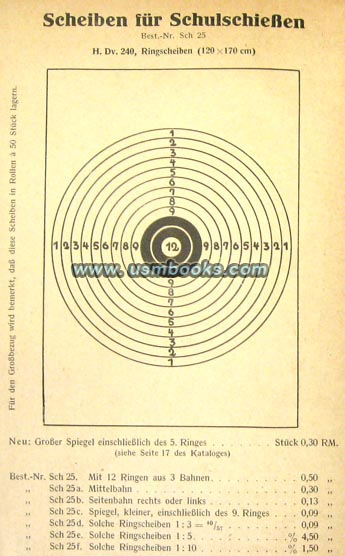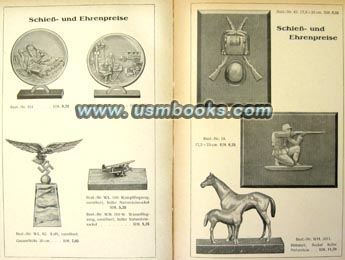 This is a very good complete example of the 6-1/8 x 9-1/8 inch, 220 page hardcover Handbuch or catalog of the company A. Pinnecke of Hildesheim, Dresden and Braunschweig which sold all manner of shooting supplies to the German Armed Forces, the SS, SA and other Party organizations during the Third Reich.
This original Nazi Pinnecke catalog consists of full-color and black & white pages that include their full line of military targets, technical shooting apparatus, shooting trophies, military diplomas or certificates, shooting stands, rifle and machine gun tripods, rubber stamps, target plasters, scoring books and posters, arrest and ticket books, colorful maneuvers flags, training flags, range flags, rifle sighting devices, compasses, cleaning kits, loupes and bore sights, muzzle covers, machine gun trainers, sunglasses, megaphones, sandbags, officer swords, bayonets, sword belts, shooting and honor prizes, plaques and statues, portraits of Hitler and other Nazi leaders, decorative battle scene prints, office and barracks wall prints, etc., etc.
A special section in the center of the book consists of 20 full-color pages on high-quality white paper which depict much of Pinnecke's line of Ehrenurkunden or Honor Certificates for the SS, Nazi Army, Navy, Air Force, etc., most designed by famous exotic Nazi dagger designer Paul Casberg.
These are big colorful certificates cataloged in full-color that show the standards, eagles, swastikas and other images of various departments within the Nazi Wehrmacht or Armed Forces.
That is followed by another 30 or pages of more specialized Honor Certificates, beautifully illustrated but these are not in full-color. They also show stacked arms, troops in combat, horses and riders, bold eagles and swastikas, flags and monuments, wreaths and soldiers in uniform, etc. There are pictures of Hitler and Göring, Berghof Wachenfeld bei Berchtesgaden, big game scenes, etc., etc. Pinnecke was clearly a very large supplier of this sort of material.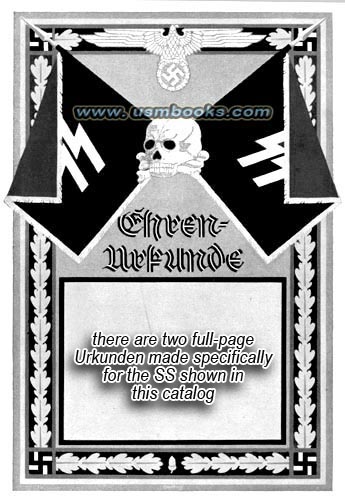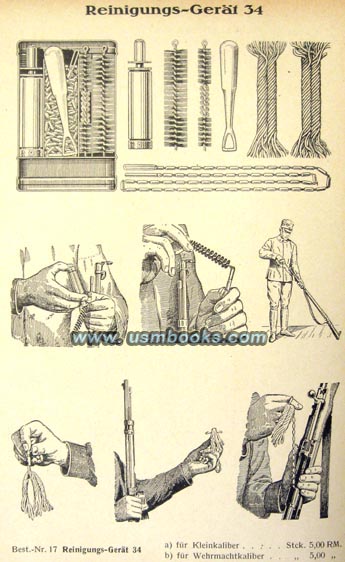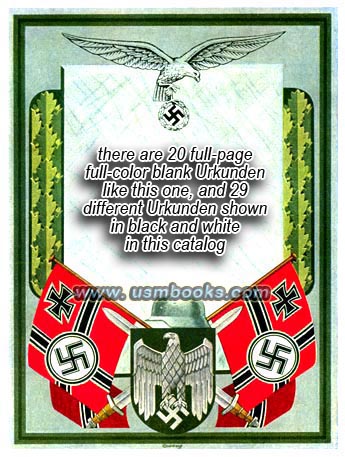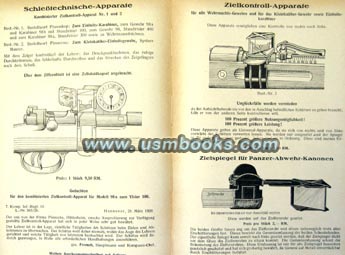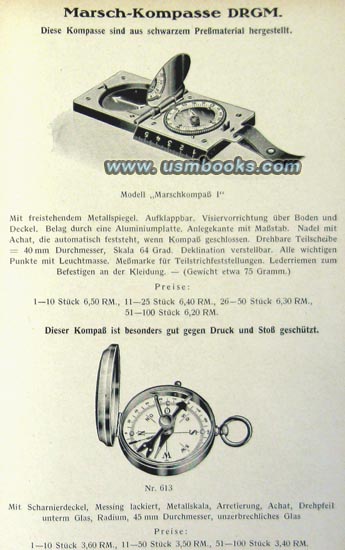 The final 36 pages of the Handbuch are perforated order forms meant to be filled in by soldiers and sent to the company's Braunschweig direct-mail center. These books were sent out by Pinnecke to Nazi government facilities everywhere and were a common fixture on military posts throughout Germany. A squad leader or an officer could order material from the catalog for delivery by mail anywhere in the country. All orders had to be countersigned by an officer with authority to order such things and sent to an official military or government address.
A couple of the order blanks are missing but otherwise the book is complete, perfectly readable and in good used condition. It is a very rare example of how this sort of merchandise was sold and delivered to military users in Germany during the Third Reich.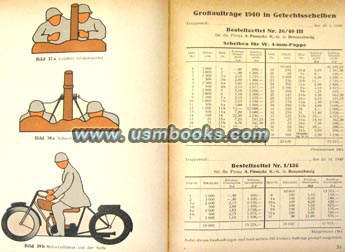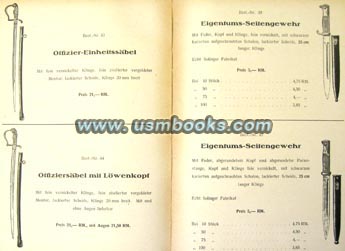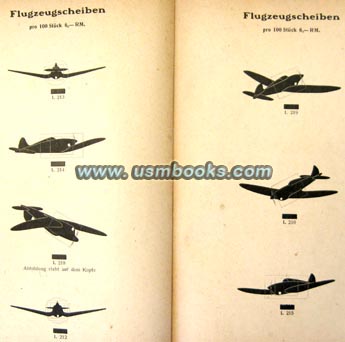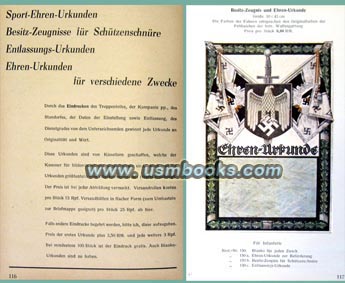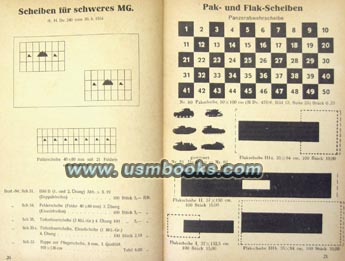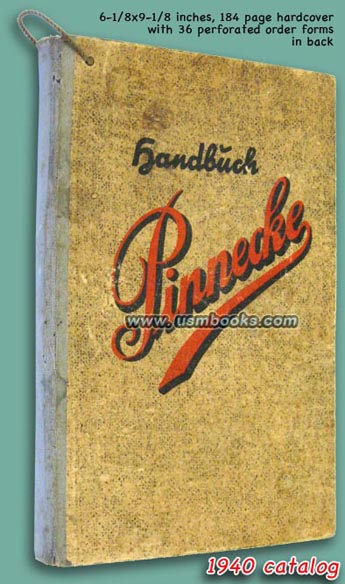 This very rare Wehrmacht shooting supplies, trophies, target catalog is
**SOLD**.


USM book #601
• IF you prefer Priority Mail shipping with USPS Tracking add $5.95.
• IF you wish to purchase highly recommended, but optional insurance, add $2.95.
• We will be happy to ship abroad at additional cost. Please inquire.
VERY RARE 1940 NAZI MILITARY CATALOG OF TARGETS,
TROPHIES, DIPLOMAS AND SHOOTING SUPPLIES
A VERY RARE
HEAVILY ILLUSTRATED
A. PINNECKE CATALOG
OF SHOOTING SUPPLIES
FOR THE WEHRMACHT,
SS, SA, ETC.