Have a look at the original Hitler Youth and SS children's books
for sale on USMBOOKS.com.
We are happy to combine shipping to save you money!
This wonderfully illustrated complete 1941 Nazi schoolbook is **SOLD**


USM book # 513
• IF you prefer faster and safer Priority Mail shipping with USPS Tracking add $7.25.
• IF you wish to purchase highly recommended, but optional insurance, add $4.75.
• We will be happy to ship abroad at additional cost. Please inquire.

This is a nice used example of the heavily illustrated 1941 Nazi elementary school book Mein Buch zum Anschauen, Zeichnen, Lesen und Schreiben (My Book to Look at, to Draw, to Read and to Write) by Hans Brückl and illustrations by Ernst Kutzer. It is a Third Edition published by Verlag R. Oldenbourg - München, in cooperation with M. Diesterweg of Frankfurt am Main, Fr. Korn of Nürnberg, Rudolf Lion of Hof/Saale and Heinrich Zechner of Speyer, order number 2111.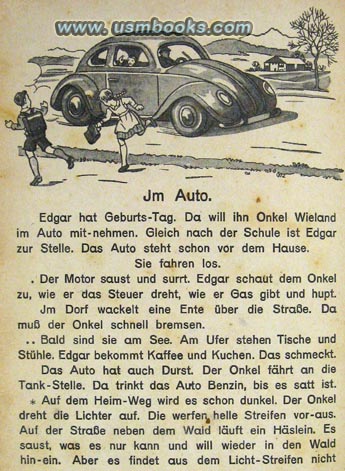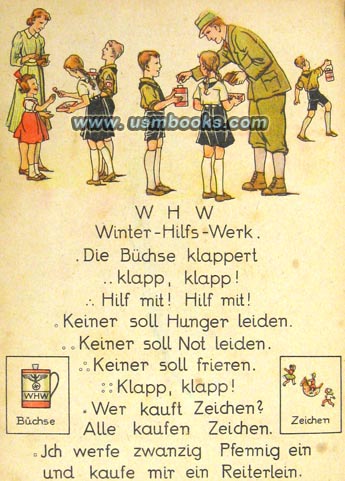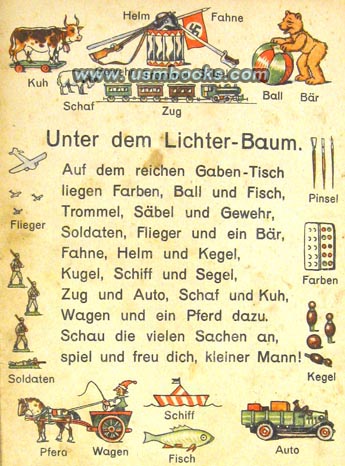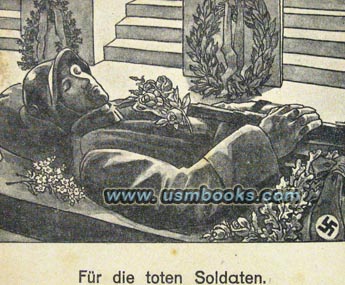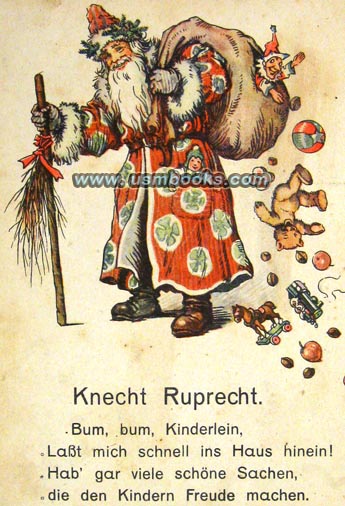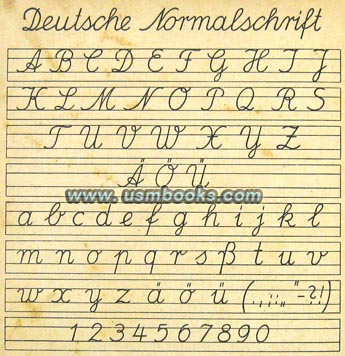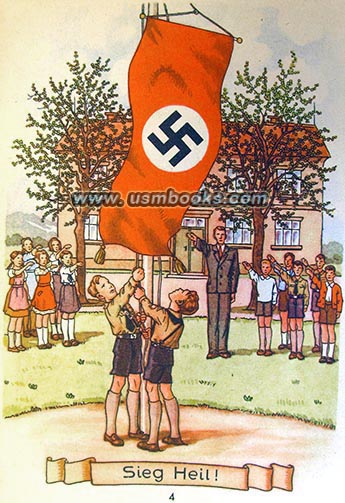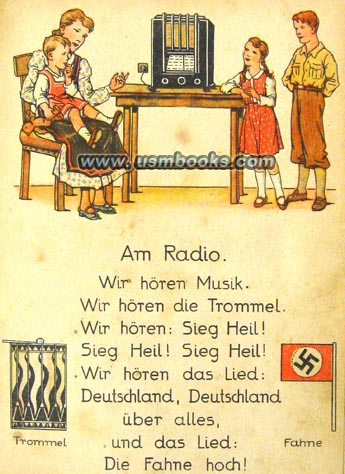 This is a 6 x 8-1/2 inch, 120 page elementary school text book to teach the basics of reading and writing to students during the Third Reich of Adolf Hitler in Nazi Germany. Many pictures are in color and many of the lessons are the basic ones for students everywhere: indoor and outdoor games, fairy tales, the four seasons, flowers, animals and flowers, holidays, etc.
This 1941 hardcover Nazi book however, also delves into the realm of German politics, Nazi heroes, Nazi victories, the WHW, little Nazi Christmas gifts, tributes to dead Wehrmacht soldiers, the automobile, the Führer's birthday, respecting the swastika flag, playing soldier, and the introduction of Deutsche Normalschrift (German Normal Cursive Writing) handwriting which by Executive Order, Hitler decreed to replace hard-to-read Sütterlinschrift (the previous standard German handwriting style which drives many collectors and even historians nuts today) in 1941.
The book is complete but has been used. But then, it is a used schoolbook and none of mine were in perfect condition when I got done with them either. No pages are missing - even the frequently torn-out Hitler page in the front of the book and the big swastika flag page are still there. The spine has been re-taped, and pages 15, 30/31, 32/33 and 45 have been repaired with tape. The repairs are not modern - the pieces of tape have yellowed with age. Inside the front cover are the names of two previous owners.
What this Third Reich book is, is an excellent example of very Nazified instructional material that actually was used to teach children in Adolf Hitler's Germany. All books of this type were on the A-list of books to be destroyed by the Allies at the end of the World War II, and very, very few of them survived in any condition. This 77 year old example of Mein Buch is in perfectly readable used condition.
RARE ILLUSTRATED NAZI EDUCATIONAL CHILDRENS BOOK 1941
MEIN BUCH ZUM ANSCHAUEN, ZEICHNEN, LESEN
UND SCHREIBEN
THIRD REICH SCHOOL
BOOK FULL OF NAZI ILLUSTRATIONS


The images and the entire text used on this and all other USMBOOKS web pages are the copyrighted property of USM Inc. Those images and the text may be used by others ONLY AFTER completion of a formal international licensing agreement and payment of a licensing fee! It is therefore, illegal for anyone to take any of the material found on USMBOOKS.com and use it for their own purposes without our written permission, irrespective of any excuse they may feel they have for doing so.