The images and text used on this and all other USM web pages are the copyrighted property
of USM Inc. Those images and the text may be used by others ONLY AFTER completion
of a formal international licensing agreement and payment of a licensing fee!
This Nazi Wehrmacht OD canvas rucksack is
**SOLD**

We will be happy to ship abroad at additional cost. Please inquire.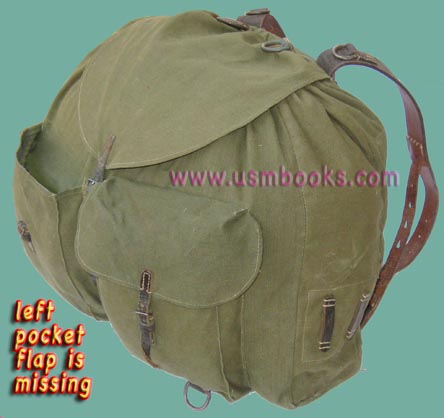 This is a typical 5 x 17 x 19 inch olive green canvas Wehrmacht rucksack with two 7 x 9 inch flap pocket (one flap is missing entirely), an 11 x 12 inch top flap and two adjustable leather straps (black on the outside, ruset on the inside) with iron and aluminum hardware. The canvas pocket flap has one 5-1/2 inch tan leather strap with integral eyelets which attach to an iron buckle.
There are four leather attaching straps, two on each side of the pack. All the leather is still fairly supple.

Inside the bag there is a large pocket made of lightweight khaki colored cotton material with a two-button flap.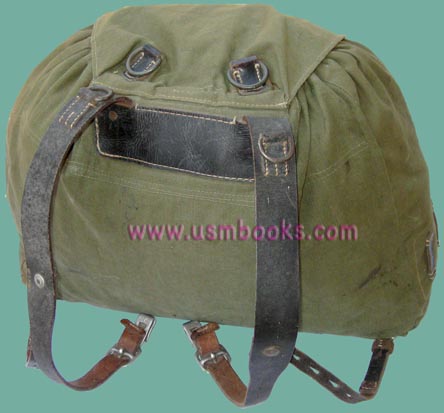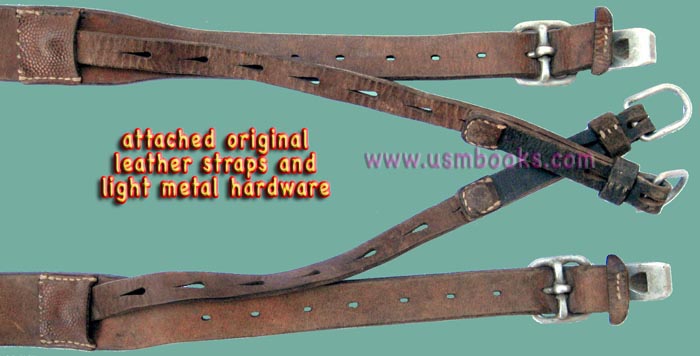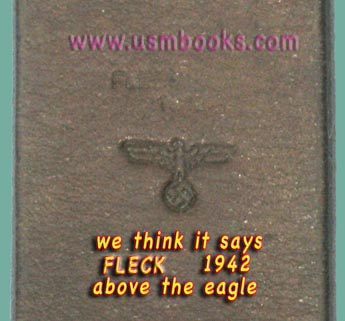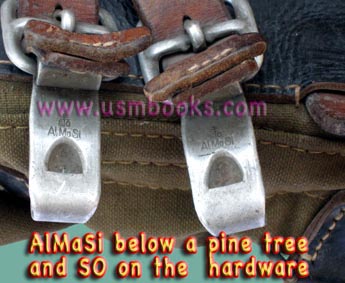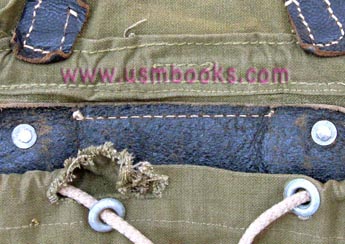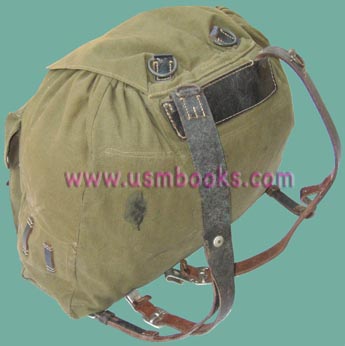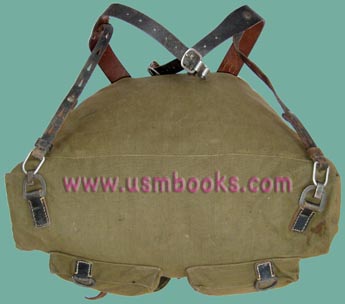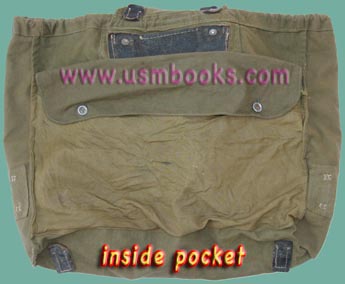 The outside portion of this Wehrmacht Rucksack is in nice condition for its age and is complete with all its original hardware except that on the missing pocket flap. It would be a relatively easy matter to replace the missing pocket flap by using canvas from the back side of the pack and patching the hole left with other similar material. Perfect for use on a mannequin or by a re-enactor.
The top flap has one 8 inch leather strap with integral eyelets which attaches to an iron buckle between the two pockets. The top of the rucksack beneath the top flap has a rope running though a hem with two eyelets to pull it closed. One of the eyelets is detached from the hem and the hem has about a 2 inch rip in it as shown in our picture below.

Under the top flap inside the back, is a large leather reinforcement with some sort of manufacturing data stamped in a square, but we can't read it. The right-hand strap is stamped on the widest section on the russet side with an eagle and swastika below what we believe to be the letters FLECK 1942.
NAZI WEHRMACHT SOLDIER RUCKSACK
STANDARD ISSUE
NAZI
WEHRMACHT
RUCKSACK
This USM Books website is Copyright © 2009 by USM, Inc., and the text and images on it are fully protected by international copyright law. It is therefore, illegal for anyone to take any of the material found here and use it for their own purposes without our written permission, irrespective of any excuse they may feel they have for doing so.