The images and text used on this and all other USM web pages are the copyrighted property
of USM Inc. Those images and the text may be used by others ONLY AFTER completion
of a formal international licensing agreement and payment of a licensing fee!
This 1938 Nazi ETHNOLOGY OF THE NATION book is **SOLD**.

USM book #370
•IF you prefer Priority Mail shipping with USPS delivery confirmation add $5.75.
• IF you wish to purchase optional insurance, add $2.75.
• We will be happy to ship abroad at additional cost. Please inquire.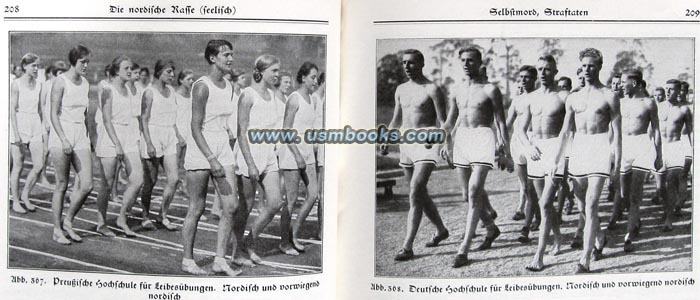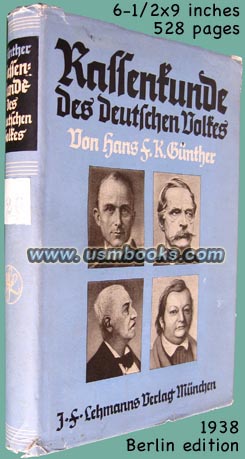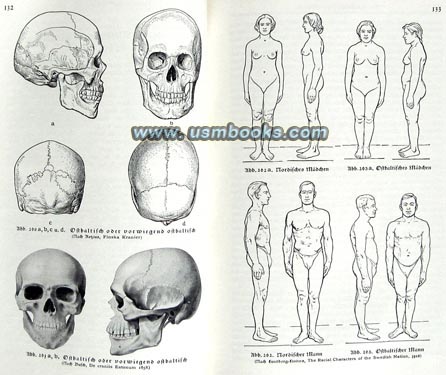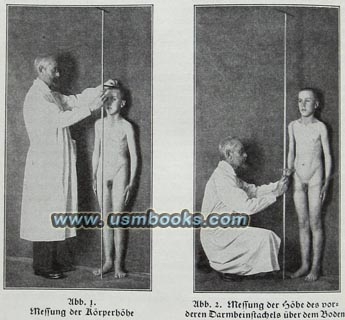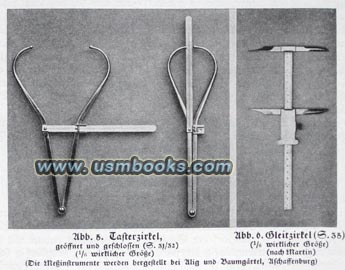 J.F. Lehmanns Verlag in München is widely recognized today as the most prominent publisher of scholarly Nazi publications stressing their theories on matters of race, racial hygiene, the Jewish Problem, etc., in Third Reich Germany, as contrasted to upstart publishers like Julius Streicher and Stürmer Verlag in Nürnberg which took a far more sensationalist position on those subjects.

This is the rare, heavily updated 1938 16th edition of the standard work Rassenkunde des deutschen Volkes (Ethnology of the German Nation) by noted Professor Dr. Hans F.K. Günther of Berlin (a German race researcher and eugenicist in Third Reich Germany).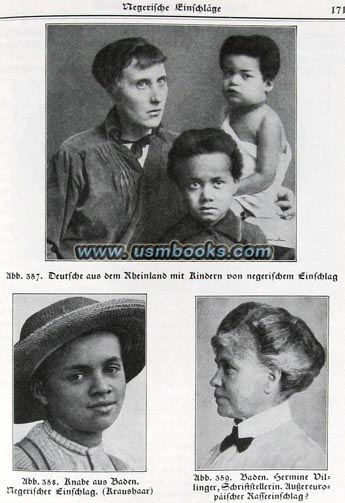 The big, heavy 6-1/2 x 9 inch, 528 page book is printed on fine paper and contains over 600 photographs, illustrations, maps and charts which are said to very precisely identify and describe the racial specifics of the many different groups to be found in Germany, including dwarfs, twins, throw-backs, Jews, mixed-blood and other peoples. The emphasis is squarely on the high-value Aryan populations and the liability of the others.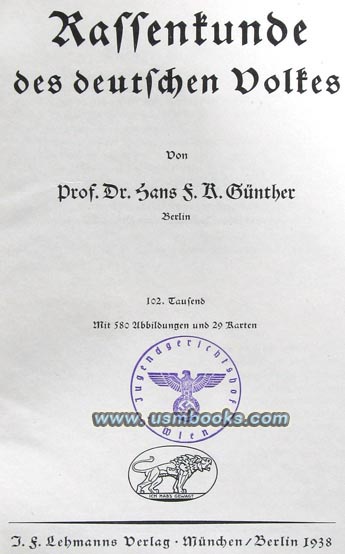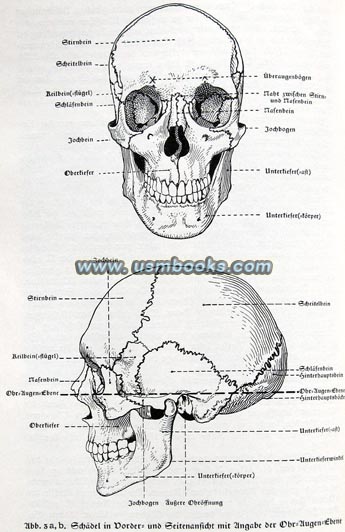 This is one of the best examples of Rassenkunde des deutschen Volkes that we have ever come across and bears the stamp of the Jugendgerichtshof (Juvenile Court) in Wien (Vienna), the second largest city in Nazi Germany, on every 100th page.
Very good condition with rare original dust jacket.
1938 NAZI RACIAL GUIDEBOOK
A FINE EXAMPLE OF THE
BASIC NAZI RACIAL HANDBOOK
RASSENKUNDE DES
DEUTSCHEN VOLKES
(ETHNOLOGY OF
THE GERMAN NATION)
This USM Books website is Copyright © 2013 by USM, Inc., and the text and images on it are fully protected by international copyright law. It is therefore, illegal for anyone to take any of the material found here and use it for their own purposes without our written permission, irrespective of any excuse they may feel they have for doing so.