The images and the entire text used on this and all other USMBOOKS web pages are the copyrighted property of USM Inc. Those images and the text may be used by others ONLY AFTER completion of a formal international licensing agreement and payment of a licensing fee! It is therefore, illegal for anyone to take any of the material found on USMBOOKS.com and use it for their own purposes without our written permission, irrespective of any excuse they may feel they have for doing so.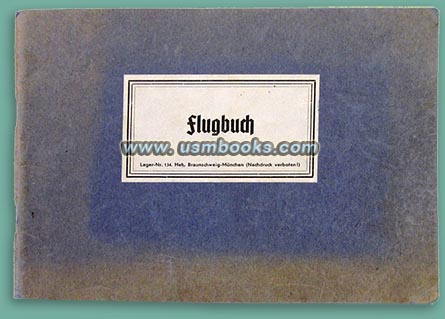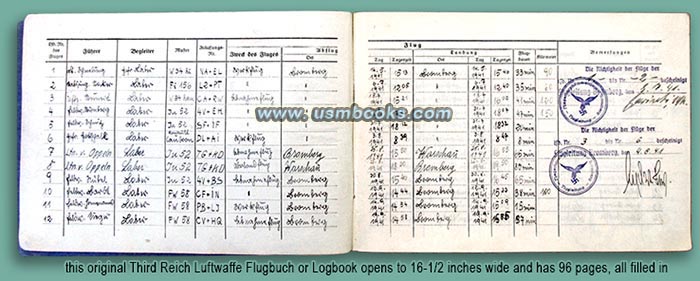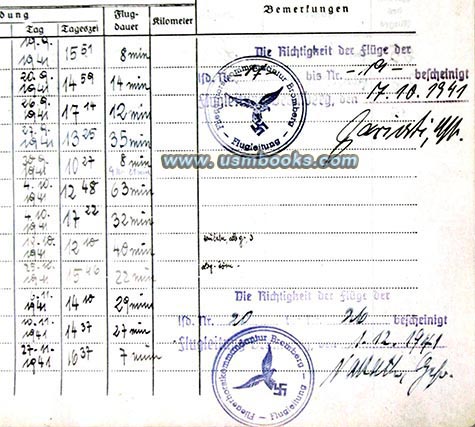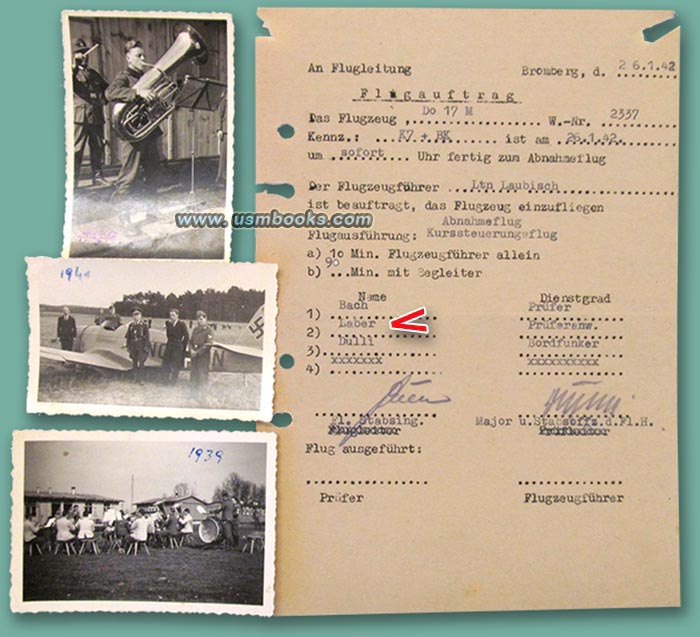 Three deckle edge black & white photographs are included with this Third Reich flight log book and flight order. Two were taken on 7 March 1939 at barracks in Klagenfurt, one of them showing Josef Laber playing a tuba as part of a small orchestra. The other photo was taken in Poland in 1941 and shows Laber (near the nose of the plane) with five other men examining a German airplane that looks like it may have made a hard landing.



This original Third Reich Flugbuch has a total of 532 flight entries, all for flights by Josef Laber. Laber's service in World War II was apparently not at all a problem for the Austrian Air Force in the 1950s and 1960s and NONE of the Nazi era stamps were ever de-Nazified!
This original Third Reich Flugbuch or Flight Record Book does not look very exciting from the outside, but the content is remarkable! The 5-¾ x 8-¼ inch softcover Flugbuch has all its 96 pages, ALL filled in with flight details from Josef Laber who was a flight training examiner that accompanied Luftwaffe pilots in training and was instrumental in the rebuilding of the Austrian Air Force in the 1950s.
Laber flew in Fieseler Fi 156 Storch, Junkers JU-52, Focke-Wulf Fw 58 Weihe, Bücker Bü 131 Jungmann, Heinkel He 46, Heinkel He-72 D Kadett, Dornier Do 17 (Flying Pencil), Messerschmitt Bf 110, Arado Ar 66 and Klemm KL 35 airplanes from Fliegerhorstkommando Bromberg (now Bydgoszcz in northern Poland). On 28 August 1941 he flew to Warsaw, landed and then flew back to Bromberg in a Ju52. Every entry shows the name of the Luftwaffe pilot Laber tested, the date of the flight, type of airplane, airport, take-off and landing time, length of the flight and sometimes the number of kilometers flown.
The pages for flights between May 1941 and September 1942 are all "certified correct" with purple rubber stamps from the Flugleitung Fliegerhorstkommando Bromberg with a Luftwaffe eagle and swastika in the middle. Example shown left.

Entries between 8 June and 23 June 1942 show flights in Ju52s out of Jüterbog (a huge Nazi military air field and training base 40 miles south of Berlin) between 18 September 1942 and 19 January 1944 from different locations including Riga between 15 and 17 November 1944. During that period flights lasted between 5 minutes and 2 hours and 45 minutes.
This Flugbuch comes with an original Flugauftrag or flight order dated 26 January 1942 when Laber accompanied / tested Leutnant. Laubisch in a Do.17 with the W number (serial number) 2337 and the aircraft ID markings K7 + BK. According to the corroborating entry dated 26 January 1942 in Lober's Flugbuch, the flight took off at 10:27 from Bromberg and lasted 53 minutes. This one-sided Flugauftrag (shown directly below) measures 5-7/8 x 8-¼ inches inches has the signature of a Major and Staff Officer of the Fliegerhorst.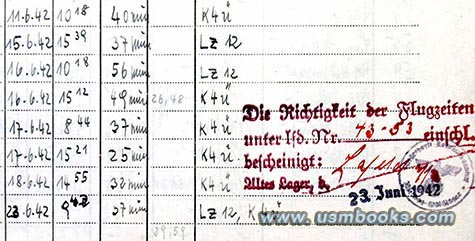 It is interesting to note that the Nazi Flugbuch has postwar entries between 16 April 1956 and 3 November 1964 for flights Laber accompanied in different airplanes (including a Cessna 182 and L19, Fonga CM170, YAK 18, PA18/95, G46 and others) as well as Bell helicopters. Information about him on the internet shows Laber was part of rebuilding Austrian air fields after the war and testing different airplanes and equipment (in an article regarding equipment testing in August 1956, he is referred to as Prüfmeister Laber). Most of the pilots Laber flew with in the 1950s and 1960s have the abbreviation for a military rank next to their name, so Laber was part of the Austrian Air Force after the war. Airports he flew to and from include Zeltweg (Fliegerhorst Hinterstoisser, a former Nazi Air Base and pilot training school during World War II) in Styria, the military airport Langenlebarn (Fliegerhorst Brumowski, also an old Luftwaffe air base) near Tulln, as well as Graz, Linz, and Torino and Treviso in Italy. Several entries show the purpose as a "Demonstration Flight" with the name of an airplane company with it. These postwar entries have certification stamps from officers at the Fliegerhorst Zeltweg, the last one (completely filling up the Flugbuch) is dated 6 November 1958 inside the back cover.
This remarkable Nazi Flugbuch detailing Josef Laber's flights between
1941 and 1956 is **SOLD**

• IF you prefer Priority Mail shipping with USPS Tracking add $6.45.
• IF you wish to purchase highly recommended, but optional insurance, add $5.45.
• We will be happy to ship abroad at additional cost. Please inquire.
VERY HISTORICAL WORLD WAR II NAZI FLUGBUCH
OR FLIGHT LOGBOOK GROUPING, 532 ENTRIES
A 100% ORIGINAL NAZI FLIGHT LOGBOOK RECORDING FLIGHTS IN AIRPLANES SUCH AS Ju52 • Fi 156 • Fw 58 • Bf 110 • Bü 131 • He 46 - STARTING ENTRY
14 MAY 1941