Go to PAGE 1 or PAGE 2 of individual Third Reich photos for sale.
For other original Nazi photo material for sale, click HERE.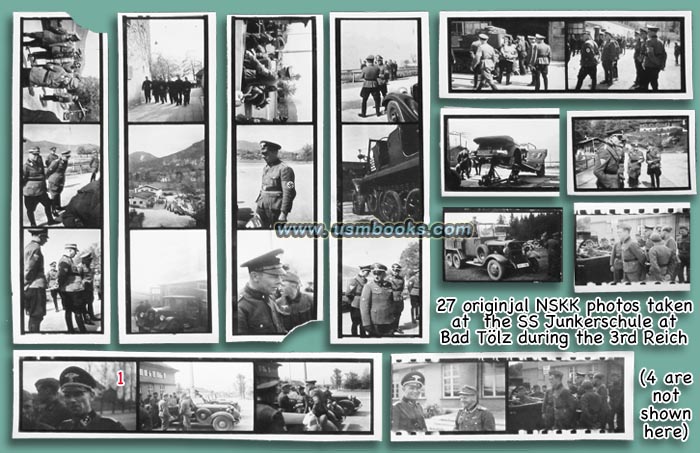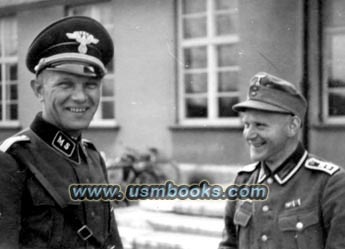 A VERY RARE LOT
OF ORIGINAL NSKK PHOTOS TAKEN
AT THE
SS-JUNKERSCHULE
BAD TÖLZ
We buy a great deal of rare Third Reich militaria but it is always especially exciting for us to acquire unique material. As most of our customers know, our central focus is on books, magazines, newspapers and photographs that include images of Third Reich Germany. We feel they are extremely important from a historical perspective.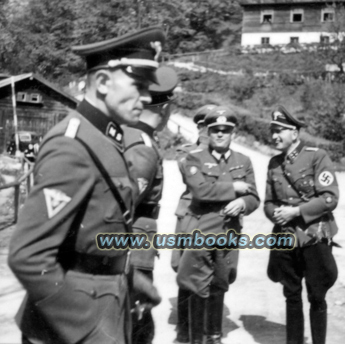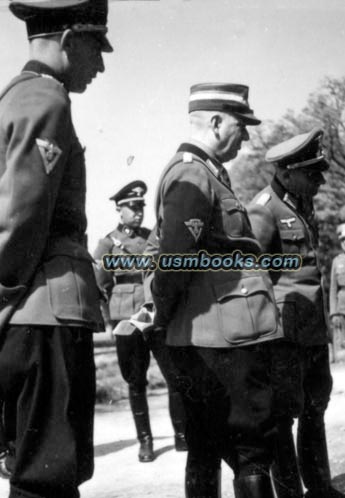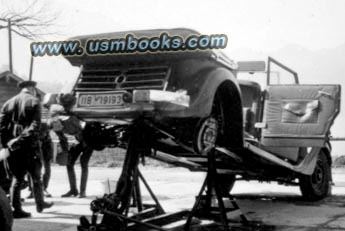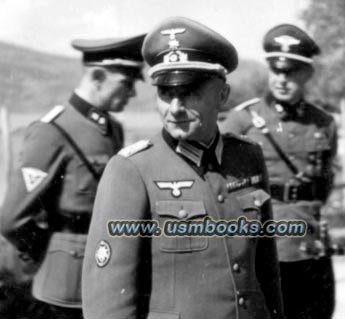 The 27 photographs we offer here are a perfect fit with our website. While they can only be found through diligent searching and while nobody ever offers them to us cheaply, we are always happy to buy one-of-a-kind material. These photographs were all taken with an excellent 35mm camera (probably a Leica) on the same day, at the SS-Junkerschule at Bad Tölz, south of Munich in Bavaria.
These are contact prints made by placing the developed film directly on photographic paper and exposing it to light. They are actual 35mm size. Because of the quality of the camera and the lens, the pictures are very sharp with excellent contrast and can be enlarged very successfully using an ordinary photo scanner.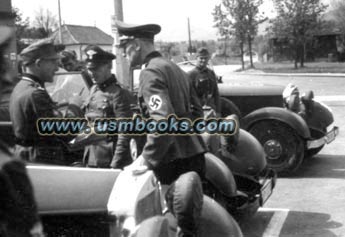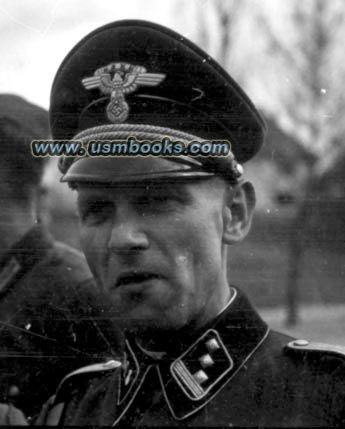 More importantly, the subject matter of the photographs involves the NSKK (Das Nationalsozialistische Kraftfahrkorps or National Socialist Motor Corps) operated automotive school at Bad Tölz and a visit to that facility by a high-ranking Gebirgsjäger Officer and high-ranking NSKK personnel. The photos show the caps, uniforms and edged weapons of the various personnel at Bad Tölz that day, as well as a variety of automotive equipment from a giant Mercedes staff car to a large halftrack. There are also nice views of the surrounding area of Bad Tölz in the background of the photos.
The name "Tölz" is written on the back of a couple of the photographs, and the NSKK-Sturmhauptführer with the beautiful Schirmmütze or visor cap (photo above) is identified as H. Schobert.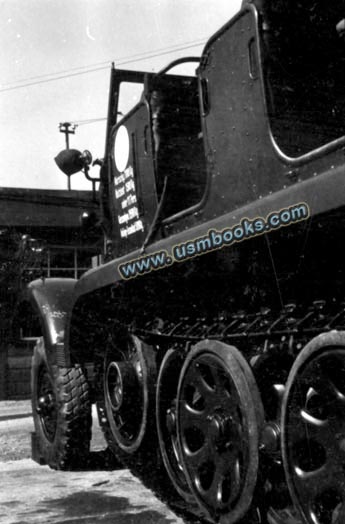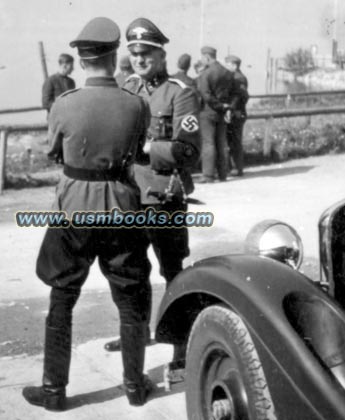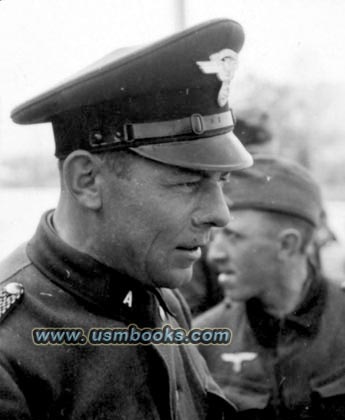 We scanned the photos we are showing on this web page directly from the 8-1/4 x 9-7/8 inch (21 x 25 cm)
sheet of heavy green paper on which the photos are mounted. We used standard Adobe PhotoShop automatic adjustment for all of the photos you see except the last one. We adjusted the brightness and balance of that scan so that anybody interested can see how much image data can be obtained from a simple 35mm contact print.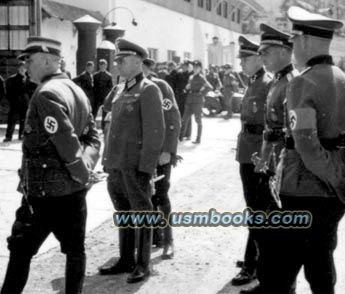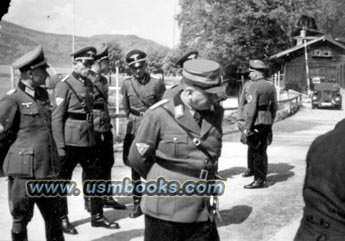 These photographs would be priceless to anyone interested specifically in the uniforms and equipment of NSKK personnel, and their operation of the automotive school at Bad Tölz and Kochel am See during the Third Reich. There are four more photos of soldiers and equipment in the lot besides the ones shown in our photo of the lot at the top of this web page.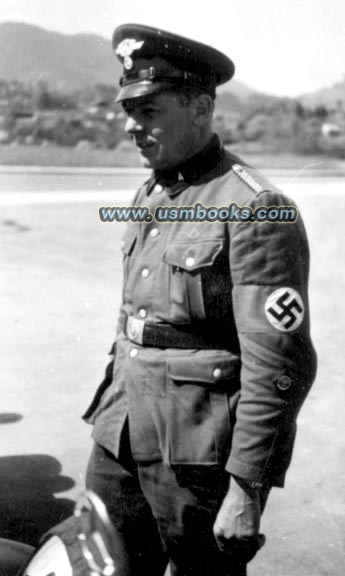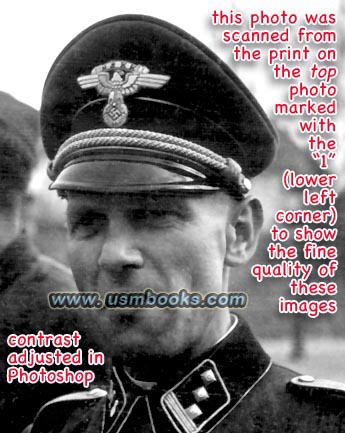 This rare original Nazi NSKK photo lot from Bad Tölz is offered for sale
for $245.00 delivered by 1st Class Mail in the continental USA.

• IF you prefer faster and safer Priority Mail shipping with USPS Tracking add $6.65.
• IF you wish to purchase highly recommended, but optional insurance, add $4.75.
• We will be happy to ship abroad at additional cost. Please inquire.
VERY RARE ORIGINAL NSKK PHOTO LOT FROM BAD TÖLZ


The images and the entire text used on this and all other USMBOOKS web pages are the copyrighted property of USM Inc. Those images and the text may be used by others ONLY AFTER completion of a formal international licensing agreement and payment of a licensing fee! It is therefore, illegal for anyone to take any of the material found on USMBOOKS.com and use it for their own purposes without our written permission, irrespective of any excuse they may feel they have for doing so.