The images and the entire text used on this and all other USMBOOKS web pages are the copyrighted property of USM Inc. Those images and the text may be used by others ONLY AFTER completion of a formal international licensing agreement and payment of a licensing fee! It is therefore, illegal for anyone to take any of the material found on USMBOOKS.com and use it for their own purposes without our written permission, irrespective of any excuse they may feel they have for doing so.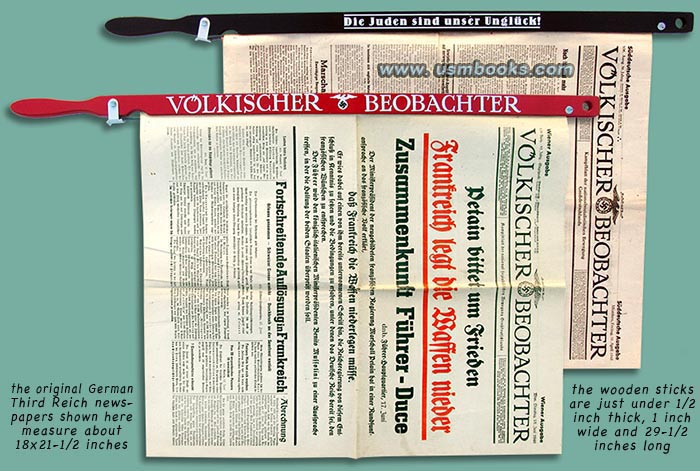 This is a rare opportunity to purchase wonderful reproductions of newspaper holder sticks, 29-½ inch (75 cm) long wooden sticks with a spring and a trigger virtually identical to the type used all over Germany to hold daily newspapers on a rack so that the public could read them and then return them to the rack for the use of the next customer. Newspaper publishers provided the sticks to café's, bars, hotels, doctor's offices and other public venues as a convenience and as advertising. They can be seen in many period photographs.
The illustration shown right is from the rare Third Reich book Du bist sofort im Bilde. The text at the bottom says "four-fifth of Berlin newspapers were owned by Jews".

The white trigger on each stick that holds the spring wire that attaches the paper is stamped with overlapping SS runes in an octagon.

The two sticks shown in our photos are representative of the design and condition of these Zeitunghalter but because of the tiny quantity available we can't offer any choice beyond color (black or red). The newspapers shown in our photos are for reference only, they are not included! We never expect to get our hands on any more of these.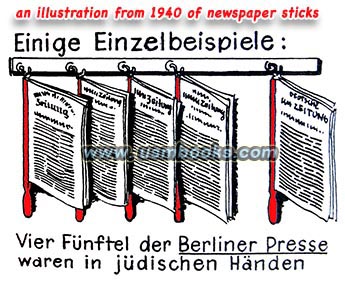 We were lucky enough to buy a half dozen such film prop sticks recently and offer them for sale to people that know what they are (most people have never heard of one or seen an original). Each stick varies slightly, not in size, but in the layout and design applied to it. The sticks we bought include black ones labeled Der Stürmer and red ones labeled Völkischer Beobachter.
The red (Völkischer Beobachter) newspaper stick film prop is for sale
for $95.00 and the black (Der Stürmer) newspaper stick film prop
for $125.00 delivered by Parcel Post in the continental USA.

• IF you prefer faster and safer Priority Mail shipping with USPS Tracking add $7.95.
• IF you wish to purchase highly recommended, but optional insurance, add $3.50.
• We will be happy to ship abroad (but not to EU countries) at additional cost. Please inquire.
A FEW FILM PROP NAZI NEWSPAPER STICKS -
DER STÜRMER AND VÖLKISCHER BEOBACHTER
SUPERB FILM PROP RECREATIONS OF ORIGINAL NAZI ERA NEWSPAPER STICKS OF THE SORT USED IN CAFÉ's, BARS AND HOTELS DURING THE THIRD REICH