The images and the entire text used on this and all other USMBOOKS web pages are the copyrighted property of USM Inc. Those images and the text may be used by others ONLY AFTER completion of a formal international licensing agreement and payment of a licensing fee! It is therefore, illegal for anyone to take any of the material found on USMBOOKS.com and use it for their own purposes without our written permission, irrespective of any excuse they may feel they have for doing so.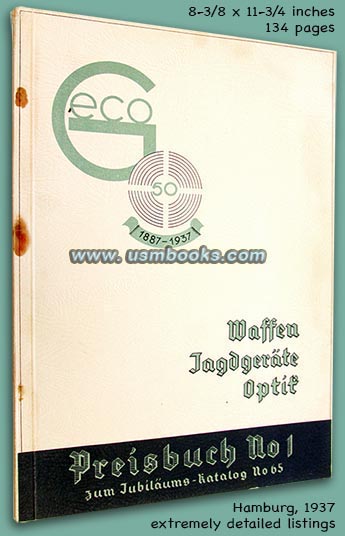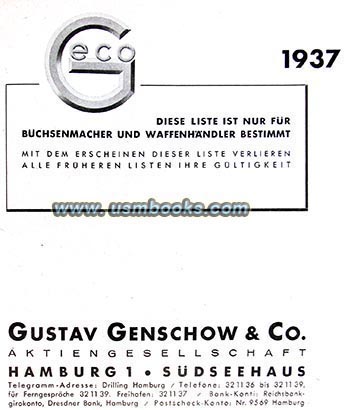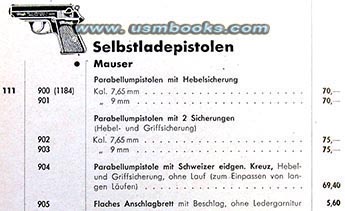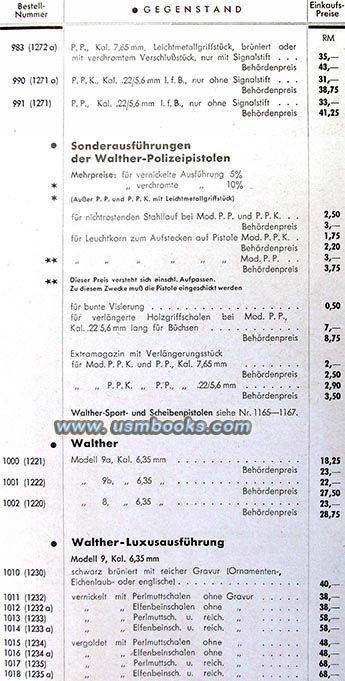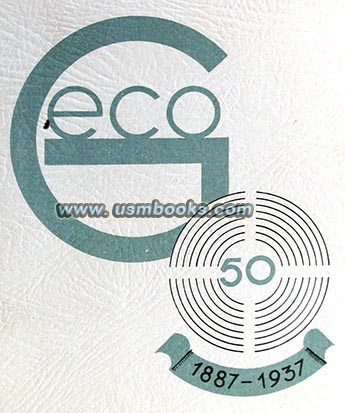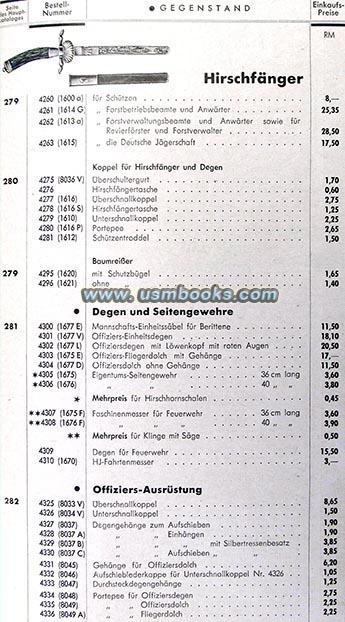 The year 1937 was the 50th anniversary (1887-1937) of the company and they put together this splendid illustrated price list for their catalog to celebrate the event. The 134 page catalog lists the things they had to sell in large type with category photos and all sorts of detail including caliber, size, manufacturing materials, etc., but most importantly, the selling price in Reichsmarks.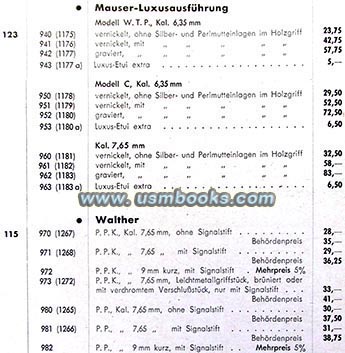 One of the most amazing aspects of the catalog is the minutia contained in the listings. On page 67 for example, they list enlisted men's swords, officer's swords, officer swords with lion heads and red eyes, Luftwaffe officer's daggers without the hanger, Luftwaffe officer's daggers with the hanger, bayonets in two lengths with and without antler grips, fire department bayonets in two lengths, fire department bayonets with a saw on one side, fire department swords, Hitler Youth daggers, etc. Virtually every product is broken down into every available style that was offered.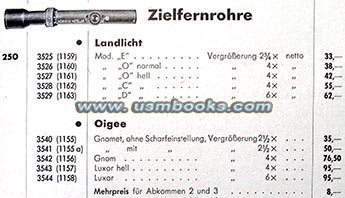 This 80 year old book is complete and in very good used condition, no odor. It should be considered fundamental for a Third Reich research library or an advanced collector of both military and civilian weapons, field gear and associated material.
This is an absolutely original 8-3/8 x 11-3/4, 134 page 50th anniversary Gustav Genschow & Co. AG price book number 1 dated 1937. Genschow was a large and very active contractor to the German Government and Wehrmacht for all sorts of military articles which they manufactured at their weapons factory in Berlin-Treptow, their ammunition factory in Durlach-Wolfartsweier, their leatherware factory in Altstadt-Hachenburg. The company itself was located in Südseehaus in central Hamburg and this catalog was published for other weapon makers and resellers of weapons and associated material.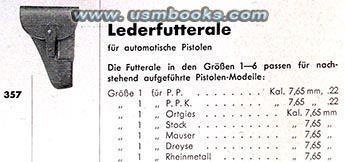 Products offered range from rifles and carbines for sport, training and target shooting, military rifles, sighting apparatus, ammo pouches, Mauser, Walther, Sauer, Browning, Erma and other pistols including the police, Olympic, plated, engraved and other versions, revolvers, flare guns, air rifles, air pistols, ammunition, targets, shotguns, drilling guns, telescopic sights by Oigee, Zeiss, Hensholdt, Pecar, etc., binoculars and field glasses, telescopes, hunting daggers, swords and daggers, target throwers, animal traps and calls, horns and signal pipes, weapon cleaning equipment, holsters for every sort of automatic pistol and revolver, cases for rifles, dog handling products, many types of backpacks and tents, skiing equipment, belts and buckles, first aid kits, march compasses, canteens, mess kits, billy clubs, shooting prizes and honor goblets, etc., etc., etc.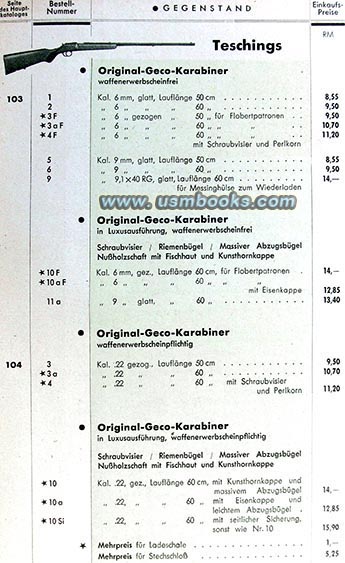 This in-depth illustrated 1937 Nazi GECO anniversary catalog is for sale
for $145.00 delivered by Media Mail in the continental USA.


USM book # 837
• IF you prefer faster and safer Priority Mail shipping with USPS Tracking add $7.25.
• IF you wish to purchase highly recommended, but optional insurance, add $3.50.
• We will be happy to ship abroad at additional cost. Please inquire.
1937 NAZI MILITARY CONTRACTOR CATALOG PRICE LIST GECO
ORIGINAL 1937
GUSTAV GENSCHOW
(NAZI MILITARY CONTRACTORS
jhg, cxm, hrg, gdg)
EDGED WEAPON, RIFLE, TELESCOPIC SIGHT, BINOCULAR, SHOTGUN, PISTOL, HOLSTER, HUNTING, KNIFE, TRAP, BACKPACK, TENT, BILLYCLUB, COMPASS, CANTEEN CATALOG PRICE LIST