$5.00 delivered in the USA folded twice in a standard business envelope.
$7.75 delivered in the USA mailed flat in a large chipboard envelope.
To foreign destinations the price including shipping is $6.50 folded twice
in a standard business envelope or $13.95 mailed flat.
This is something that has been needed in the collector community for a long time, an 8-1/2 x 11 inch, four-page reprint of the LDO price list for medals and decorations as of 02 August 1944. It contains both the manufacturer and retail seller prices of German medals and decorations in their usual packaging such as boxes and bags.
The LDO or Leistungsgemeinschaft der deutschen Ordenhersteller (Standards Association of German Order Manufacturers) was an organization headquartered in Hagen, Westphalia that attempted to maintain the standards by which Nazi orders, medals, decorations and ribbons were produced and the prices at which they were made available to potential buyers. Their Preisliste für Orden und Ehrenzeichen or Price List for Orders and Decorations was the final word on the matter and all manufacturers and retailers had to abide by it.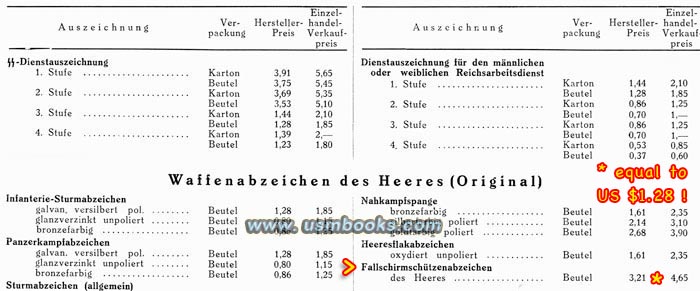 One of the fascinating aspects of the price list is that it lists each medal or decoration in each of its classes, finishes or backs and shows the packaging available, and both the manufacturer and retailer price for the variations. One of our favorite examples as far as price is concerned is the Fallschirmschützenabzeichen des Heeres (Army Paratrooper Badge) which in 1944 was manufactured and packaged only in a paper bag, and was sold by the manufacturer for Reichsmarks 3,21 - the equivalent of US $ 1.28! Another interesting example from the LDO price list is the pin back 1939 Iron Cross 1st Class which sold for RM 2.94 ($1.17) in a paper bag while the screw-back type 1939 Iron Cross 1st Class sold for a whopping RM 3.58 ($1.43)!
As long as we were reprinting the LDO price list, we added the Reichsmark (RM) / dollar exchange rate and a list of important German / American English definitions.
To see original Third Reich correspondence about Nazi orders, click HERE.
NAZI LDO ORDER AND DECORATIONS PRICE LIST 1944
REPRINT OF THE 4-PAGE MEDALS AND DECORATIONS PRICE LIST OF THE LDO DATED 2 AUGUST 1944


The images and the entire text used on this and all other USMBOOKS web pages are the copyrighted property of USM Inc. Those images and the text may be used by others ONLY AFTER completion of a formal international licensing agreement and payment of a licensing fee! It is therefore, illegal for anyone to take any of the material found on USMBOOKS.com and use it for their own purposes without our written permission, irrespective of any excuse they may feel they have for doing so.