This is an absolutely original, beautifully colored 12-1/2 x 24-1/4 inch 2-sided map Pharus Olympia Plan Berlin as published for visitors to the 1936 Olympic Games by Pharus-Gutenberg of Berlin N54. Half of the front side is devoted to the best full-color aerial map of the Reichssportfeld, the Olympic Stadium and the Olympic Grounds ever made.

The map calls out the various venues for swimming, hockey, riding, tennis, shooting, athletics, etc. as well as the Augustiner Bier Platz, the Dietrich Eckart amphitheater and stage, railway stations, etc., etc. The other half of the front side gives a transportation map of Berlin, a map of the sailing regatta venue and the Olympic Village.
Special attention is called to the KdF-Stadt just below Adolf Hitler Platz where on a space of 200,000 square meters five buildings were set up in only four weeks, to accommodate KdF members from all over Germany at no cost.

A very rare, nearly 80 year old original Third Reich map (we think it is the best of the 1936 Olympic Berlin maps) in nice used condition ith a few small pieces of old scotch tape in some places.


The images and the entire text used on this and all other USMBOOKS web pages are the copyrighted property of USM Inc. Those images and the text may be used by others ONLY AFTER completion of a formal international licensing agreement and payment of a licensing fee! It is therefore, illegal for anyone to take any of the material found on USMBOOKS.com and use it for their own purposes without our written permission, irrespective of any excuse they may feel they have for doing so.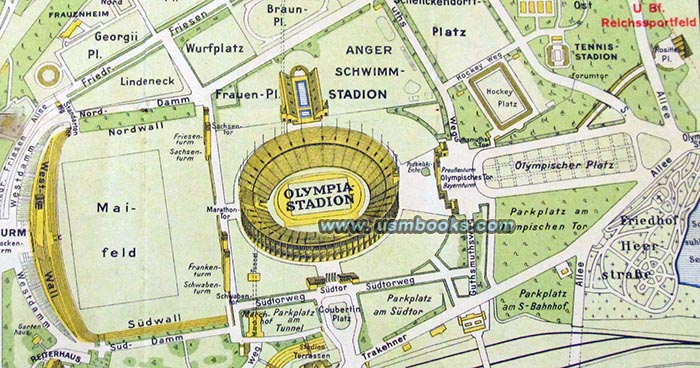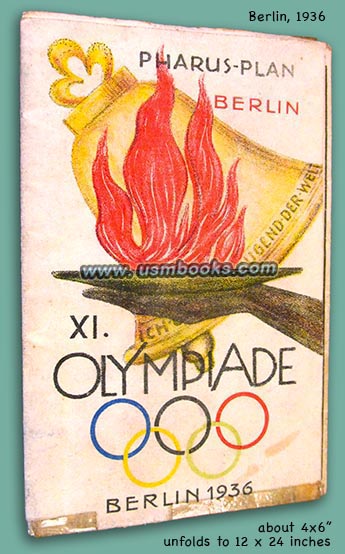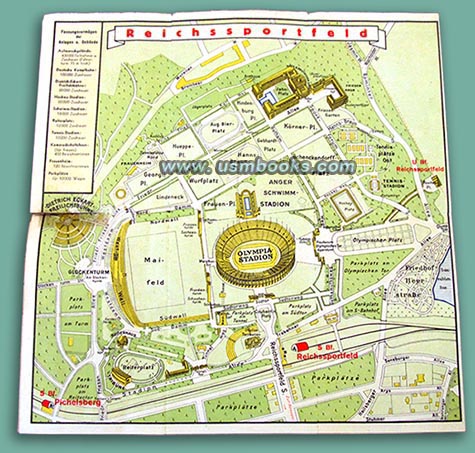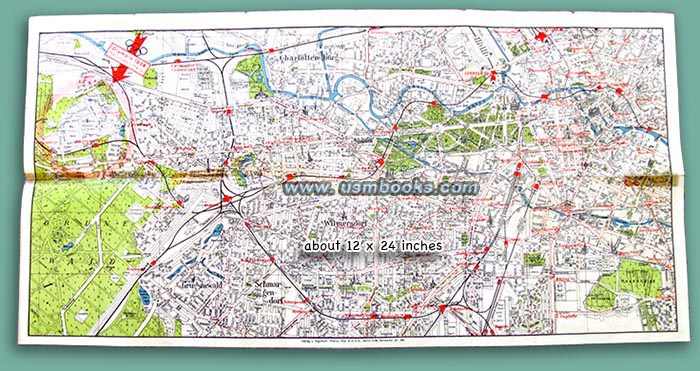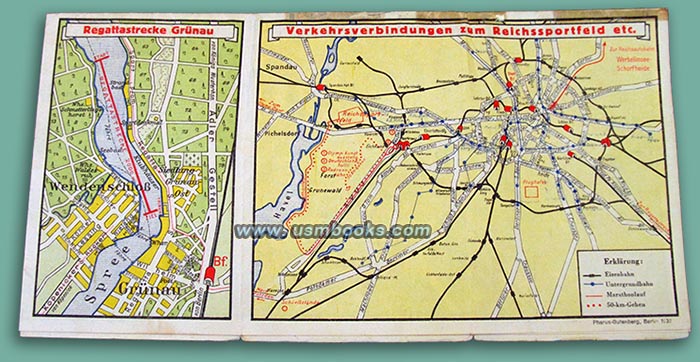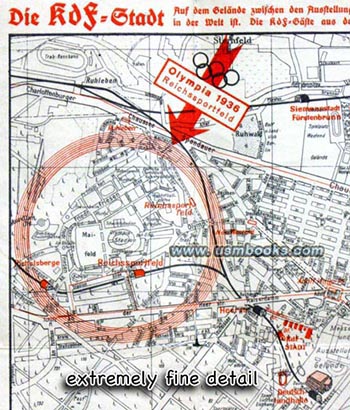 The back side of the map shows the center of Berlin all the way from the Olympic grounds below the Charlottenburger Chaussee to the Alexanderplatz beyond the Tiergarten. It includes large portions of Charlottenburg, Berlin 1, Wilmersdorf, Schmargendorf and Grunewald, carefully pointing out must-see sights like the Deutschlandhalle, KdF-Stadt, Brandenburg Gate, Reichstag, Victory Column, Alexander Platz, Potsdamer Platz, Lustgarten, Schloss (palace), Dom (cathedral), the French Church, Adolf Hitler Platz, Ehrenmal, etc., etc.
This rare original 1936 color map of Olympic Berlin is **SOLD**

• IF you prefer Priority Mail shipping with USPS Tracking add $6.45.
• IF you wish to purchase highly recommended, but optional insurance, add $3.45.
• We will be happy to ship abroad at additional cost. Please inquire.
1936 OLYMPIC FACILITIES BERLIN COLOR MAP
ORIGINAL 1936 COLOR MAP
PRODUCED FOR VISITORS
TO THE XI. OLYMPIADE
IN BERLIN