The images and the entire text used on this and all other USMBOOKS web pages are the copyrighted property of USM Inc. Those images and the text may be used by others ONLY AFTER completion of a formal international licensing agreement and payment of a licensing fee! It is therefore, illegal for anyone to take any of the material found on USMBOOKS.com and use it for their own purposes without our written permission, irrespective of any excuse they may feel they have for doing so.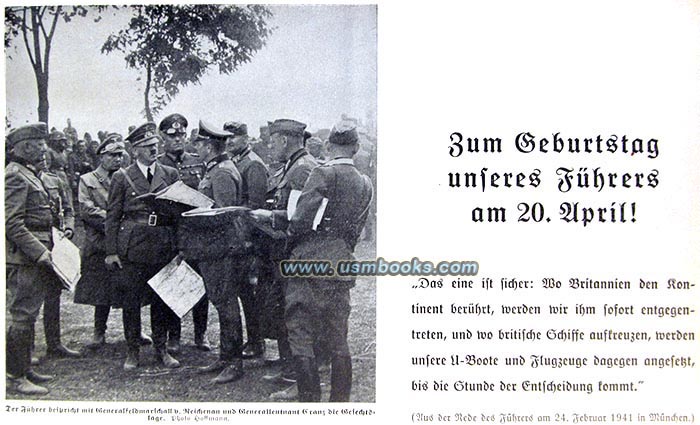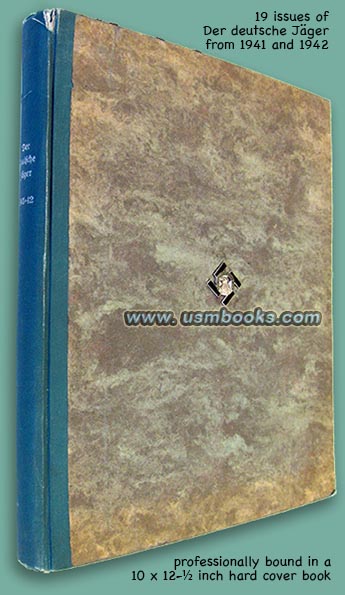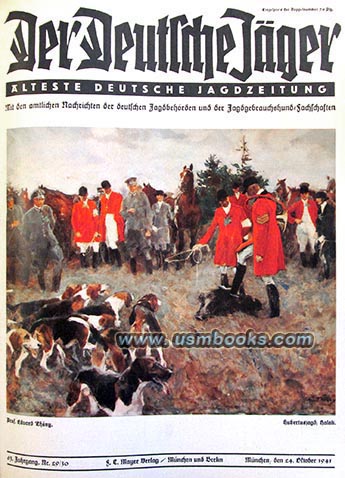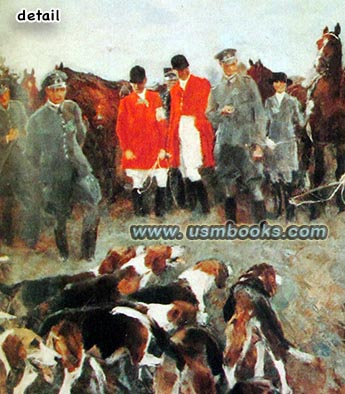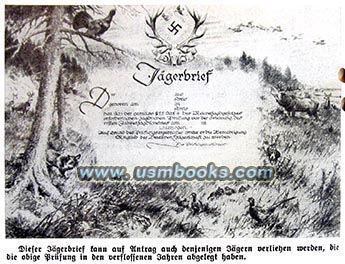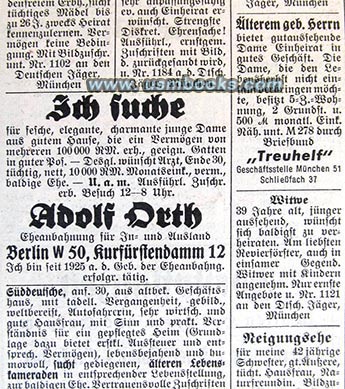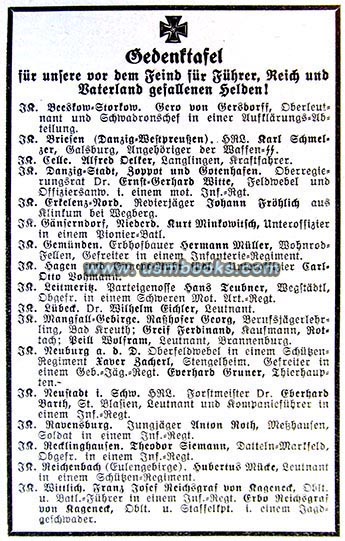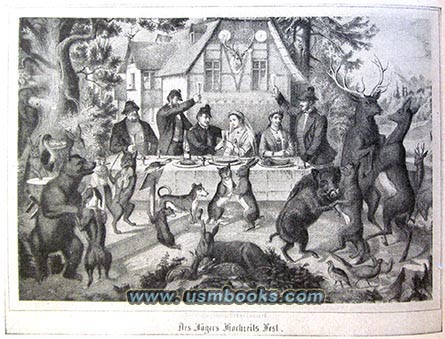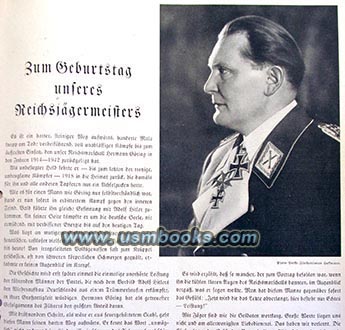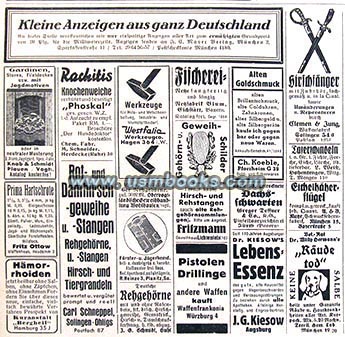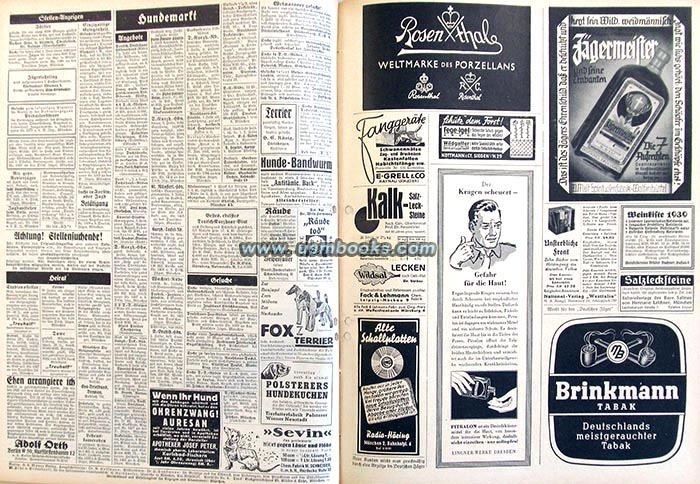 Hunting has long been a favorite pastime of landowners and the wealthy in Germany and it continued to be popular among an elite group during the Third Reich of Adolf Hitler. Among the best magazines available to hunters was the 9-½ x 12-1/2 inch, heavily illustrated monthly Der Deutsche Jäger (The German Hunter) published by F.C. Mayer Verlag of München and Berlin, Germany.
Each issue covered all that was new in the hunting world and the paramilitary Deutsche Jägerschaft (DJ or German Hunting Association). The magazine also provided advertising that led the reader to sources for things like swords and daggers, shotguns, rifles, pistols, gun powder, hiking shoes, binoculars, uniforms, travel, cigars, jewelry, automobiles, places to stay, taxidermists, and other hunting equipment (even wives or "companions" - see example below).
These war-time issues of Der Deutsche Jäger contain about 20 pages and many have announcements from different Jagdgaue in Nazi Germany for men who "Died for the Führer and Fatherland".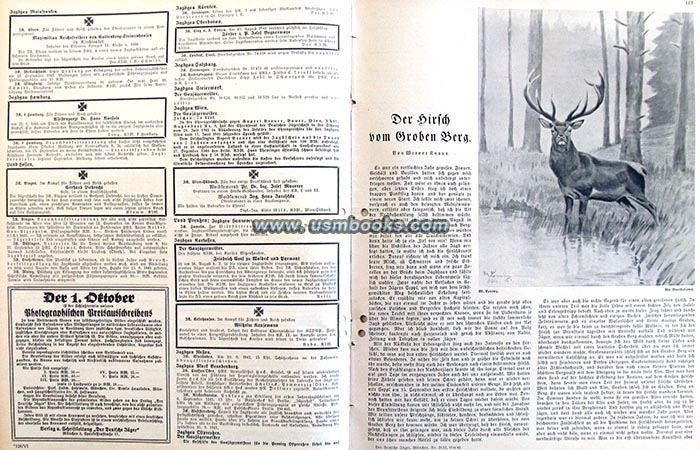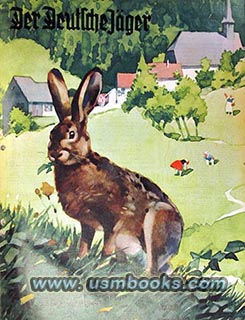 The cover of the 24 October 1942 issue features a
painting by Prof Eduard Thöny with 3 Wehrmacht
Officers present at a wild boar hunt.
The 19 issues of Der Deutsche Jäger in this lot are dated 11 April 1941, 25 April 1941, 9 May 1941, 23 May 1941, 29 August 1941, 12 September 1941, 26 September 1941, 10 October 1941, 24 October 1941, 7 November 1941, 21 November 1941, 5 December 1941, 19 December 1941, 2 January 1942, 16 January 1942, 30 January 1942, 13 February 1942, 27 February 1942 and 27 March 1942.
Advertisers include Walther, Krieghoff, Bayer, Meissen, Hensoldt, Rosenthal, Agfa, Krupp, Mauser, Spindler & Hoyer, Jägermeister, Bols, Neophan, Edward Kettner, Sauer & Sohn, Gustloff-Werke, Sinoxid, Emil Busch, Jägermeister, Wanderer, Hansaplast, etc. There are many personal ads by dog breeders, taxidermists and even men and women looking for spouses! There is even someone trying to fix up his 42 year old sister!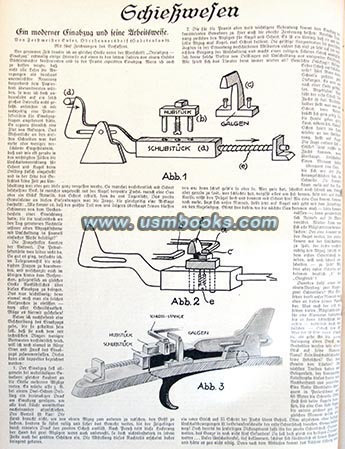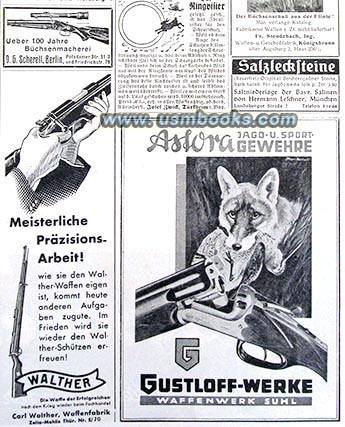 These 19 rare original wartime issues of Der Deutsche Jäger are bound in a sturdy 10 x 12-½ inch hard cover book. Before the original owner bound these 70+ year old Nazi hunting magazines they were filed in a two-ring binder so every issue has two punch holes near the spine.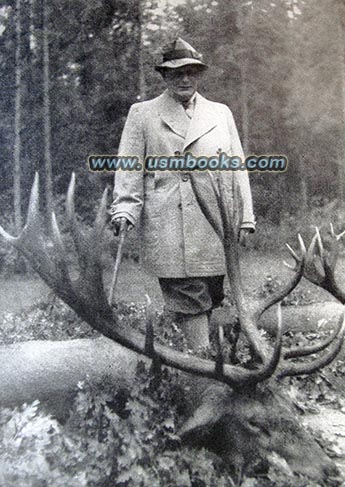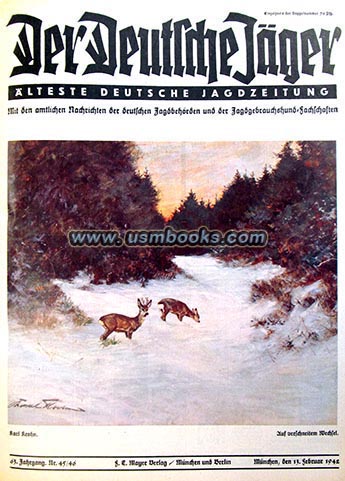 These bound 1941 and 1942 issues of Der Deutsche Jäger are offered
for sale for $295.00 PLUS postage (see details below).

• Add $13.65 for Priority Mail shipping with USPS Tracking
OR
$9.95 for Media Mail.
• IF you wish to purchase highly recommended, but optional insurance, add $4.75.
• We will be happy to ship abroad at additional cost. Please inquire.
DER DEUTSCHE JAEGER - HEAVILY ILLUSTRATED NAZI HUNTER MAGAZINES
1941 & 1942 BOUND HEAVILY
ILLUSTRATED ISSUES OF
DER DEUTSCHE JÄGER
(THE GERMAN HUNTER),
GERMANY'S OLDEST
HUNTING MAGAZINE