POSTAL RECEIPT FROM FAMOUS NAZI HANDBOOK PUBLISHER E.S. MITTLER & SOHN
IN BERLIN
E.S. Mittler & Son of Berlin was without question the largest and most successful publisher of military handbooks for soldiers of the Wehrmacht and the Waffen-SS on subjects from weapons to motorcycle troops. Their very comprehensive
Reibert manuals
made the German Armed Forces run like a well-oiled machine. This postal receipt dated 23 June 1944 is for a shipment of one packet and is a rare piece of Mittler World War II ephemera. Reibert manuals themselves are easier to find than this sort of thing! Perfect for a Reibert manual collector.
A rare piece of Third Reich ephemera perfect for a document collector! Condition as shown left and offered for sale for
$5.00, includes delivery in the USA.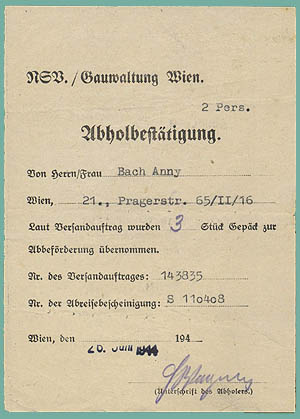 NSV GAU ADMINISTRATION
WIEN RECEIPT FOR
CHECKED LUGGAGE
A young Viennese woman named Anny Bach apparently took a trip with a relative or friend on 26 June 1944 as part of a group under the auscpices of the NSV in Wien (Vienna), Germany and was given the 4-1/8 x 5-3/4 inch, single side document shown right as a claim check for three pieces of luggage.
Very good condition
,
offered for sale for $7.50
delivered in the USA.
ORIGINAL INVITATION TO BE A PALLBEARER FOR A NATIONAL SOCIALIST VETERAN
GERMAN TOWN OF JUDENBURG
- THE PROGRAM FOR AN
EVENING AT THE THEATER
This is the 5-3/4 x 8-1/4 inch, one-sided paper
Programm
for a
Theaterabend
or Concert / Show held to benefit the Nazi 3rd
Kriegswinterhilfswerk
(
WHW
) at 8 pm on 22 November 1941.
The "Evening Out" was at the factory community of the Styrian Cast Steel Works in a town with the unlikely name of
Judenburg
(literally Jew's Fortress), Germany
.
The night's entertainment included songs and plays involving quite a number of people.
No admission was charged but this program was sold for 0.20 Reichsmarks, the equivalent of 8 US cents.
Unusual Third Reich ephemera in very good condition, offered for sale for
$19.50
delivered
i
n the USA.
RARE NAZI RACE RESEARCH OFFICE RESPONSE CARD
The Reichsstelle für Sippenforschung in Berlin was a very important and powerful part of Heinrich Himmler's Ministry of the Interior in Berlin and was in charge of hereditary / ancestry research. This is a rare pre-printed government response card from the Reichsstelle für Sippenforschung produced to be sent out to (impatient) citizens who inquired about the status of their ancestry inquiry or when they could expect to receive their Abstammungsgutachten or official ancestry certificate.
This is an original 4-1/8 x 5-7/8 inch two-sided postcard inviting Anton Spörl to be a pallbearer at the funeral of Nazi Comrade Alois Semerad on Wednesday 7 July 1943 at 10:30 AM. The card was sent by the NS-Kriegerkameradschaft, the National Socialist Veteran's Group of Inzersdorf, a suburb of Vienna, the second largest city in Adolf Hitler's Großdeutschland.
In small print at the bottom of this card it says it is the duty of every Comrade to appear at the funeral, and this card had to be brought along. Instead of Heil Hitler! the more polite version of Mit deutschem Gruß is used. This card still has its original brown Adolf Hitler stamp on the back. Rare and in very good used condition..
$ 19.95 delivered by 1st Class Mail in the USA.
The 4-1/8 x 7-7/8 inch, two-sided card informs people that the
Reichsstelle
could not comment on individual cases due to the large number of research cases into people's aryan / non-aryan background. Every citizen needed the NSDAP ancestry certificate to apply for a job, marriage, adoption, to join the Nazi Party, etc.
This rare New-Old-Stock card from 1936 was never mailed. Condition exactly as shown.


$ 55.00 delivered
by 1st Class Mail i
n the USA
.
ORIGINAL NOTIFICATION 1943 AIR RAID PROPERTY DESTRUCTION IN BERLIN
This notification was sent by the "Piwa" Pichelsdorfer Water Sport Park in Berlin to inform
Guido Goroll
that the locker he was renting to store his belongings at the
Pichelsdorfer Wassersportpark
was destroyed during an Allied air raid the night of 4 September 1943. Goroll could go to the War Damage Department at the Mayor's Office of Spandau to file a claim. Interestingly, when the message was typed on the card, Goroll's boat was also included as a
Fliegerangriff
casualty, but that part was crossed out! Condition exactly as shown.
$ 22.00 delivered
i
n the USA
.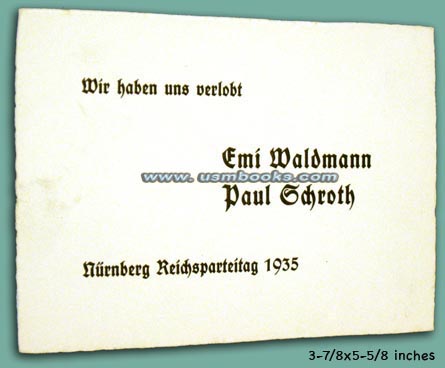 The rare one-sided card was professionally made of high-quality thick card stock and is in very good used condition.
$ 25.00 delivered
i
n the USA
.
RARE ENGAGEMENT ANNOUNCEMENT FROM THE 1935 NAZI PARTY DAYS
People were known to do some strange things in the excitement that was a part of Reichs Party Day in Nuremberg at the end of summer each year, but this is one of the strangest things yet! This rare original Third Reich card announces the engagement of Emi Waldmann and Paul Schroth. What makes it a most unusual Nazi collectible is that the couple decided to get engaged at the 1935 Nazi Party Days (Reichsparteitag der Freiheit) held in September 1935 at Nürnberg and that they mentioned the Reichsparteitag detail on their announcement card!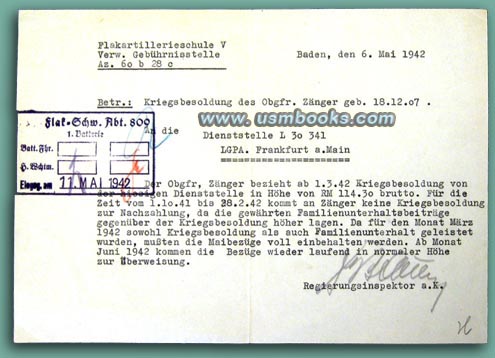 ORIGINAL NAZI ADVERTISING FOR THE
DR. GOEBBELS BOOK "KAMPF UM BERLIN"
Kampf um Berlin (The Struggle for Berlin) was a book by Nazi Propaganda Minister Dr. Joseph Goebbbels highlighting the achievements and milestones of the Nazi Party. It was published after the Nazi Party was voted into power in Germany by Zentralverlag der NSDAP, Franz Eher Nachfolger of Munich. The approximately 2-1/4 x 5 inch one-sided piece of advertising shown right was for the leinen edition that cost Reichsmark 4,50. Rare and in very good condition.
$ SOLD $.
Shown left is an original
Voelkischer Beobachter Empfangsbescheinigung
. It is a subscription receipt for the month November 1941, proof that the subscriber had paid up for the Nazi Party newspaper for that month. Condition exactly as shown.
$ 12.50 delivered
by 1st Class Mail i
n the USA
.
1941 NAZI NEWSPAPER SUBSCRIPTION RECEIPT
A SELECTION OF UNUSUAL THIRD REICH EPHEMERA
PAGE 3
This page contains various original pieces of ephemera from the Third Reich period.
Each item is explained and priced separately.


The images and the entire text used on this and all other USMBOOKS web pages are the copyrighted property of USM Inc. Those images and the text may be used by others ONLY AFTER completion of a formal international licensing agreement and payment of a licensing fee! It is therefore, illegal for anyone to take any of the material found on USMBOOKS.com and use it for their own purposes without our written permission, irrespective of any excuse they may feel they have for doing so.