A SELECTION OF UNUSUAL THIRD REICH EPHEMERA
PAGE 1
This page contains various original pieces of ephemera from the Third Reich period.
Each item is explained and priced separately.
1943 NAZI ACCREDITATION CERTIFICATE OF A MACHINIST
This lot consists of paperwork dated June 1934 to list an office supply business run by Friedrich Stuböck in the Alserstrasse in Wien in the Deutsch-Arisches Adreßbuch für Österreich or the "German-Aryan Business Index [Book] for Austria". This was a guide where Nazi business owners could clearly indentify their companies as arische Firma or "Aryan (non-Jewish) Firms".

This lot consists of an insertion order, a bill, a receipt stamped PAID, all in fine original condition. Very rare anti-Jewish material from Vienna just before it became the second largest city in Adolf Hitler's Grossdeutschland!
$ 25.00 delivered by 1st Class Mail in the USA.
ORIGINAL PAPERWORK FOR LISTING A BUSINESS INTO THE GERMAN-ARYAN BUSINESS DIRECTORY
This is a very unusual ephemera lot,
and sometimes we wonder how
material such as this survived in
such good shape for over 75 years!
Shown left is a genuine Third Reich Facharbeiterbrief or Accreditation Certificate that was issued to 18 year old Alfred Stanicki of Vienna on 14 July 1943 after he had successfully passed his examinations to become a Maschinenschlosser or machinist and completed his training period at a company called A. Fuss & Co. in Vienna.

A very nice one-sided piece of Nazi ephemera issued by the Gauwirtschaftskammer Wien. Condition exactly as shown.

$ 15.00 delivered to any address in the United States.
The original Third Reich
Gutschein
or voucher shown above could be used to order a
Buch der Bewegung
(Book of the Nazi Movement) by somebody who had recruited a new subscriber for the Nazi Party newspaper the
Völkischer Beobachter
. Panel 1 with the eagle and swastika on it has the list of books by Hitler, Rosenberg, Goebbels and others that could be ordered after the new one-year VB subscription was verified. Measures 4-1/8 x 5-1/4 inch, opens to 5-1/4 x 8-3/8 inches. Never filled out, very good condition, exactly as shown.
$ 25.00 delivered by 1st Class Mail in the USA.
1940 NAZI METAL
COLLECTION
DONATION
CERTIFICATE
The 5-3/4 x 8-1/4 inch one-sided green and tan certificate shown left was given to participants of the National German Metal Collection held on Adolf Hitler's 51st birthday, 20 April 1940.
The beautiful design featuring a Hoheitszeichen (eagle and swastika) and scenes from inside an armament factory was by artist JAG. Note the fascimile signature of Generalfeldmarschall Hermann Göring at the bottom. Very good condition with a few brown age spots. $15.00 delivered by 1st Class Mail in the USA.
SEPTEMBER 1944
OFFICIAL NAZI LEGAL SUMMONS FROM KOMOTAU,
PROTECTORATE BOHEMIA AND MORAVIA
Komotau, now called Chomutov in the northwestern Bohemia in the Czech Republic had over 30,000 inhabitants in early October 1938 when - after the Munich Agreement - it became part of the German Reich, part of Reichsgau Sudetenland in the Protectorate of Bohemia and Moravia. This official summons was sent to Anton Hüttl of Komotau from the Amtsgericht or District Court of Komotau on 22 September 1944 and it states Hüttl had to appear in court on 3 October 1944 regarding the estate of Ernst Kriegelstein. Anton Hüttl was the guardian and the summons regarding case 2 VII K 567 states he had to bring any and all paperwork regarding debts, taxes, insurance, real estate, etc to the court hearing.

Hard to find Police Court material in good used condition, still has official red embossed eagle and swastika seal attached to the back.

$22.50 delivered by 1st Class Mail in the USA.


The images and the entire text used on this and all other USMBOOKS web pages are the copyrighted property of USM Inc. Those images and the text may be used by others ONLY AFTER completion of a formal international licensing agreement and payment of a licensing fee! It is therefore, illegal for anyone to take any of the material found on USMBOOKS.com and use it for their own purposes without our written permission, irrespective of any excuse they may feel they have for doing so.
This is a rare original 4-¼ x 6 inch Sieger-Urkunde or Winner Certificate issued to a sailor, Matrose Bembenek who won the first prize in the 4 x 400 meter Staffel or relay in Kiel on 28 August 1938.

A striking and colorful piece of sports memorabilia from the Third Reich in very good condition. Blank back.

$25.00 delivered by 1st Class Mail in the USA.
VICTORY CERTIFICATE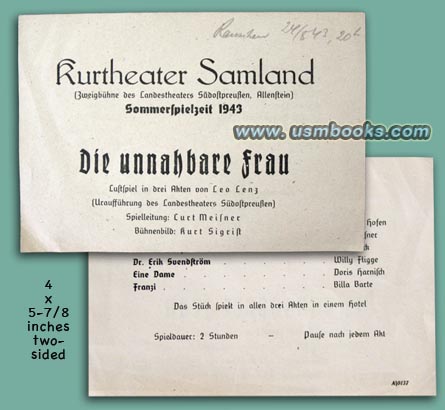 1943 TICKET FOR A PLAY IN ALLENSTEIN, EAST PRUSSIA
Die unnahbare Frau (The Aloof or Unapproachable Woman) is 1942 play in three acts by Leo Lenz and this 4 x 5-7/8 inch two-sided ticket was for summer performances in 1943. The performances took place at the Kurtheater Samland which was part of the Zweigbühne des Landestheaters Südostpreussen in Allenstein (today Olsztyn in Poland). The actors are listed on the back. A notation in pencil in the upper right hand corner of the front shows the original owner went to a performance on 24 August 1943 at 8 PM.

Condition exactly as shown left. $15.00 delivered by 1st Class Mail in the USA.
NAZI NEWSPAPER ADVERTISING BILL INNSBRUCKER NACHRICHTEN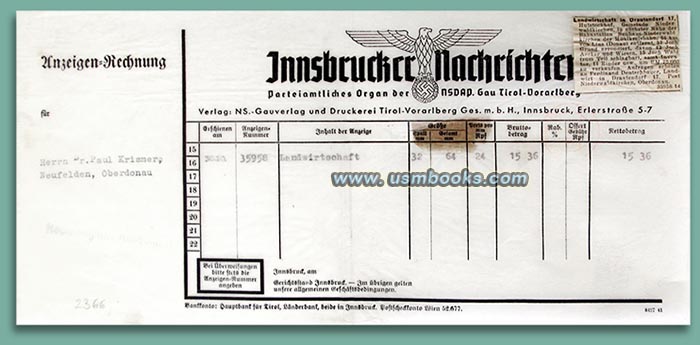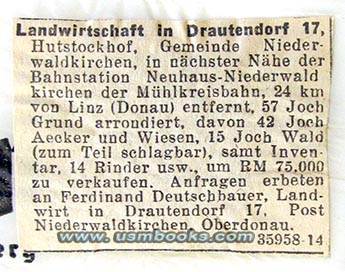 This is an original Anzeichen-Rechnung, a bill for an ad in the Innsbrucker Nachrichten, the official newspaper of the Nazi Party in Gau-Tirol-Vorarlberg. The ad was for a farm in Drautendorf, 24 kilometers from Linz that was for sale for RM 75,000 and cost Dr. Paul Krismern of Neufelden RM15.36 to place. As you can see in our photos, the actual advertisement was glued to the upper right-hand corner of the 6 x 12-1/8 inch (!) bill.

$ 20.00 delivered by 1st Class Mail in the USA.