The images and the entire text used on this and all other USMBOOKS web pages are the copyrighted property of USM Inc. Those images and the text may be used by others ONLY AFTER completion of a formal international licensing agreement and payment of a licensing fee! It is therefore, illegal for anyone to take any of the material found on USMBOOKS.com and use it for their own purposes without our written permission, irrespective of any excuse they may feel they have for doing so.
This USMBOOKS web page contains original Third Reich ephemera related to different elections in Nazi Germany and Greater Germany: voting instructions, election IDs, ballots, proof of voting, etc.

Each item is priced individually and includes shipping by 1st Class Mail in the USA. Additional charges apply for Priority Mail, insurance and shipment to countries outside the USA. We are happy to combine shipping.
This original 4-1/8 x 6 inch Nazi postcard shows an election plaque showing election results in the Salzburg area. In the text below the eagle and swastika it says that the election plaque from 1921 shown, would be covered up by a plaque with the results of the 10 April 1938 election.
This is a 100% original piece of ephemera dating back to the 13 March 1938 Volksabstimmung or referendum about the reunification of Austria with Adolf Hitler's Germany. The approximately 7-¼ x 10-½ inch piece gives instructions on what the election ballot will look like, how to vote, what form of official identification to bring and the results of a YES vote: the rebuilding of Austria, creation of work and bread for hundreds of thousands of fellow citizens, and the removal of hardship and poverty.
One-sided, was folded at one time, condition exactly as shown.
$45.00 delivered in the USA
VOTER IDENTITY CARD
This 4-1/8 x 5-3/4 inch card was sent by the Mayor's office to Marie Stipek of Vienna to inform her where to vote on 10 April 1938. The Wahlausweis or Voting ID was for the election about reunification of Austria with Adolf Hitler's Germany.
The Anschluß took place after 97% of Austrians voted yes. Absolutely 100% original, condition exactly as shown.
$25.00 delivered in the USA
NAZI ELECTION POSTCARD SALZBURG
It also mentions a 2 April 1938 visit to the area by Generalfeldmarschall Hermann Göring who had urged voters to cast their ballot in favor of reunification of Austria with Adolf Hitler's Germany.

This card was mailed in 1944 and the original green Adolf Hitler stamp is still there, however the address of the recipient was erased. Condition exactly as shown.
$25.00 delivered in the USA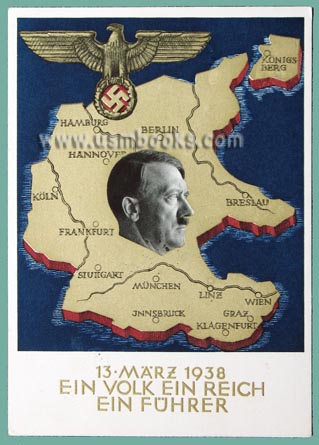 Postcard Lot 136 - a colorful 77+ year old Nazi postcard produced to commemorate the national vote to incorporate the country of Austria into Adolf Hitler's Greater German Reich on 13 March 1938. This 104 x 148 mm card was designed by Professor Richard Klein.

The postcard was mailed and has a 1-1/2 inch round Ein Volk • Ein Reich • Ein Führer Wien cancelation with swastikas dated 10 April 1938 over a Ein Volk • Ein Reich • Ein Führer postage stamp. Very nice used condition.
$ 16.50 delivered in the USA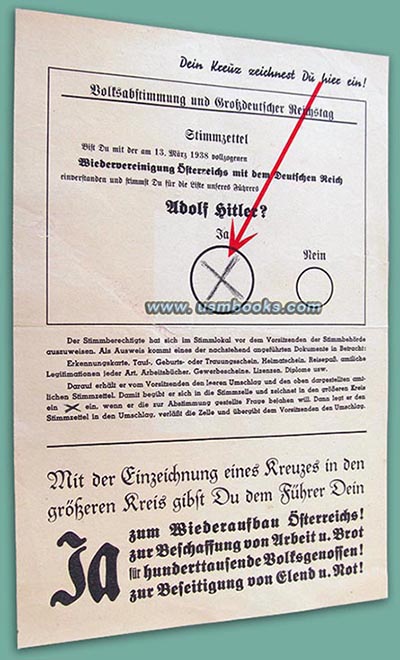 1938 ELECTION POSTCARD
VOTE 'YES' FOR HITLER INSTRUCTIONS
ORIGINAL THIRD REICH NSDAP ELECTION MATERIAL