These original Nazi documents issued to NSKK-Rottenführer Horst Draudt
are for sale for $145.00 delivered by 1st Class Mail in the USA.
• IF you prefer Priority Mail shipping with USPS Tracking add $6.70.
• IF you wish to purchase highly recommended, but optional insurance, add $3.45.
• We will be happy to ship abroad at additional cost. Please inquire.
These two rare 100% original Third Reich documents were issued to a 20 year old NSKK-Rottenführer named Horst Draudt who as born 4 May 1923 in Frankfurt am Mainz.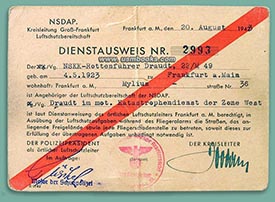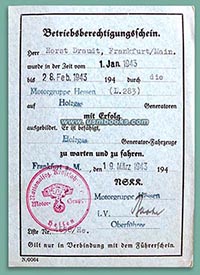 BOTH DOCUMENTS ISSUED IN 1943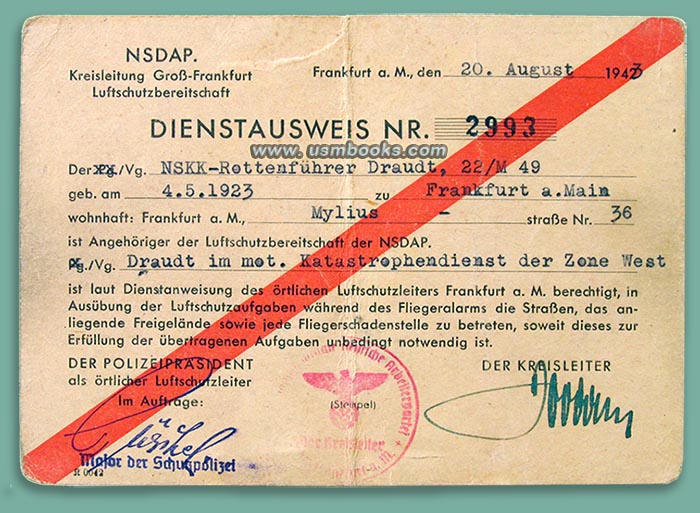 The tan 4-1/8 x 5-¾ inch one-sided document document was issued by the NSDAP Kreisleitung Gross-Frankfurt, department Luftschutzbereitschaft (Air Raid Protection Preparedness). It is Dienstausweis (Service ID) number 2993 issued on 20 August 1943 showing that NSKK-Rottenführer Horst Draudt was a member of the RLB (Reichsluftschutzbund or State Air Raid Protection Association) and authorized to go anywhere on "Catastrophy Service" in the heavy bomb-damaged Zone West of Germany.

Note that this rare Dienstausweis was signed by both a Major of the Schutzpolizei and the NSDAP Kreisleiter! The pink rubber stamp between those signatures is from the NSDAP Kreisleiter's office of Frankfurt a.M. Folded once, condition exactly as shown. We have never seen another similar "Catastrophy Service" document in over 40 years of selling Nazi identity documents.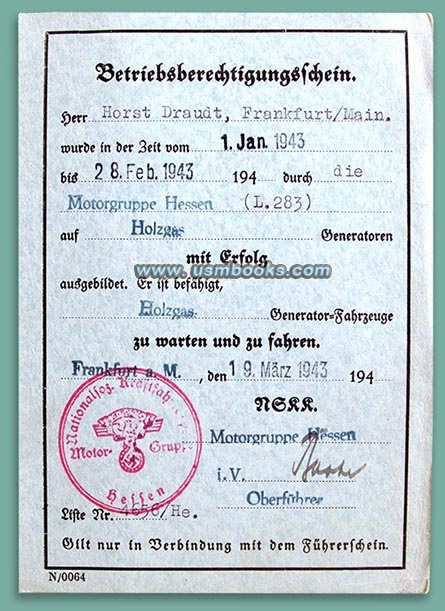 The blue colored Betriebsberechtigungsschein (Operating Qualifications Certificate) shown left was issued to Horst Draudt by the NSKK (Nationalsozialistisches Kraftfahrkorps or National Socialist Motorized Transport Corps) Motorgruppe Hessen (L.283) after he completed two months of training in the use of Holzgas Generatoren-Fahrzeuge, trucks operated with woodgas generators.

In woodgas generator equipped trucks, the generator was charged with wood chips which were converted inside the generator to a gas which could be burned by the modified but original internal combustion truck engine (see drawing below). Operating such trucks was dangerous and thus required the training provided by the NSKK and confirmed by this certificate.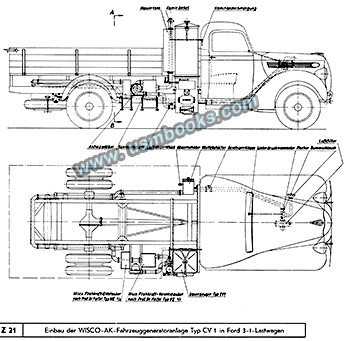 This 4-¼ x 5-¾ inch one-sided NSKK Betriebsberechtigungsschein was signed by the Oberführer of the Motorgruppe Hessen and has the appropriate purple NSKK eagle and swastika rubber stamp. It was valid only in combination with the driving license of the owner.

Very nice condition, exactly as shown above.
TWO 1943 NAZI IDENTITY DOCUMENTS OF A NAZI NSKK-ROTTENFUEHRER
FROM FRANKFURT aM
A GENUINE NSDAP DIENSTAUSWEIS AND NSKK BETRIEBS-BERECHTIGUNS-SCHEIN


The images and the entire text used on this and all other USMBOOKS web pages are the copyrighted property of USM Inc. Those images and the text may be used by others ONLY AFTER completion of a formal international licensing agreement and payment of a licensing fee! It is therefore, illegal for anyone to take any of the material found on USMBOOKS.com and use it for their own purposes without our written permission, irrespective of any excuse they may feel they have for doing so.