The images and text used on this and all other USM web pages are the copyrighted property
of USM Inc. Those images and the text may be used by others ONLY AFTER completion
of a formal international licensing agreement and payment of a licensing fee!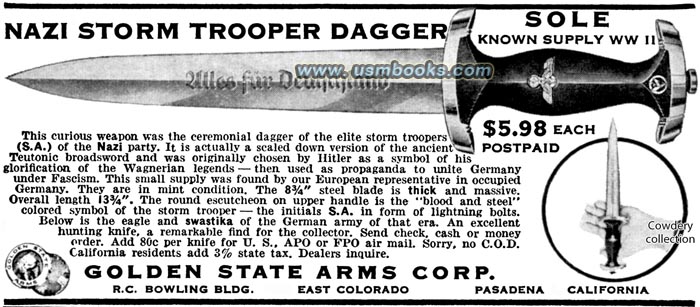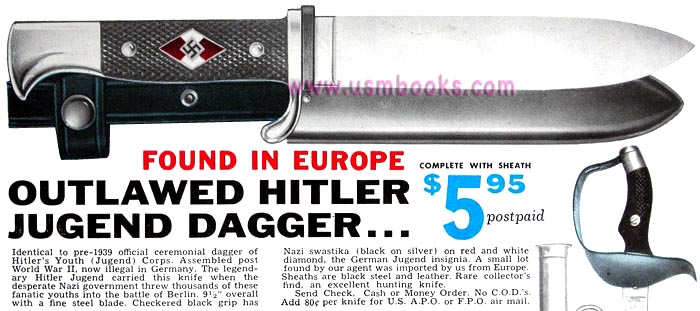 In the 21st century, Nazi daggers of all sorts have become the most desirable Third Reich collectibles of them all. They are also the most widely faked and embellished of all Nazi collectibles. Long before there were "authoritative books and websites" on the subject of Nazi daggers, Golden State Arms Company of Pasadena, California was disposing of them as industrial waste. With come-on captions and text about fascism and Wagnerian legends, fanatic youth and small lots found by our agent in Europe, Golden State Arms had a great deal to do with popularizing the collecting of Nazi daggers long before the current crop of experts were wearing long pants. Here are three genuine Golden State Arms Nazi dagger ads from the early 1950s brought to you by www.USMBOOKS.com for your amusement. Feel free to forward this webpage to anyone you think might enjoy it!

NAZI DAGGERS FOR HOW MUCH...?
This USM Books website is Copyright © 2012 by USM, Inc., and the text and images on it are fully protected by international copyright law. It is therefore, illegal for anyone to take any of the material found here and use it for their own purposes without our written permission, irrespective of any excuse they may feel they have for doing so.