The images and text used on this and all other USM web pages are the copyrighted property
of USM Inc. Those images and the text may be used by others ONLY AFTER completion
of a formal international licensing agreement and payment of a licensing fee!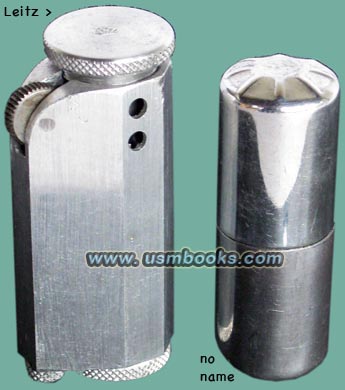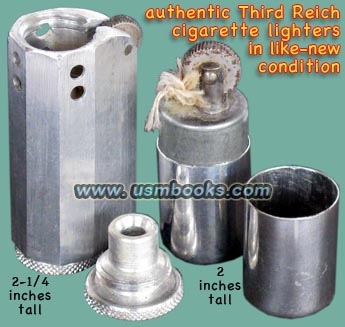 THIRD REICH LIGHTERS
There were a variety of lighters made in Germany during the Third Reich and the two we are offering here are perfectly typical of the lighters used by Wehrmacht troops in the field, in combat and on leave. They are small, sel-contained pocket lighters which work on the same principal as American lighters of the World War II period.

The larger of the two lighters (left) has the name Leitz stamped into the knurled, threaded top cap. The body and both threaded caps of this lighter are machined from solid aluminum stock. The whole thing is in very nice, very lightly used original condition.
The smaller of the two lighters (right) consists of a steel body and two bright metal caps that slip over it. It is in very nice, lightly used condition.

Lighters like these can be found in all good World War II European museums and in books like Deutsche Soldaten - Uniforms, Equipment & Personal Items of the German Soldier 1939-1945 by Augustin Saiz.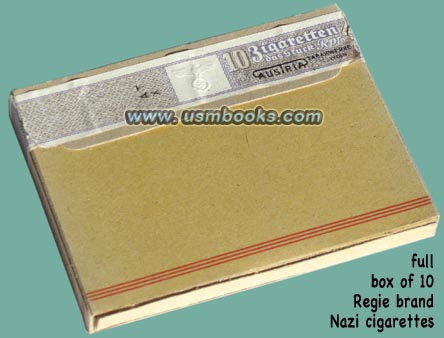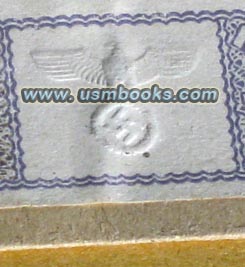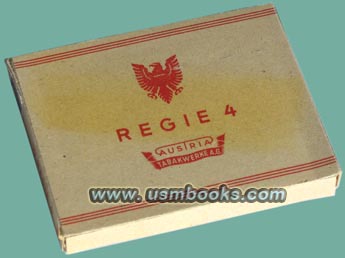 It still has the Nazi tax stamp with embossed eagle and swastika in tact across the entire back of the package. Condition as shown, with some discoloration on the front of this package of original Third Reich cigarettes.
---
NAZI CIGARETTES IN ORIGINAL PACKAGE WITH TAX STAMP
This USM Books website is Copyright © 2011 by USM, Inc., and the text and images on it are fully protected by international copyright law. It is therefore, illegal for anyone to take any of the material found here and use it for their own purposes without our written permission, irrespective of any excuse they may feel they have for doing so.

THIRD REICH PACKAGE OF REGIE CIGARETTES
WITH NAZI TAX STAMP
This is an absolutely original 3/8 x 2-1/2 x 3-3/8 inch Third Reich era cigarette box that still holds the 10 original REGIE Zigaretten or cigarettes produced by Austria Tabakwerke AG of Wien, Germany.
This original Nazi era package of Regie cigarettes is
**SOLD**
For optional insurance, add $1.95 to your payment.
We will be happy to ship abroad at additional cost. Please inquire.