The images and text used on this and all other USM web pages are the copyrighted property
of USM Inc. Those images and the text may be used by others ONLY AFTER completion
of a formal international licensing agreement and payment of a licensing fee!
---
NAZI AMATEUR BOXING MEDAL GROUPING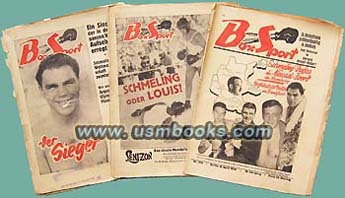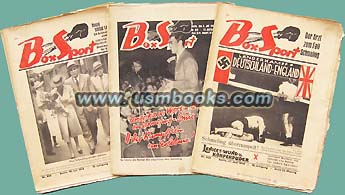 TWO LARGE NATIONAL NAZI BOXING MEDALLIONS,
18 BOX SPORT MAGAZINES FROM THE 1930s AND 1940s
(JOE LOUIS - MAX SCHMELING) AND A STACK OF
BOXING EPHEMERA ALL FROM ONE GERMAN BOXER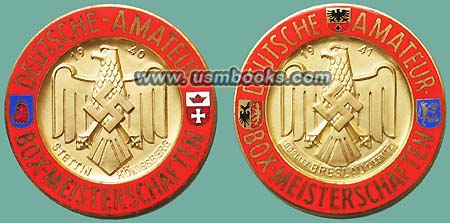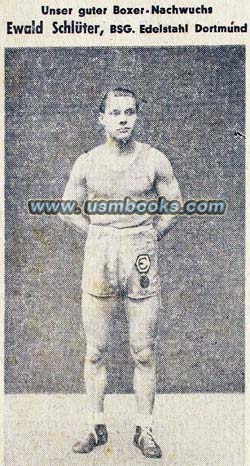 Ewald Schlüter was a boxer for the Box-Sport Gemeinschaft Edelstahl (Stainless Steel) in Dortmund, Germany in the 1930s and early 1940s. His period newspaper biography and photo are a part of a large stack of boxing clippings that he saved, and they provide an illuminating background for the other items in this grouping.

Schlüter's two beautiful gold plated Deutsche Amateur Box-Meisterschaften (German Amateur Boxing Championships) medallions, one from 1940 and one from 1941, are also included in this lot. Each heavy, diestruck medallion measures over 3 inches in diameter, bears a huge Nazi eagle and swastika along with the date, names of the cities where the competitions were held, and small Wappen or shields of the those cities.
In 1940 the Deutsche Amateur Box-Meisterschaften were held in Stettin and Königsberg, and the 1941 Deutsche Amateur Box-Meisterschaften were split between the cities of Görlitz, Breslau and Lignitz. On the back of each of the medallions is the name of the maker, Hermann Aurich of Dresden, and each comes with its original printed package!

The 18 heavily illustrated old Box-Sport magazines that are a part of this grouping are a time-capsule treasure trove of the sport of boxing in the Greater Germany of Adolf Hitler. Dated between 18 May 1936 and 17 March 1941, the magazines cover the boxing life of German World Heavy Weight Champion Max Schmeling, as well as American Heavy Weight Champion Joe Louis and scores of other boxers.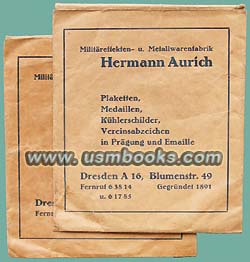 The headline on an early issue promises a tour of Max Schmeling's training camp in the USA, just in by "Zeppelin Mail from America". Together, the magazines constitute an enormous archive of contemporary information about both Louis and Schmeling before they fought, after Schmeling beat Louis for the championship, and after Louis won the return match.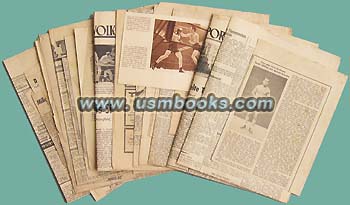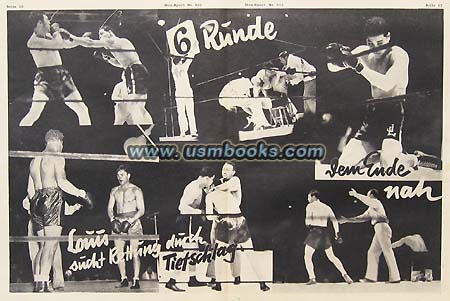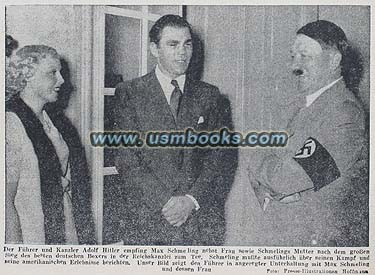 The contents may also include additional information about Ewald Schlüter and his amateur boxing career. We have not had an opportunity to peruse the magazines or clippings for information related to Schlüter or the Edelstahl boxing team from Dortmund.
This is fascinating unique material of known provenance that has been hidden away in Germany for the past 60+ years! It belongs in a museum.
This Nazi era amateur boxing grouping is **SOLD**
.
We will be happy to ship abroad at additional cost. Please inquire.
This USM Books website is Copyright © 2011 by USM, Inc., and the text and images on it are fully protected by international copyright law. It is therefore, illegal for anyone to take any of the material found here and use it for their own purposes without our written permission, irrespective of any excuse they may feel they have for doing so.