This nice original 1940 Third Reich Mundlos k98 bayonet is offered
for sale for $195.00 + postage (see below).

• For Priority Mail shipping with USPS Tracking add $8.95.
• IF you wish to purchase optional insurance, add $3.50.
• We will be happy to ship abroad at additional cost. Please inquire.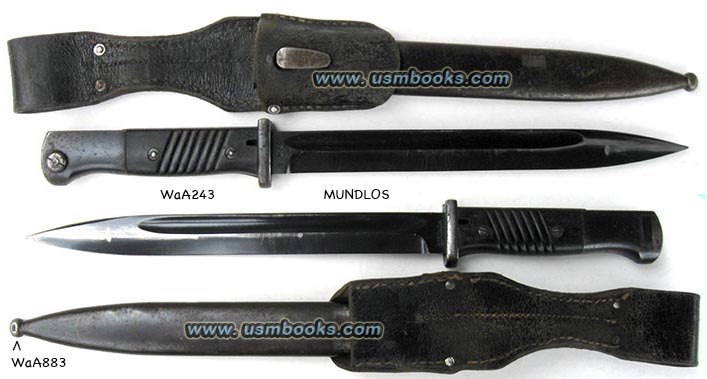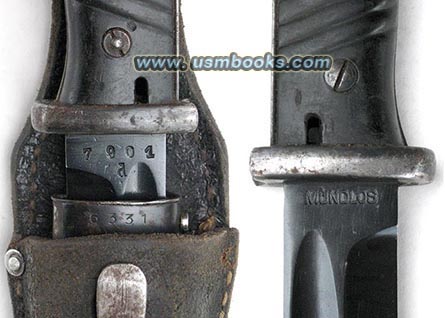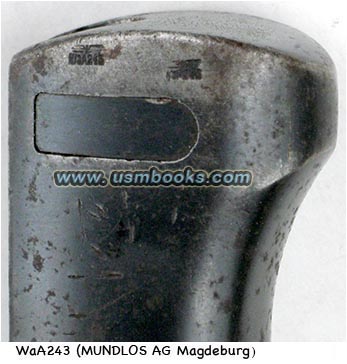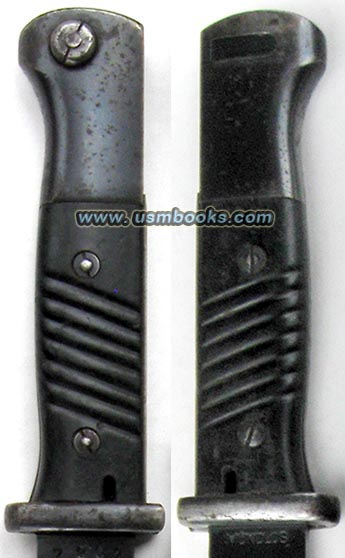 A VERY NICE ORIGINAL THIRD REICH GERMAN MUNDLOS K98 BAYONET FROM
1940 COMPLETE WITH FROG
AND SCABBARD
This is a nice Third Reich German k98 bayonet retaining much of its original finish as manufactured by Mundlos of Magdeburg in Saxony, Germany in 1940.
The blade of the bayonet is marked MUNDLOS for Mundlos AG of Magdeburg on one side, and 7901d on the other side with the number 40 on the top edge. The top of the handle is marked WaA 243 beneath straight-wing eagles. The scabbard is marked 6331 on the front side and fnj for Alexander Coppel on the back side at the throat and WaA883 on the ball at the tip of the scabbard.

The frog is unmarked but clearly original to the scabbard. The handle is composed of two original matching dark brown bakelite pieces.
The nearly black blade has never been sharpened and has one almost invisible nick in it about 1-½ inches from the tip, and what little wear there is to it is obvious in our photos. The good condition of the frog and nice condition of the scabbard (no dings) are consistent with the bayonet itself and we feel sure the outfit was issued as you see it. It would be very difficult to remove the heavy, but perfectly supple black leather frog from the scabbard.
This is a nice honest example of a war-used 1940 Mundlos Nazi combat bayonet and the perfect accompaniment for a mid-war K98 rifle. The lower frog rivet on the right hand front side is pulled through the top piece of leather but is there and is complete.
1940 MUNDLOS NAZI k98 BAYONET WITH SCABBARD & FROG


The images and the entire text used on this and all other USMBOOKS web pages are the copyrighted property of USM Inc. Those images and the text may be used by others ONLY AFTER completion of a formal international licensing agreement and payment of a licensing fee! It is therefore, illegal for anyone to take any of the material found on USMBOOKS.com and use it for their own purposes without our written permission, irrespective of any excuse they may feel they have for doing so.