The images and text used on this and all other USM web pages are the copyrighted property
of USM Inc. Those images and the text may be used by others ONLY AFTER completion
of a formal international licensing agreement and payment of a licensing fee!
This limited edition 1937 Nazi aviation directory TRANSAER is
**SOLD**.


USM book #469
• IF you prefer Priority Mail shipping with USPS delivery confirmation add $6.95.
• IF you wish to purchase highly recommended, but optional insurance, add $5.95.
• We will be happy to ship abroad at additional cost. Please inquire.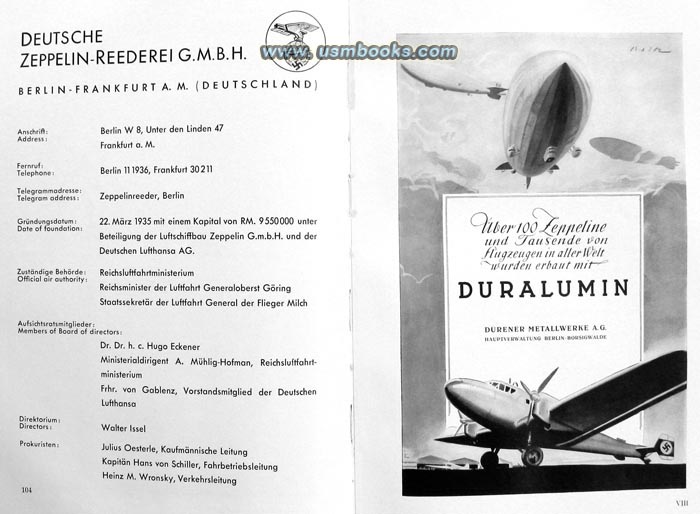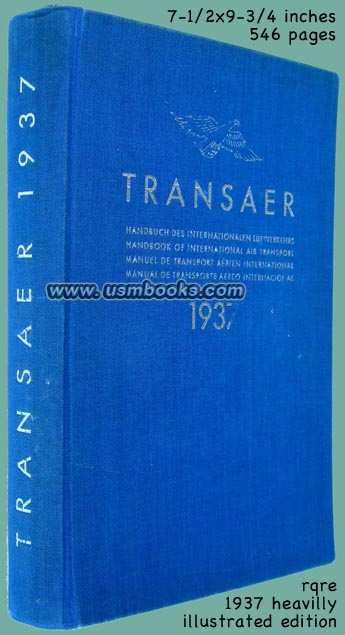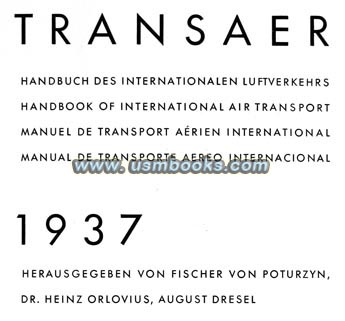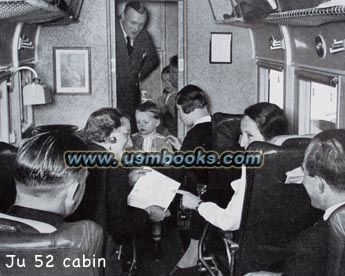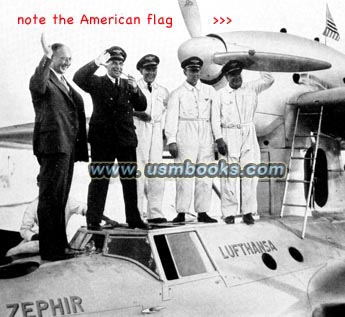 This is a fine original example of the very rare limited edition of the nazi aviation directory TRANSAER Handbuch des Internationalen Luftverkehrs (Handbook of International Air Transport or Manuel De Transport Aerien International, Manual De Transporte Aereo Internacional). It is a 7-1/2 x 9-3/4 inches, 546 pages heavily illustrated linen hard cover with silver blocking, of which only 2000 copies were published in four languages (German, English, Spanish and French) in late 1937 for Richard Pflaum Verlag of Munich.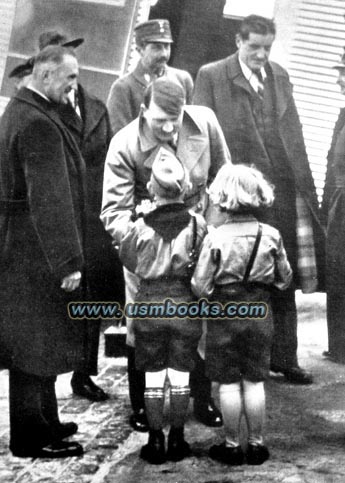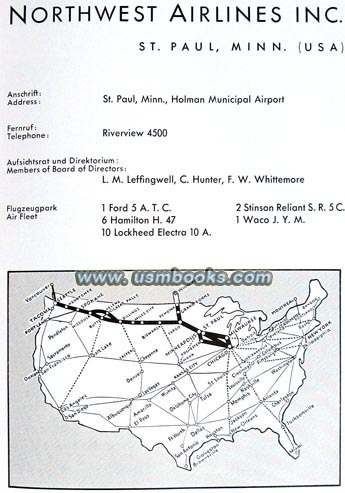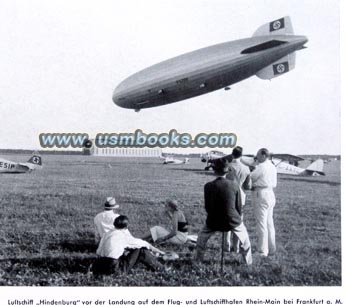 According to the foreword by authors Fischer von Poturzyn, Dr. Heinz Orlovius and August Dresel, this book was meant to be a reference for all who wished to have information about commercial aviation in view of the fact that air travel around the globe had become a reality.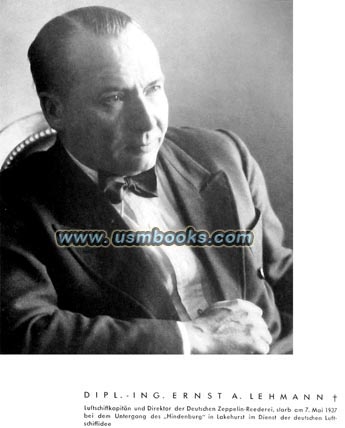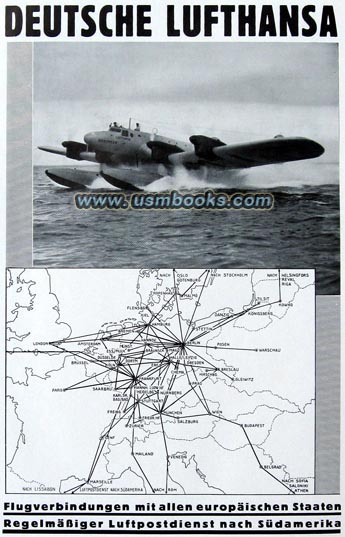 After the introductory chapter about world air travel there is a very comprehensive list of airlines by country, a short history of many national airlines, its founders, their flight network, fold-out world map with airline routes, the IATA (International Air Transport Association) and its history and members. The book also contains examples of aerial photography, superb interior and exterior photos of modern airplanes, airline founders, new airports, new air freight options, European royalty and Adolf Hitler taking advantage of modern air travel as well as portraits of Reichsminister der Luftfahrt Generaloberst Hermann Goering, General der Flieger Milch, founders of Deutsche Lufthansa, etc.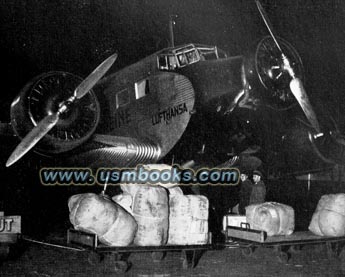 The books contains up-to-date information for Deutsche Lufthansa, Deutsche Zeppelin-Reederei, Deutsch-Russisch Luftverkehrs, Aero O/Y, Air Bleu, Aberdeen Airways, Birkett Air Service, British Airways, Guernsey Airways, Blackpool Air Services, Highland Airways, Jersey Airways, Lundy and Atlantic Coast Air Lines, Ala Littoria S.A., Avio Linee Italiane, Aeroput, KLM, Norske Luftfartselskap, Österreichische Luftverkehrs AG, Lot, Aeroflot, Swissair, A-B Aerotransport, Air France, Imperial Airways, Sabena, South African Airways, Wilson Airways, Qantas, Canadian Airways, Braniff, Delta Air Corporations, PanAm, Chicago & Southern Airlines, Northwest Airlines, Grand Canyon Airlines, Varney Air Transport, Wyoming Air Service, Cook Strait Airways, Tata Sons, eight different Japanese airlines, six different Mexican airlines, and dozens of other airlines large and small around the world.
Wonderful period advertising from Heinkel, Junkers, Messerschmitt, Henschel Flugzeugwerke AG, Siemens Luftfahrt Bordgeräte, Focke-Wulf, Dornier, Deutsche Luftwacht magazine, Mercedes-Benz diesel engines, Shell, the English language magazine Germany and You, Zeiss, Telefunken, etc., etc.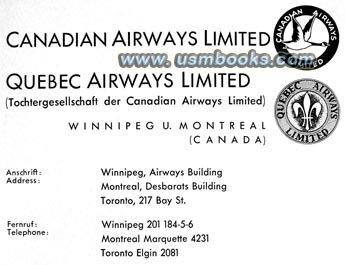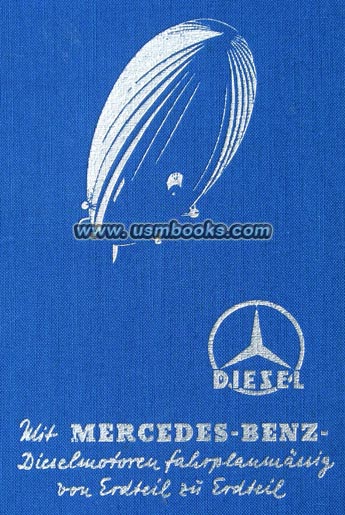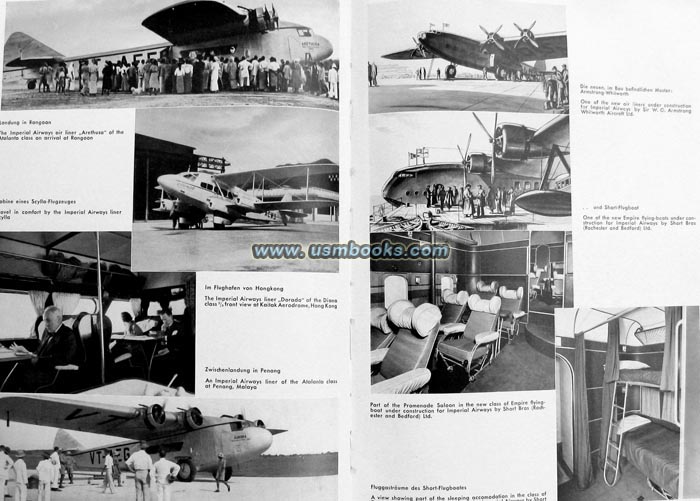 TRANSAER Handbuch des Internationalen Luftverkehrs is a very rare 75 year old Third Reich aviation book. This example is in fine used condition.
RARE 1937 NAZI WORLD AVIATION DIRECTORY
VERY RARE ORIGINAL 1937 NAZI WORLD AVIATION DIRECTORY - VERY LIMITED PRINTING
This USM Books website is Copyright © 2012 by USM, Inc., and the text and images on it are fully protected by international copyright law. It is therefore, illegal for anyone to take any of the material found here and use it for their own purposes without our written permission, irrespective of any excuse they may feel they have for doing so.