The images and the entire text used on this and all other USMBOOKS web pages are the copyrighted property of USM Inc. Those images and the text may be used by others ONLY AFTER completion of a formal international licensing agreement and payment of a licensing fee! It is therefore, illegal for anyone to take any of the material found on USMBOOKS.com and use it for their own purposes without our written permission, irrespective of any excuse they may feel they have for doing so.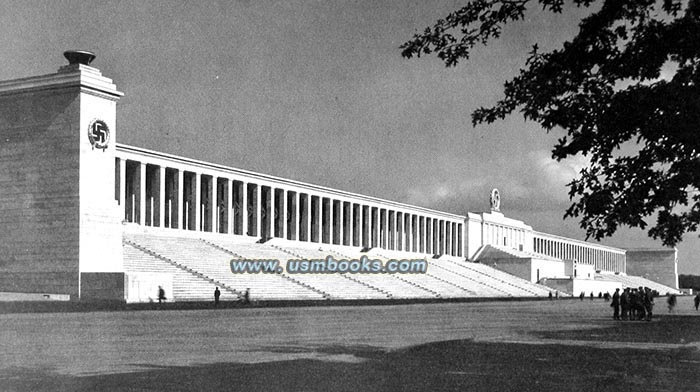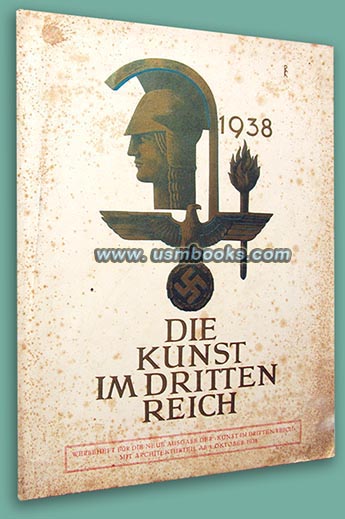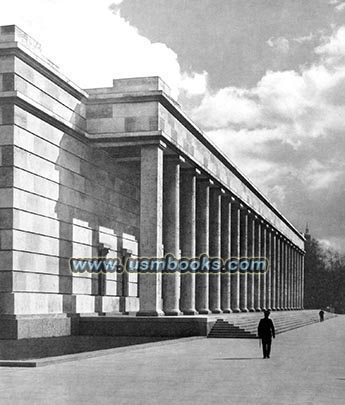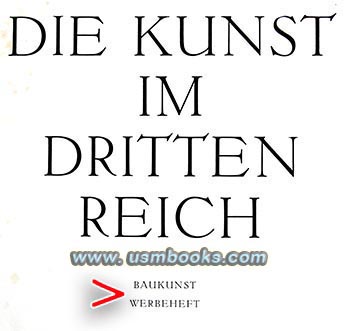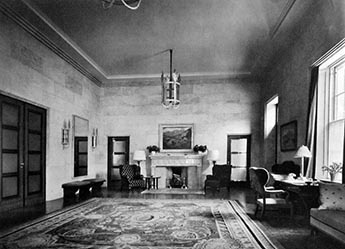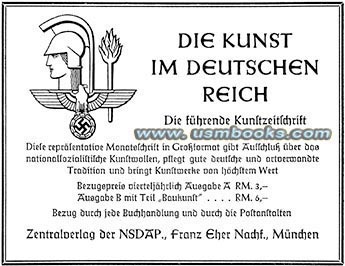 This is the very rare Werbeheft or Advertising Issue printed to announce the upcoming changes to the heavily illustrated high-quality Nazi art magazine Die Kunst im dritten Reich (The Arts in the Third Reich) published by Zentralverlag der NSDAP, Franz Eher Nachfolger (the Central Publishing House of the Nazi Party). Effective on 1 October 1938, the architecture magazine Die Baukunst would be added to Die Kunst im dritten Reich art magazine as Ausgabe B or Edition B. For those who wanted to subscribe only to the painting and sculpture magazine it would continue to be available as Ausgabe A or Edition A.
This oversize 11 x 14 inch 12-page advertising publication (same size and appearance as regular issues of Die Kunst im dritten Reich) starts with an explanation of why National Socialist architecture deserved a place in the Die Kunst im dritten Reich magazine, Ausgabe B. Paintings, sculpture and graphic arts were not the only art forms important in Nazi Germany anymore, the enormous development of Nazi construction had made it necessary to expand the mission of Die Kunst im dritten Reich magazine. Incorporating a section on Nazi architecture and construction would make the magazine more complete and focussed on the importance and scope of the development of Germany.
There are photos of Professor Paul Ludwig Troost's House of German Art in Munich, Professor Albert Speer's Haupttribune at the Nazi Party Day Grounds in Nuremberg, the interior of the German Embassy in London (left) as well as an architectural model of a future Reichsautobahn bridge, barracks in Weimar and architectural drawings of theaters to be built in Berlin and Hamburg. There are also very historic sketches of plans for the Siegesallee or Victory Avenue in Berlin designed by Professor Albert Speer and architect Hermann Giesler's plans for construction around Adolf Hitler Square.
Right, is an image from the USMBOOKS image archive. It is a Third Reich Zentralverlag der NSDAP ad for their "Die Kunst" magazines which they referred to as "The Leading Art Magazine".

Note the two different editions, Ausgabe A and Ausgabe B, priced at RM 3 and RM 6! The advertisement dates from after September 1939 when the name of the magazine was changed from Die Kunst im dritten Reich (Art in the Third Reich) to Die Kunst im deutschen Reich (Art in the German State).
In the back there are official announcements of orders by Adolf Hitler regarding construction projects in the area around the Volkswagenstadt (Fallersleben) and Reichshauptstadt Berlin as well as architect promotions and architecture book reviews.
In many ways, this 1938 announcement of Ausgabe A and Ausgabe B of Die Kunst im dritten Reich is much rarer than either edition of the actual art magazines. This example is complete and in very nice condition, except for the foxing spots on the front and back covers.
This rare 1938 Werbeheft Baukunst of Die Kunst im dritten Reich is
**SOLD**

• IF you prefer faster and safer Priority Mail shipping with USPS Tracking add $7.50.
• IF you wish to purchase highly recommended, but optional insurance, add $2.95.
• We will be happy to ship abroad at additional cost. Please inquire.
RARE 1938 ADVERTISING SUPPLEMENT ISSUE FOR THE NEW EXPANDED FORMAT OF DIE KUNST IM DRITTEN REICH STARTING IN OCTOBER 1938
SPECIAL ISSUE OF
"THE ARTS IN THE
THIRD REICH"
ANNOUNCING THE
AVAILABILITY OF
TWO EDITIONS:
AUSGABE A (PAINTINGS, SCULPTURE) AND
AUSGABE B WHICH COMBINED PAINTINGS, SCULPTURE WITH ARCHITECTURE EFFECTIVE FROM OCTOBER 1938