This is an complete, original example of the big 7 x 9-1/2 inch, 24 page program sold on the streets of München for 10 Pfennigs (4 cents) during the parade that opened the festivities of the Day of German Art in 1937. The theme of the festival and the parade was Zweitausend Jahre Deutsche Kultur (2000 Years of German Culture) and the program with the embossed soft cover, we offer here depicts and explains in perfectly.
Don't miss the original Third Reich 1938 Munich Art Festival
guidebooks for sale on USMBOOKS.com.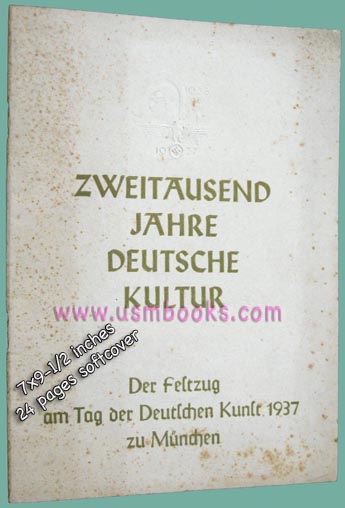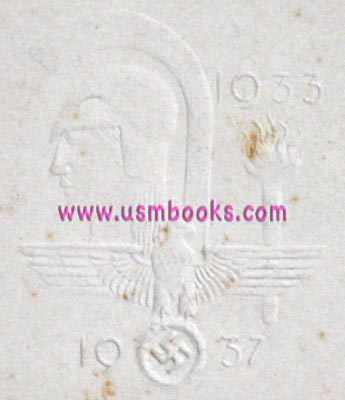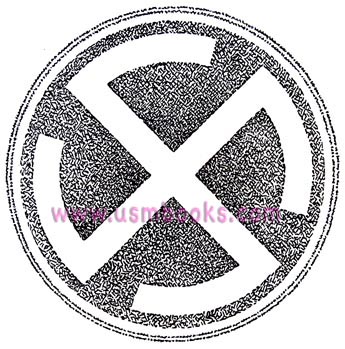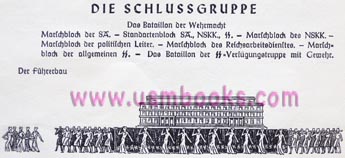 Each of the floats and units in the parade depicted a different period in the history of Germany, from the earliest German days through the Roman times, the Gothic era, the Renaissance, Baroque and Classic periods and of course, the Nazi era. The last pages of the book and a large part of the parade focused on the Nazi period and the floats and units dealt with everything from the World of Richard Wagner, the Return of the Saarland, Mother Earth, The Nazi Eagle and Swastika, etc.
There were special floats to showcase the Hoheitsadler (State Symbol of the eagle and swastika) and monumental construction projects of the Führer such as the Führerbau. A special section of the parade called the Schlussgruppe consisted of the Nazi Party leadership of units like the SS, HJ, SA, NSKK, RAD, etc. and the Waffenträger – the Army, Air Force, Police and SS-Verfügungstruppe. Beautifully decorated pages showing the München Deutschland Erwache standard and a full-page map of the parade route in central Munich.

Very good used condition. Discoloration to the cover, but the internal pages are in very good condition.
This 1937 Nazi art festival and parade program is
offered for sale
for $125.00 delivered by 1st Class Mail in the continental USA
.


USM book #282a
• IF you prefer Priority Mail shipping with USPS delivery confirmation add $6.65.
• IF you wish to purchase optional insurance, add $3.45.
• We will be happy to ship abroad at additional cost. Please inquire.
NAZI FESTIVAL PROGRAM DAY OF GERMAN ART 1937
2000 YEARS OF GERMAN CULTURE – THE FESTIVAL PROGRAM OF THE
TAG DER DEUTSCHEN KUNST
IN MÜNCHEN 1937


The images and the entire text used on this and all other USMBOOKS web pages are the copyrighted property of USM Inc. Those images and the text may be used by others ONLY AFTER completion of a formal international licensing agreement and payment of a licensing fee! It is therefore, illegal for anyone to take any of the material found on USMBOOKS.com and use it for their own purposes without our written permission, irrespective of any excuse they may feel they have for doing so.