The images and text used on this and all other USM web pages are the copyrighted property
of USM Inc. Those images and the text may be used by others ONLY AFTER completion
of a formal international licensing agreement and payment of a licensing fee!
---
FULL-COLOR NAZI ARMY COMBAT PRINT SET
A SPECTACULAR SET OF 15 BIG FULL-COLOR PRINTS
OF THE GERMAN ARMY IN ACTION

These Nazi Army combat photo prints are **SOLD**.
We will be happy to ship abroad at additional cost. Please inquire.
This USM Books website is Copyright © 2014 by USM, Inc., and the text and images on it are fully protected by international copyright law. It is therefore, illegal for anyone to take any of the material found here and use it for their own purposes without our written permission, irrespective of any excuse they may feel they have for doing so.

This is a group of 15 full-color art prints, each measuring about 13 x 15 inches. Each print in the set is labeled
DAS HEER IM GROSSDEUTSCHEN FREIHEITSKAMPF
(The Army in the Greater German Battle for Liberty) and was published for the OKH in Berlin by Förster und Borries in Zwickau, Sachsen, Germany in about 1942.
The prints in this set were published just early enough in the war to be printed on high quality coated white paper stock which gives each print bright, vibrant colors.
Almost all prints like these were framed or posted in barracks and classrooms, sent to friends, etc. Even today German antique and militaria dealers frame individual examples from this set and sell them for prices in the $150 to $250 range.
Many of these prints were made from photographs taken in the Soviet Union by Army PK
(Propagandakompanie)
or combat photographers. Some were taken in the Balkans and Greece and some were taken in arctic regions. Each print bears the name of the PK who took the photo and a caption which describes the picture.
.... Heavy Artillery in the East, Flame Thrower in Action, Mounted Infantry Troop, Supply Column in the East, Infantry Assault Troops in White, River Assault Boats, Supplies for a Grenadier Company, Near the North Pole, Infantry in the Far North, Light Field Gun in Action, Infantry Column Moving Forward, Engineers Repair a Bridge.
All the images are in very good condition.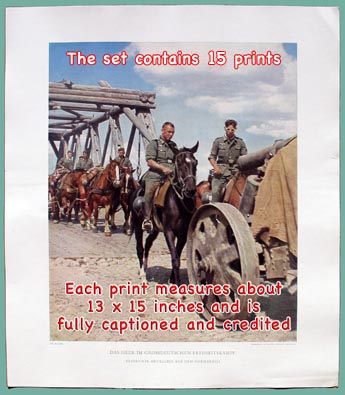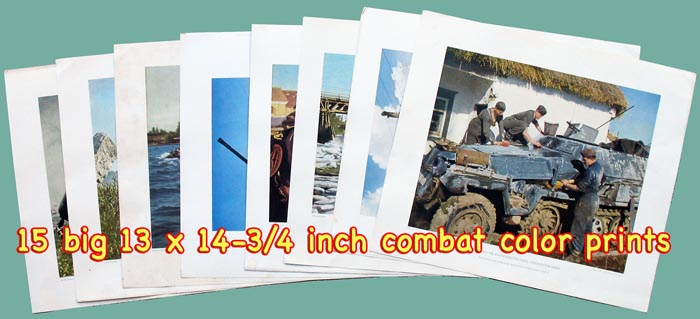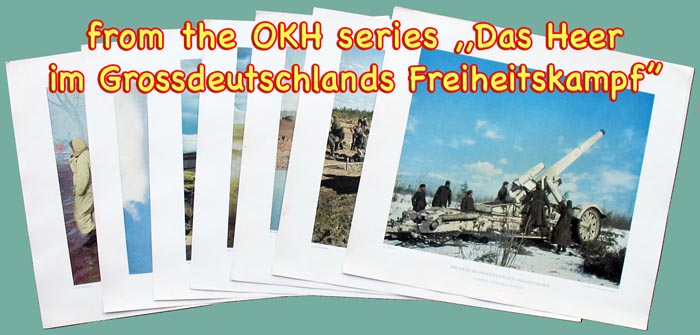 Subjects in this group of rare prints include Cavalry, Horse-Drawn Artillery, Flak Observer in the Arctic, Linemen at Work, Convoy in the East, Panzerjaeger Grenadier, Washing a Halftrack, March of a Grenadier Company, Infantry on the March, ....