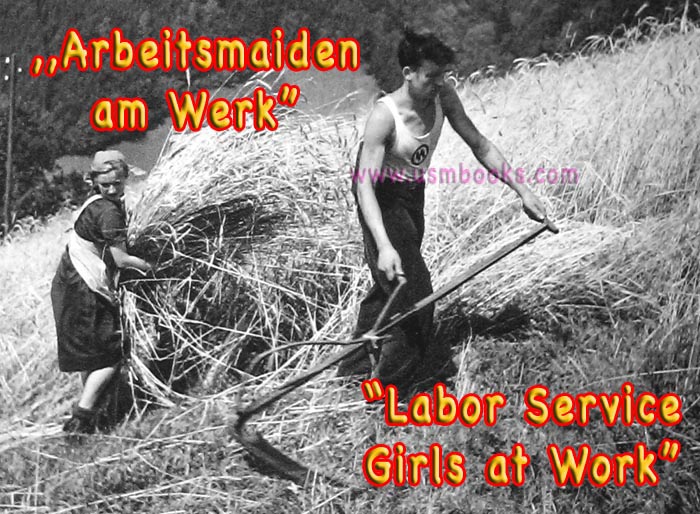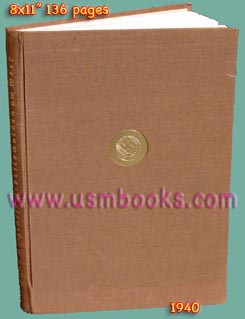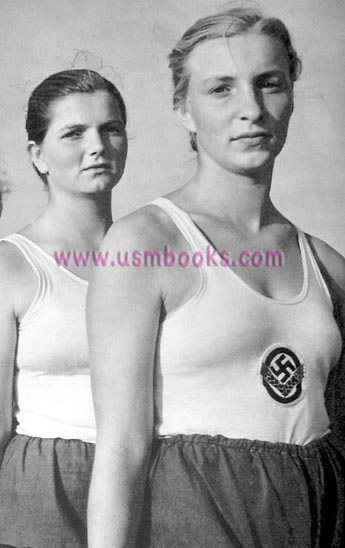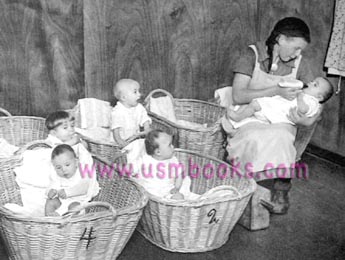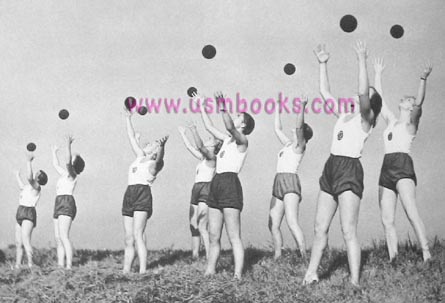 This is a very nice example of the 8 x 11 inch, 136 page very heavily illustrated hard cover book Arbeitsmaiden am Werk or Labor Service Girls at Work as published by Verlag E.A. Seemann of Leipzig in 1940. There is a foreword by Reichsarbeitsführer Konstantin Hierl and an introduction by the Generalarbeitsführer Dr. Wilhelm Decker.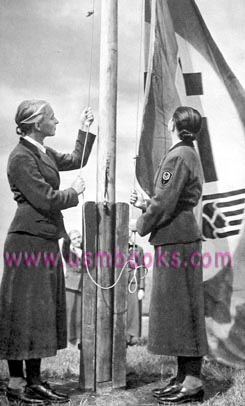 The introduction covers the concept, the methodology, content and the service performed by Arbeitsmaiden as well as free time activities and the patriotic aspects of being in service to ones country.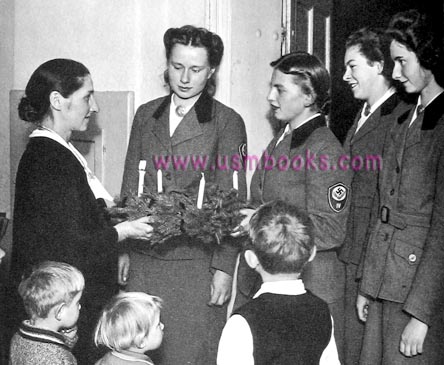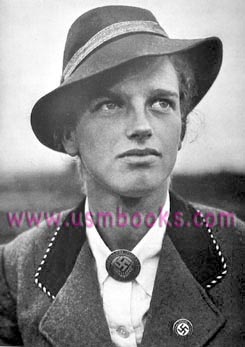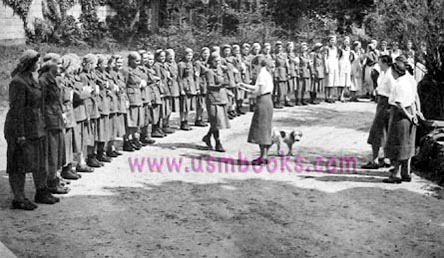 In wonderful, clear full-page illustrations the book shows German labor girls involved in animal husbandry, food production, domestic work like baking, cooking and laundry, the care of children, gardening, haying, harvesting (with a SS man on the scythe - see first photo above), smoking meat, repairing nets, and polishing men's boots.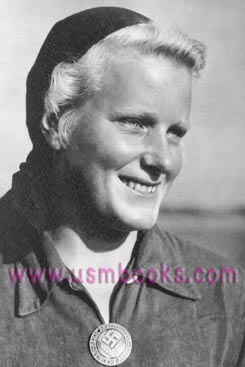 There are also photographs of groups of girls taking political classes, singing lessons, exercising, decorating tables, celebrating Christmas, singing and playing musical instruments, hiking, sailing, and finally, a Labor Girl saying goodbye to the farmer's wife in preparation for returning to her family.

An excellent and very comprehensive photo review of the Arbeitsmaiden process in Nazi Germany.
This Nazi photo book on the Female Labor Service is offered for sale
for $165.00 delivered by Media Mail in the continental USA.


USM book #293
• IF you prefer faster and safer Priority Mail shipping with USPS Tracking add $6.50.
• IF you wish to purchase highly recommended, but optional insurance, add $3.45.
• We will be happy to ship abroad at additional cost. Please inquire.
NAZI FEMALE LABOR SERVICE PHOTO DOCUMENTARY
THE 1940 NAZI GIRLS BOOK
ARBEITSMAIDEN AM WERK


The images and the entire text used on this and all other USMBOOKS web pages are the copyrighted property of USM Inc. Those images and the text may be used by others ONLY AFTER completion of a formal international licensing agreement and payment of a licensing fee! It is therefore, illegal for anyone to take any of the material found on USMBOOKS.com and use it for their own purposes without our written permission, irrespective of any excuse they may feel they have for doing so.