The images and text used on this and all other USM web pages are the copyrighted property
of USM Inc. Those images and the text may be used by others ONLY AFTER completion
of a formal international licensing agreement and payment of a licensing fee!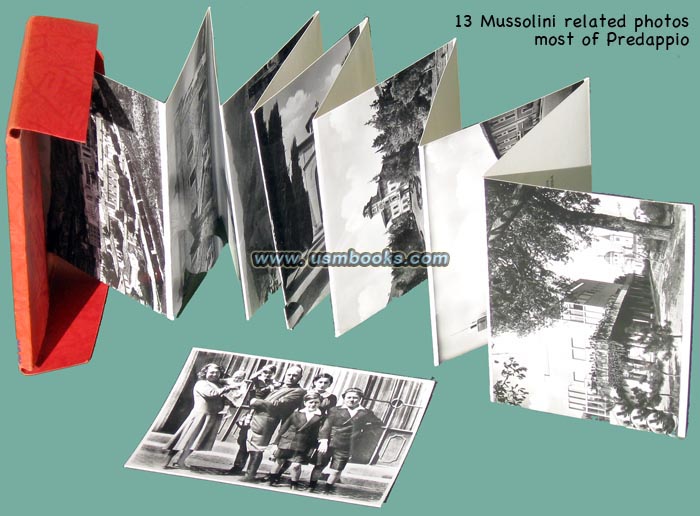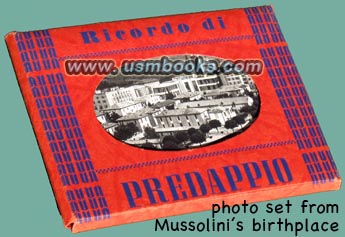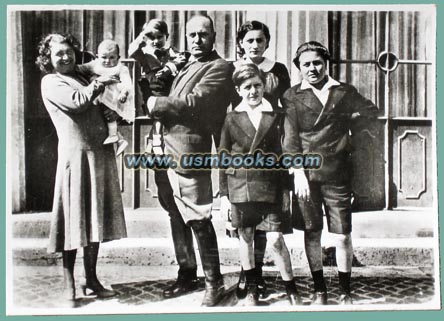 This postwar Italian souvenir photo set is in very good condition, exactly as shown. One of the photos has a handwritten note in German on the back saying it was purchased on 19 September 1968 during a visit to the Mussolini family crypt in Predappio. We purchased these souvenir photos recently from an antique book dealer in Germany.
This souvenir photo set of Benito Mussolini's Predappio is
**SOLD**.

We will be happy to ship insured or abroad at additional cost. Please inquire.
---
SOUVENIR PHOTO SET OF MUSSOLINI + PREDAPPIO
A SOUVENIR SET OF 13 PHOTOGRAPHS OF
BENITO MUSSOLINI, HIS BIRTHPLACE AND FINAL RESTING PLACE,
PREDAPPIO
This USM Books website is Copyright © 2011 by USM, Inc., and the text and images on it are fully protected by international copyright law. It is therefore, illegal for anyone to take any of the material found here and use it for their own purposes without our written permission, irrespective of any excuse they may feel they have for doing so.

This is a souvenir set of 13 photographs of
Predappio,
the small Italian town where
Il Duce
, Benito Mussolini was born and buried. All 13 photos measure 2-3/4 x 3-7/8 inches and are still contained in the original 3-1/4 x 4-3/8 inch red card stock folder. Each photo has a description in Italian on the back. This card set was produced by Poligrafico Alterocca in Terni, Italy.
This rare souvenir set contains photographs of Predappio, the house where Mussolini was born, municipal buildings and churches in Predappio as well as Rocca delle Caminate, Mussolini's country home outside Predappio while he was the
Duce
.
This set also contains photos of the
Mussolini family crypt at the San Cassiano cemetery
.