The images and the entire text used on this and all other USMBOOKS web pages are the copyrighted property of USM Inc. Those images and the text may be used by others ONLY AFTER completion of a formal international licensing agreement and payment of a licensing fee! It is therefore, illegal for anyone to take any of the material found on USMBOOKS.com and use it for their own purposes without our written permission, irrespective of any excuse they may feel they have for doing so.

There were many magazines published in Nazi Germany concerned with the subjects of cars, motorcycles, aircraft, busses, trucks, boats and trains, but none of them were anywhere nearly as beautiful, as informative, as well done or as successful as Motor Schau (The Motor Show).
Examples of Motor Schau are only rarely offered for sale. It was a, expensive specialty magazine at the time it was published (1937 - 1944) and during the cold and hunger winters of 1945, 1946 and 1947, a great many were burned in German stoves and fireplaces as fuel. Many more copies were destroyed in postwar de-Nazification campaigns, so nice examples are quite rare today, more than 70 years after they were published.
The magazine was published by Motorschau Verlag Dr. Georg Elsner & Co. in Berlin on a monthly basis in the beginning in 1937, and as a quarterly by mid 1943.
Motor Schau was a big, oversized 10 x 13-3/4 inch glossy, heavily illustrated trade and consumer magazine which concentrated on every aspect of the "motor business" not only in Germany, but around the world. Its emphasis was Germany and German equipment and every big issue was packed with features, news and advertising related to the motor trades. Unlike the other German motoring magazines, every issue of Motor Schau had a striking full-color industry related cover and usually plenty of color inside.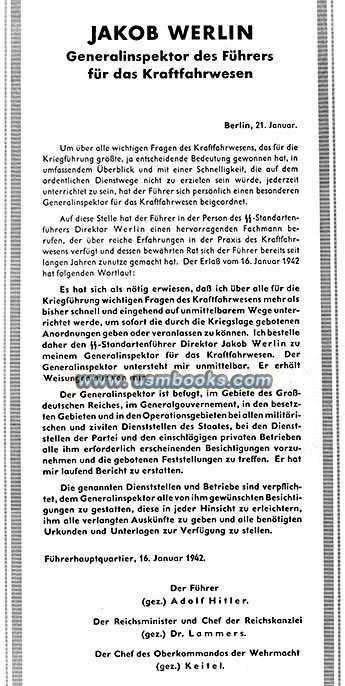 Motor Schau was founded and published by Adolf Hitler's good friend Jakob Werlin, who not only advised Hitler on the purchase of his Mercedes-Benz automobiles but also often accompanied him to the annual German Auto Show in Berlin (Automobil-Ausstellung Berlin) and other motor related events. Werlin was one of the five directors of Daimler-Benz and described himself in his own magazine as a, "collaborator with the Führer in the question of the motorization of Germany".
Click HERE to see a selection of rare original Third Reich
issues of Motor Schau for sale on USMBOOKS.com.
OVERSIZED NAZI FULL-COLOR MOTOR SCHAU MAGAZINES
THE VERY BEST OVERSIZED, HEAVILY ILLUSTRATED,
FULL-COLOR CAR, TRUCK, MOTORCYCLE, AVIATION
AND NAVAL MAGAZINE PUBLISHED IN GERMANY
DURING THE THIRD REICH OF ADOLF HITLER:
MOTOR SCHAU - THE MOTOR SHOW