The images and text used on this and all other USM web pages are the copyrighted property
of USM Inc. Those images and the text may be used by others ONLY AFTER completion
of a formal international licensing agreement and payment of a licensing fee!
This Nazi era aviation souvenir medallion is **SOLD**.

• IF you wish to purchase optional insurance, add $2.25.
• We will be happy to ship abroad at additional cost. Please inquire.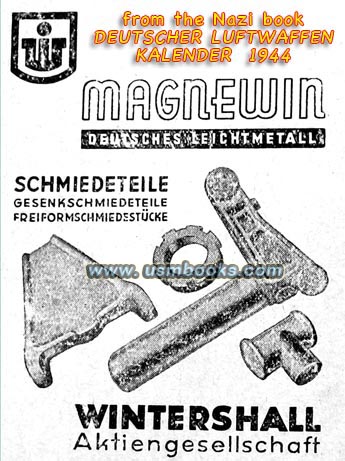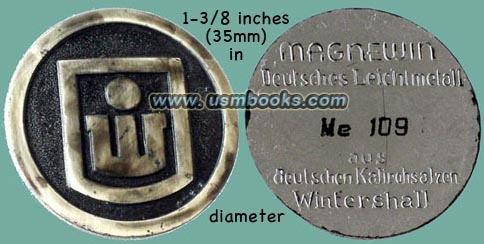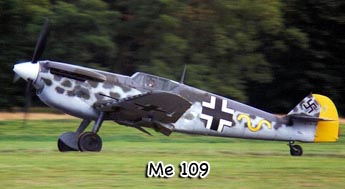 This is a strange but interesting piece of Third Reich history - a very light-weight medallion just 1-3/8 inches in diameter. The front or obverse side has the logo of a company called Wintershall in deep relief on the front while the reverse or back side has the inscription MAGNEWIN Deutsches Leichtmetall aus deutschen Kalirosalzen Wintershall in relief and the letters Me 109 engraved in the center.
Frankly, we had no idea what this medallion was until we accidentally came across the Magnewin Wintershall advertisement shown above in the Deutscher Luftwaffen Kalender for 1944. It was then obvious that Wintershall manufactured forgings of light-weight Magnewin metal for the Me109 and other Nazi aircraft of the era.

Very good condition.
NAZI Me 109 MAGNEWIN SOUVENIR MEDALLION
A NAZI ERA SOUVENIR
MEDALLION MADE
OF LIGHT WEIGHT
WINTERSHALL
MAGNEWIN
METAL AS USED IN
FORGINGS FOR
Me 109 PARTS
This USMBOOKS web page is Copyright © 2014 by USM, Inc., and the text and images on it are fully protected by international copyright law. It is therefore, illegal for anyone to take any of the material found here and use it for their own purposes without our written permission, irrespective of any excuse they may feel they have for doing so.