The images and the entire text used on this and all other USMBOOKS web pages are the copyrighted property of USM Inc. Those images and the text may be used by others ONLY AFTER completion of a formal international licensing agreement and payment of a licensing fee! It is therefore, illegal for anyone to take any of the material found on USMBOOKS.com and use it for their own purposes without our written permission, irrespective of any excuse they may feel they have for doing so.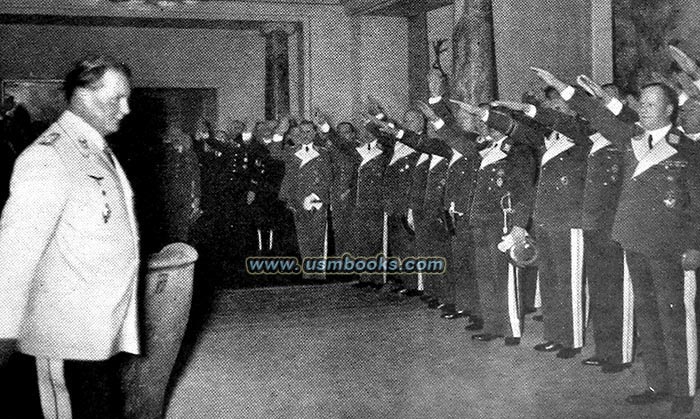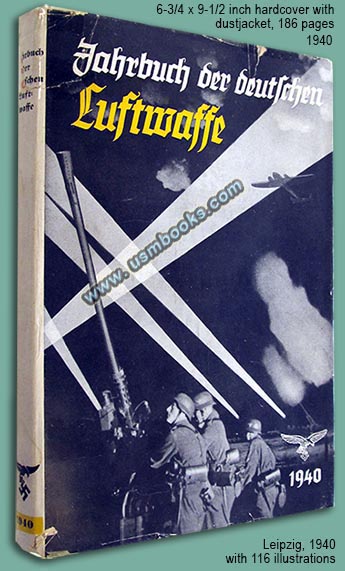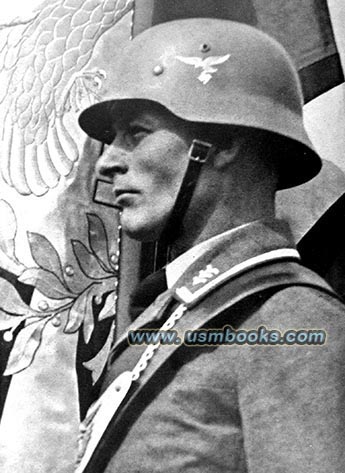 This is a 6-¾ x 9-½ inch, 186 page linen hardcover edition of the Jahrbuch der deutschen Luftwaffe 1940 (Year Book of the Air Force) with its original dust jacket. The book has 116 photos, a foreword by Oberbefehlshaber der Luftwaffe, Generalfeldmarschall Hermann Goering and was published by Major Dr. Eichelbaum for the Reichsluftfahrtministerium.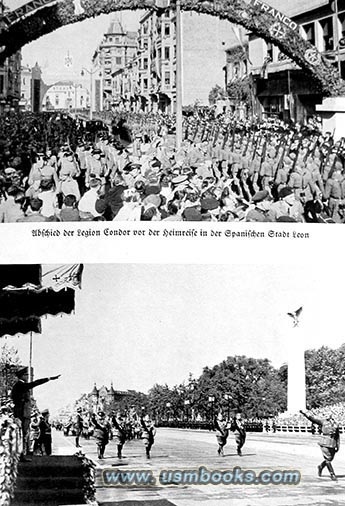 In the introduction, Major Dr. Eichelbaum looks back on the most important events the Luftwaffe participated in the pervious year: the participation of Stukas in the invasion of Poland, Luftwaffe raids over England, and the Condor Legion. Other Luftwaffe officers wrote chapters on the Flak Artillery of the Legion Condor, Attacks by the Ju88, Luftwaffe Traditions, Air Reconnaissance, Long Distance Flights to Libya, Kampfgeschwader Hindenburg, the Regiment General Göring, the Financial Aspect of a Career in the Luftwaffe, Luftwaffe paratroopers, Volunteers in the Luftwaffe, etc.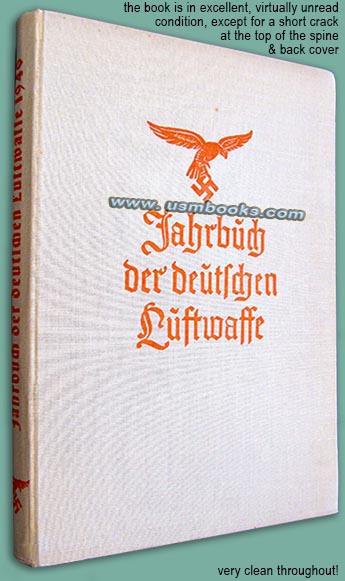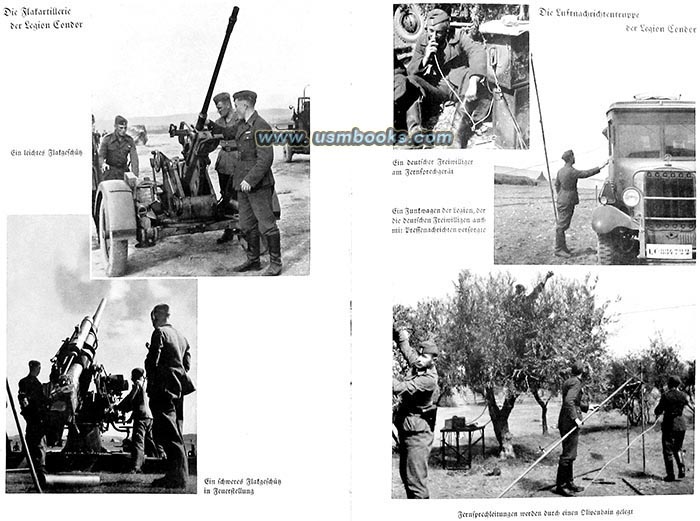 Photos show the Hitler visiting Luftwaffe troops in Warsaw, Nazi Air Minister Goering, Generalobert Milch and General der Flieger Kesselring in Poland, action shots from the air battle in September 1939, battle damage, Luftwaffe pilots and ground crews at work and at leisure, Legion Condor leaving Spain and their triumphant return to Berlin on 6 June 1939, Fallschirmjaeger parade in Berlin for Hitler's 50th birthday, Generalfeldmarschall Hermann Goering in Rome with Benito Mussolini, etc.

This Jahrbuch der deutschen Luftwaffe 1940 was printed by Verlag von Breitkopf & Härtel in Leipzig, and is complete and in very nice used condition. The original dust jacket is in used condition with scotch tape and has advertising for the 1940 edition of Das Jahrbuch des deutschen Heeres and Das Jahrbuch der deutschen Kriegsmarine on the back.
This 1940 edition of the Year Book of the Nazi Air Force is for sale
for $95.00 delivered by Media Mail in the continental USA.


USM book #843
• IF you prefer faster and safer Priority Mail shipping with USPS Tracking add $6.95.
• IF you wish to purchase highly recommended, but optional insurance, add $3.25.
• We will be happy to ship abroad at additional cost. Please inquire.
1940 NAZI YEAR BOOK OF THE LUFTWAFFE - HEAVILY ILLUSTRATED
ORIGINAL 1940
JAHRBUCH DER
DEUTSCHEN LUFTWAFFE - CONDOR LEGION, INVASION POLAND, ETC.