This Nazi OKW promotional booklet for the Luftwaffe is offered for
sale for $75.00 delivered by 1st Class Mail in the continental USA.


USM book #580
• IF you prefer faster and safer Priority Mail shipping with USPS Tracking add $6.45.
• IF you wish to purchase highly recommended, but optional insurance, add $3.25.
• We will be happy to ship abroad at additional cost. Please inquire.
Freiwillige vor! (Volunteers Ahead!) is a heavily illustrated 4-3/4 x 7-1/2 inch, 96 page soft cover publication published by the Oberkommando der Wehrmacht in 1942 to interest young German men to join the Luftwaffe as volunteers.
Subtitled Hinein in die Luftwaffe! (Enter the Luftwaffe!) this practical promotional booklet promotes the versatility and many advantages to serving in the Nazi Air Force. It explains the possibilities for a 12 year career in the Luftwaffe and the three main directions the Luftwaffe has to offer: fliers, technical personnel and general personnel.
The chapters cover the training and demands of aviators and supporting ground troops, Flak troops, communication troops, paratroopers, pay for different branches in the Luftwaffe, etc.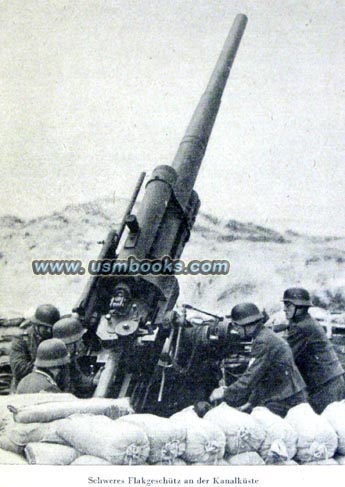 Great photos of Flak artillery in the field, shooting practice, Fallschirmjaeger, Luftwaffe medical personnel, British POWs on the island of Crete, Luftwaffe Funker in the field and aboard airplanes, etc.

Freiwillige vor! Hinein in die Luftwaffe! is number 15 in the OKW book series Dienst bei den Waffen. It is in excellent, lightly used condition.
1942 NAZI OKW PUBLICATION LUFTWAFFE VOLUNTEERS
HEAVILY ILLUSTRATED 1942 OKW PUBLICATION TO INTEREST YOUNG GERMANS TO JOIN THE LUFTWAFFE


The images and the entire text used on this and all other USMBOOKS web pages are the copyrighted property of USM Inc. Those images and the text may be used by others ONLY AFTER completion of a formal international licensing agreement and payment of a licensing fee! It is therefore, illegal for anyone to take any of the material found on USMBOOKS.com and use it for their own purposes without our written permission, irrespective of any excuse they may feel they have for doing so.