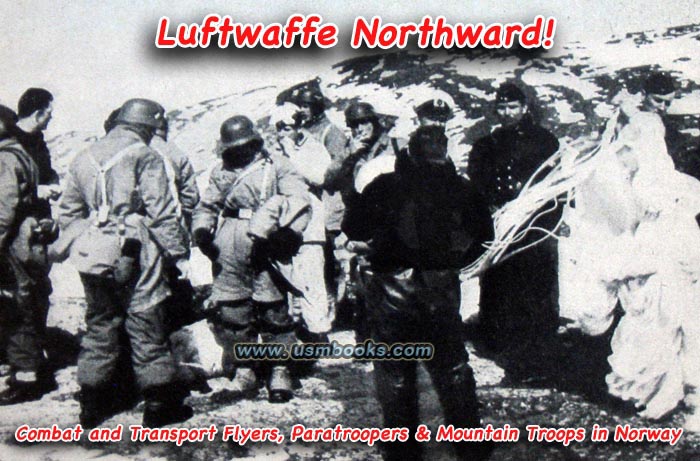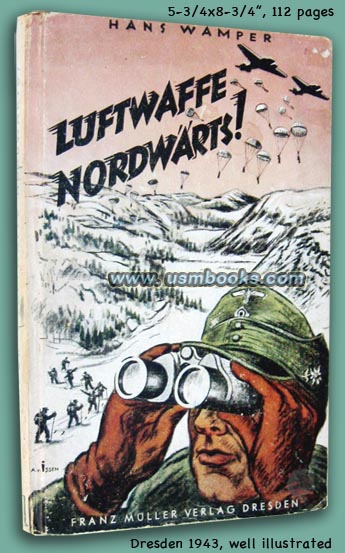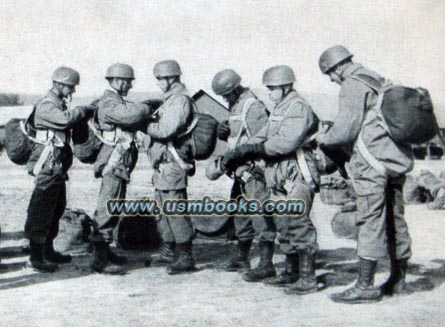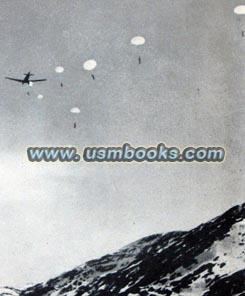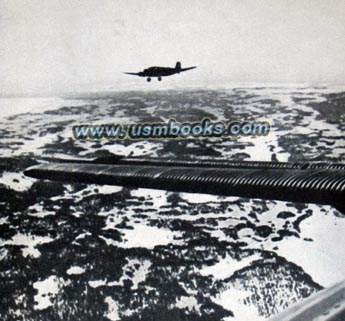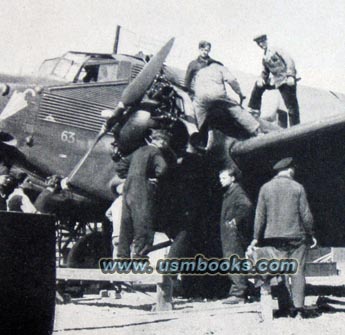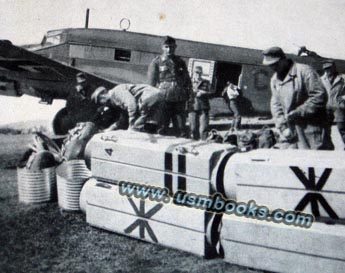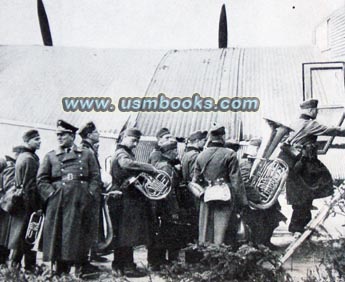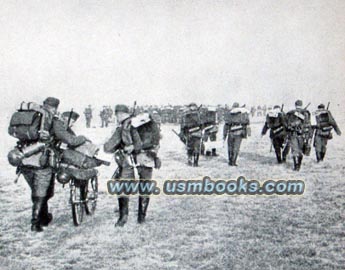 Luftwaffe Nordwärts (Luftwaffe Northwards) is a 5-¾ x 8-¾ ich, 112-page hard cover Third Reich book by Kriegsberichter or war correspondent Hans Wamper about Luftwaffe combat and transport fliers, paratroopers and mountain troops in Norway. It was published by Franz Müller Verlag of Dresden and printed in Nazi occupied Holland in 1943.
Printed by order of the Oberkommando der Wehrmacht (OKW) Luftwaffe Nordwärts covers what the Nazis describe as the "Largest Air Operation of All Times" in April 1940. It starts with a map of Norway, what lead to the attack on Norway, and then covers the transporting of combat troops, medical equipment and ammunition to Norway, Fallschirmjäger in action at Narvik and taking over Norwegian military airports, specially trained Gebirgsjäger, defending and outfitting new positions, setting up FLAK and machine gun positions, and even a speech by Air Minister Hermann Göring, thanking his Luftwaffe for the important victory.
There are action photos of Fallschirmjäger and Gebirgsjäger, Luftwaffe pilots in He111, FLAK positions, preparing ammunition for flight, ground crews at work on He111 planes, battle damage inflicted by Luftwaffe attacks, Wehrmacht troops with bicycles and even the Wehrmacht Musikkapelle (Wehrmacht band members with their instruments) boarding a Luftwaffe plane heading for Oslo!
A wonderful insight into the start of World War II in Norway. Good used condition.


The images and the entire text used on this and all other USMBOOKS web pages are the copyrighted property of USM Inc. Those images and the text may be used by others ONLY AFTER completion of a formal international licensing agreement and payment of a licensing fee! It is therefore, illegal for anyone to take any of the material found on USMBOOKS.com and use it for their own purposes without our written permission, irrespective of any excuse they may feel they have for doing so.
This 1943 Nazi book on Luftwaffe troops in Norway in 1940 is for sale
for $145.00 delivered by Media Mail in the continental USA.


USM book #644
• IF you prefer faster and safer Priority Mail shipping with USPS Tracking add $6.95.
• IF you wish to purchase highly recommended, but optional insurance, add $3.45.
• We will be happy to ship abroad at additional cost. Please inquire.
1943 OKW PHOTO BOOK ABOUT LUFTWAFFE TROOPS IN NORWAY
1943 LUFTWAFFE PHOTO BOOK ABOUT NAZI PARATROOPERS, MOUNTAIN TROOPS, COMBAT AND TRANSPORT PILOTS IN NORWAY