The images and the entire text used on this and all other USMBOOKS web pages are the copyrighted property of USM Inc. Those images and the text may be used by others ONLY AFTER completion of a formal international licensing agreement and payment of a licensing fee! It is therefore, illegal for anyone to take any of the material found on USMBOOKS.com and use it for their own purposes without our written permission, irrespective of any excuse they may feel they have for doing so.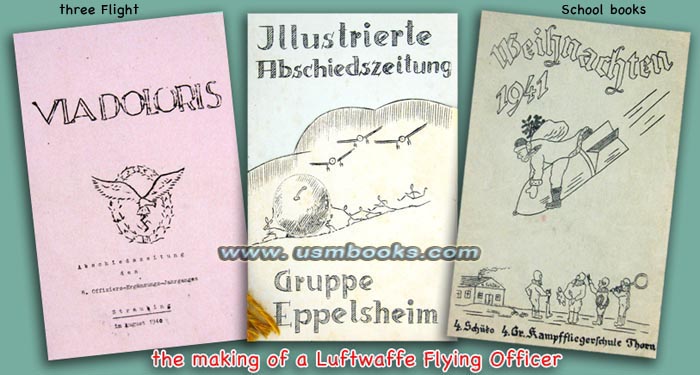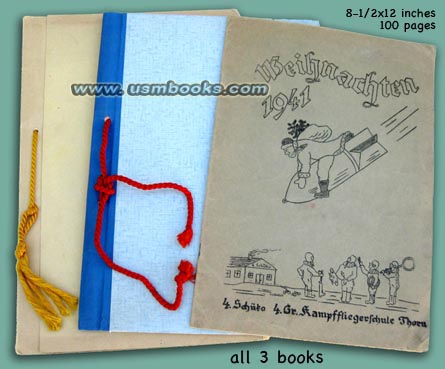 Offered for sale on this USMBOOKS webpage is a lot of three original Third Reich books from the training period of a Luftwaffe Flying Officer whose name is handwritten inside two of the three campy publications, Flieger Ewald Fruhwirth.

There are two Abschiedszeitungen or Farewell Newspapers. One is dated August 1940 from the 8. Offiziers-Ergänzungs-Jahrgangen (8th Officers Supplemental Group) in Straubing in Bavaria. This blue hardcover publication measures 8-½ x 12 inch and contains funny stories and illustrations about pilot life, girls, even a three-act play, etc. It has 84 pages with printing on one side of the paper.

The second illustrated Farewell Newspaper is a folio from Luftwaffe Fluggruppe Eppelsheim, between Bad Kreuznach and Worms, northwest of Heidelberg. It is from September 1940, only 50 pieces were ever printed and Flieger Fruhwirth is actually mentioned as a contributor! There are funny stories about pilot experiences, song lyrics, cartoons, and a play!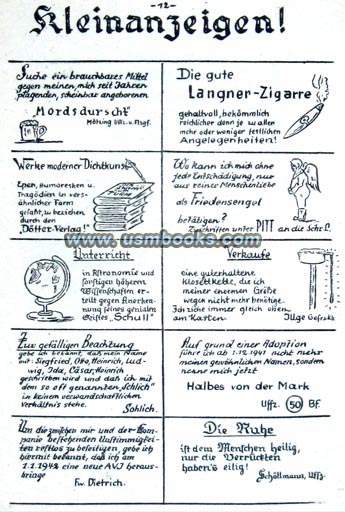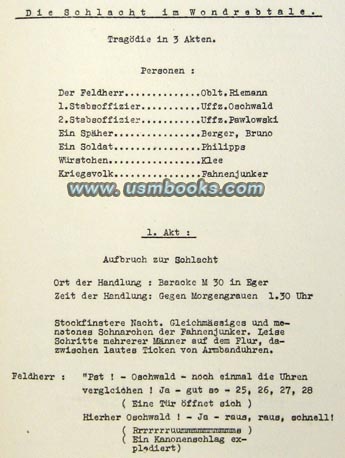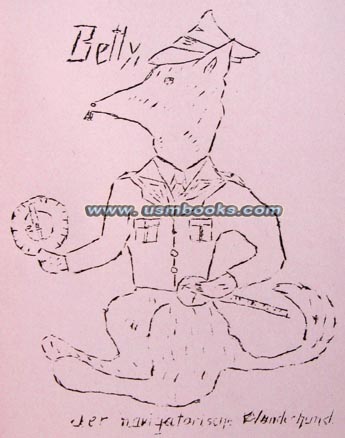 There is also a 8-¼ x 11-¾ inch, 20-page campy publication printed for the 1941 Weihnacht or Christmas celebrations of 4. Schüko 4. Grosse Kampffliegerschule (Bomber Pilot School) in Thorn (in Reichsgau Danzig-Westpreußen, since 1945 Torun in Poland, about 180 km northwest of Warsaw). It contains funny stories, cartoons and like all German publications of the time there is advertising, however the ads are all fake! Want ads, lost and found and dating ads - all funny but not real.

All three pieces are theather-made (most likely on the base) and absolutely original to the Third Reich period in Germany.
The last page (shown above) has autographs of members of Fluggruppe Eppelsheim. It has 80 pages with printing on one side of the paper.
This lot of 3 wartime Luftwaffe pilot flight school publications is for
sale for $95.00 delivered by Media Mail in the continental USA.


USM book #715
• IF you prefer faster and safer Priority Mail shipping with USPS Tracking add $7.50.
• IF you wish to purchase highly recommended, but optional insurance, add $3.25.
• We will be happy to ship abroad at additional cost. Please inquire.
ORIGINAL THEATER-MADE LUFTWAFFE PILOT COMMEMORATIVE PUBLICATIONS FROM 1940 AND 1941
THREE CAMPY
ORIGINAL
1940 & 1941 LUFTWAFFE PILOT FLIGHT SCHOOL
COMMEMORATIVE
PUBLICATIONS
SAVED BY A
KNOWN PILOT