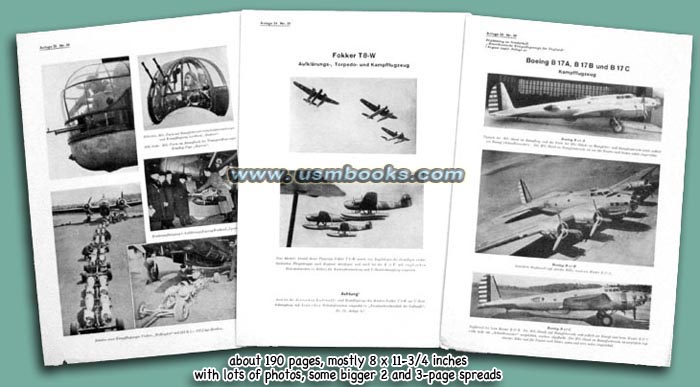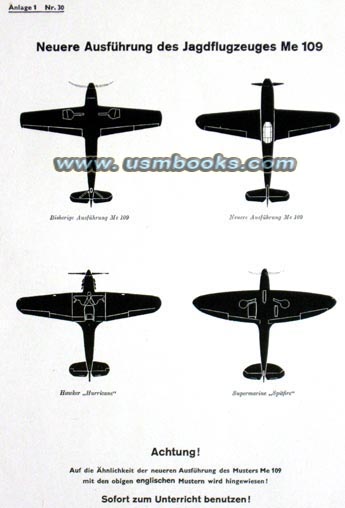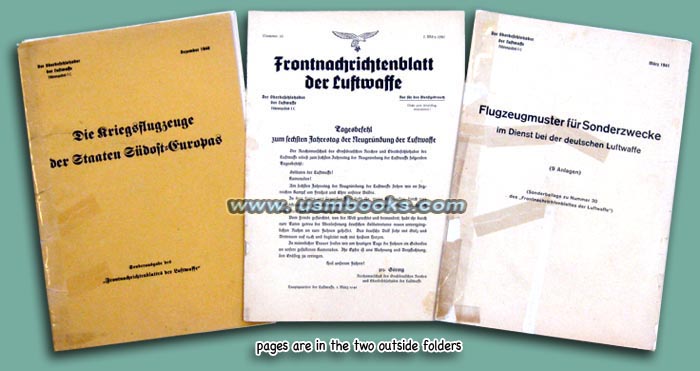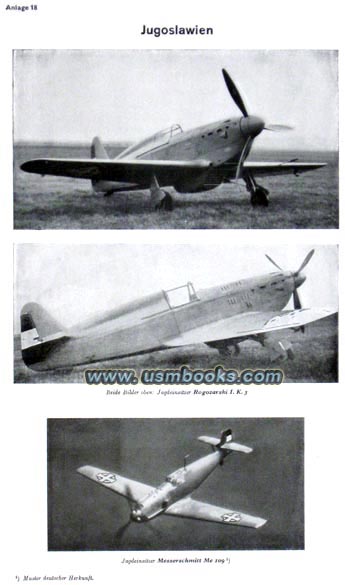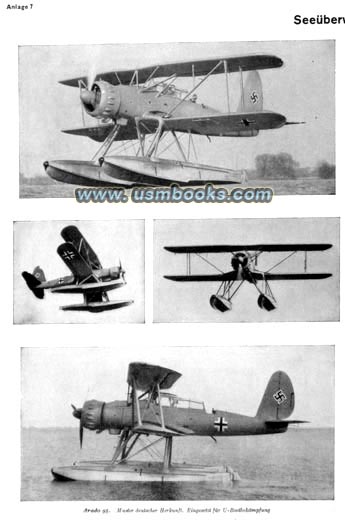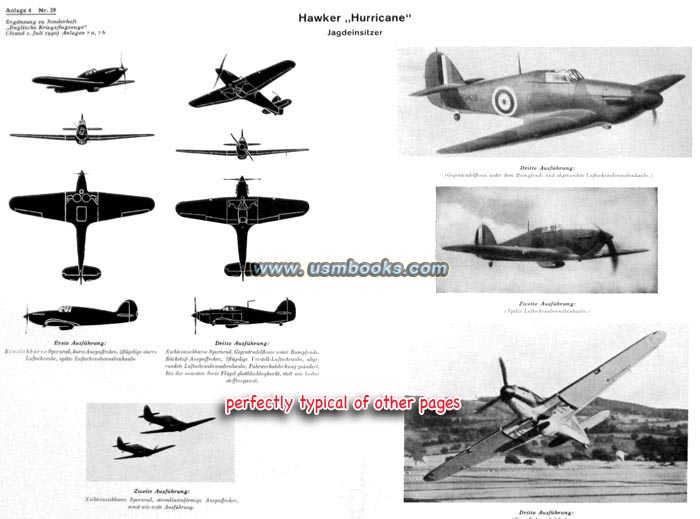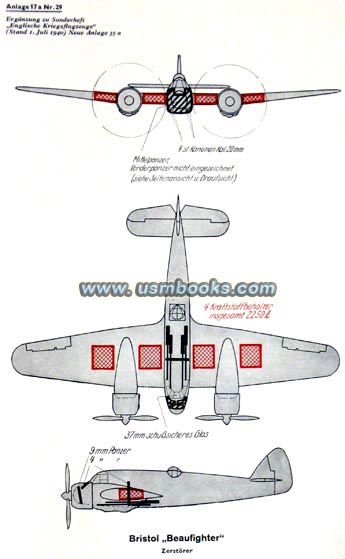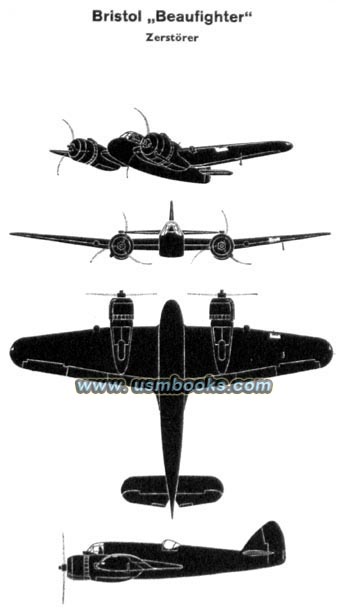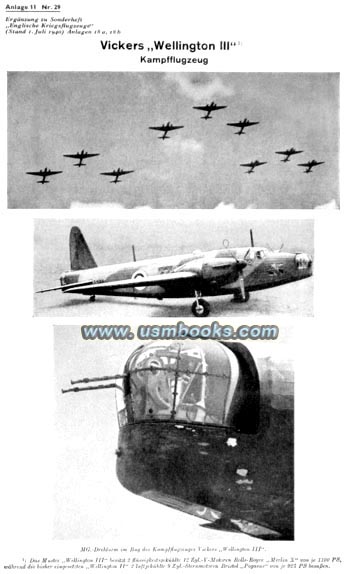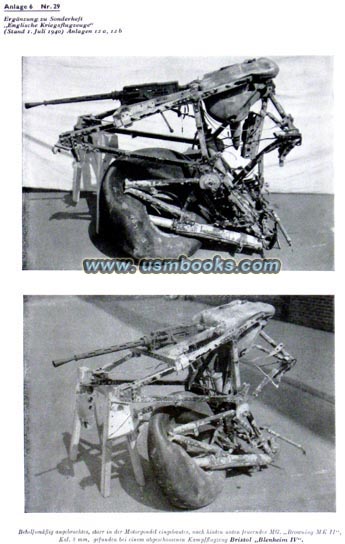 This lot of Luftwaffe material consists of three different items. An example of the 8-¼ x 11-½ inch, 20-page Frontnachrichtenblatt der Luftwaffe (Frontline Intelligence of the Luftwaffe) number 30 dated 1 March 1941, a loose-leaf dossier Flugzeugmuster für Sonderzwecke im Dienst bei der deutschen Luftwaffe (Airplanes for Special Purposes in the Service of the German Air Force) dated March 1941, and a loose-leaf dossier Die Kriegsflugzeuge der Staaten Südost-Europas (Warplanes of the Countries of South-East Europe, A Special Edition of Frontnachrichtenblatt der Luftwaffe) December 1940 published by the Oberbefehlhaber der Luftwaffe.
These were all special publications of the Luftwaffe for use only in the service and not to be carried aboard an aircraft.
There is a world of information in these publications but whether or not they are still in the order in which they were published, we do not know. They seem to be quite complete.
The Frontnachrichtenblatt der Luftwaffe contains the very latest information on operations of the Luftwaffe, the effect of the German Luftwaffe campaign against Britain, information on aerial navigation by stars and the 6th anniversary of the re-establishment of the Luftwaffe. There are also photographs of the crews of aircraft given special recognition for their achievements such as the crew of the German bomber that attacked the Standard Motor Company in Coventry in January 1941 and two other particularly successful crews flying against British targets.
The Die Kriegsflugzeuge der Staaten Südost-Europas contains many single pages and double-page spreads (plus an Index) that depict military airplanes used by the countries of Slovakia, Hungary, Rumania, Yugoslavia, Bulgaria and Greece. They of course, include many German aircraft as well as airplanes made in Italy, England, France and Poland.
Flugzeugmuster für Sonderzwecke im Dienst bei der deutschen Luftwaffe contains many single pages and double-page spreads that depict training aircraft, tow planes, transport and other planes manufactured in Germany, France, Britain and the United States.
The information contained in these dossiers is far more in-depth and the photographs far larger and clearer than the same sort of thing found in aviation recognition books of the period. The dossiers are far rarer than any of the books. This historic Nazi aviation material belongs in an aviation library or museum somewhere. The outer covers of both dossiers have been scotch taped but are complete and fully readable. The condition of the internal pages is good to very good.


The images and the entire text used on this and all other USMBOOKS web pages are the copyrighted property of USM Inc. Those images and the text may be used by others ONLY AFTER completion of a formal international licensing agreement and payment of a licensing fee! It is therefore, illegal for anyone to take any of the material found on USMBOOKS.com and use it for their own purposes without our written permission, irrespective of any excuse they may feel they have for doing so.
This rare 1940 and 1941 Nazi Air Force material is offered for sale
for $395.00 delivered by Media Mail in the continental USA.

• IF you prefer faster and safer Priority Mail shipping with USPS Tracking add $6.80.
• IF you wish to purchase highly recommended, but optional insurance, add $5.75.
• We will be happy to ship abroad at additional cost. Please inquire.
SPECIAL LUFTWAFFE DOSSIERS ON AIRCRAFT ENCOUNTERED BY
OR IN SERVICE WITH THE AIR FORCES OCCUPIED COUNTRIES
ABOUT 200 PAGES OF RARE ORIGINAL THIRD REICH AIRCRAFT PHOTOS, INFORMATION,
IDENTITY DRAWINGS, ETC.