This superb Nazi aviation photo book is offered for sale
for $175.00 delivered by Media Mail in the continental USA.


USM book #461
• IF you prefer faster and safer Priority Mail shipping with USPS Tracking add $6.45.
• IF you wish to purchase highly recommended, but optional insurance, add $3.45.
• We will be happy to ship abroad at additional cost. Please inquire.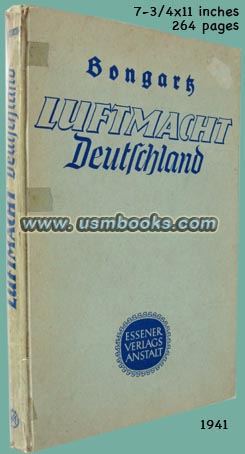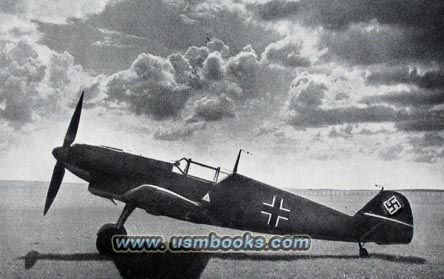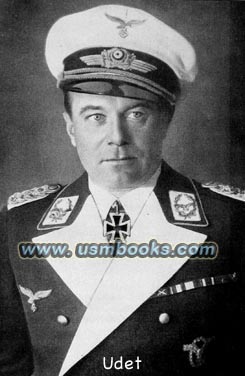 This is a very good example of the big 7-3/4 x 11 inch, 264 page, hardcover book Luftmacht Deutschland - Luftwaffe, Industrie, Luftfahrt (The Air Might of Germany - Air Force, Industry, Air Travel) by Ernst Bongartz as published by Essener Verlagsanstalt of Essen, Germany in 1941 (this is the 1943 edition from the 41 - 53,000 printing). This book was published to report on the state of aviation in Germany at the end of the 1930s. The state of that industry was amazing!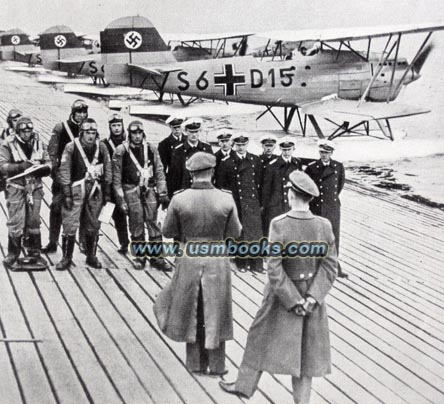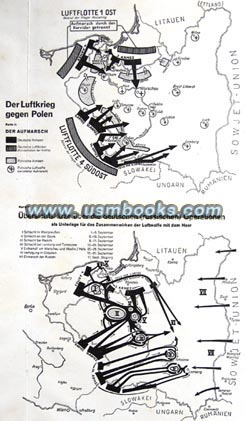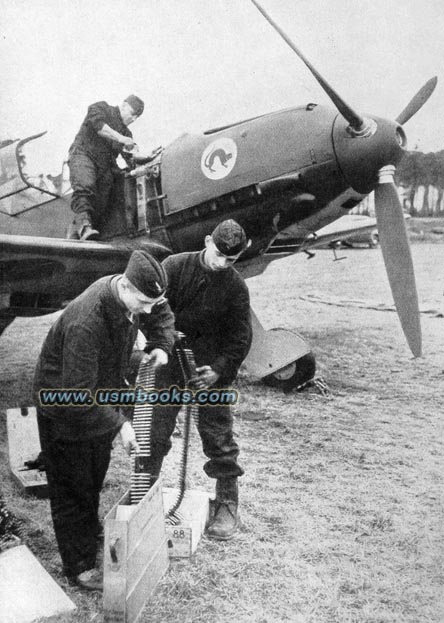 Following a full-page portrait of Generalfeldmarschall Hermann Göring and his introduction, the book briefly covers the history of the rebuilding of the aviation industries in Third Reich Germany under the leadership of Adolf Hitler. It covers the early record flights, the Luftwaffe Flying, Flak and Signal Troops, Fallschirmjäger (paratroopers), mobilization, etc.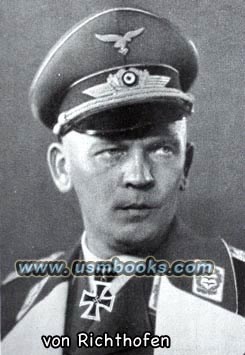 Many important fliers have their chance to say what they think on the subject including Milch, Udet and others. Beyond that, the chapters cover individual manufacturers of aircraft such as Junkers, Heinkel, Dornier, Messerschmitt, Focke-Wulf, Henschel, Arado, Blohm & Voss (including their U-Boots or submarines), Bücker, BMW, etc., with pictures of their planes, production lines, etc.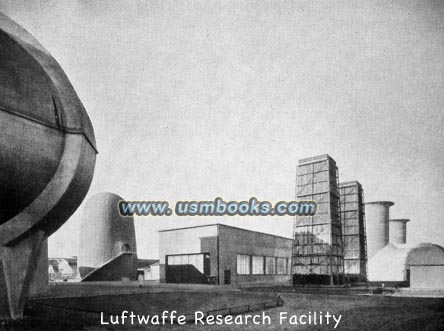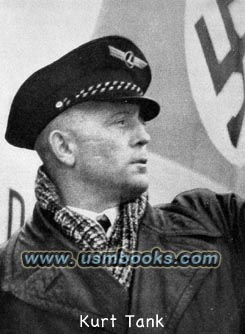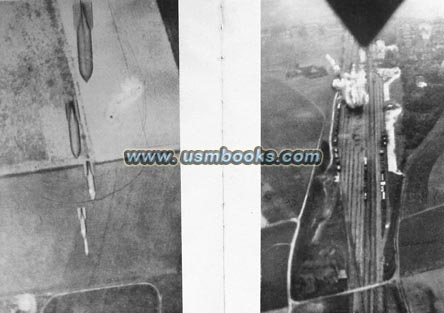 There are photo portraits of Generalfeldmarschall Erhard Milch, General Christiansen, General der Flieger von Richthofen, Generalfeldmarschall Kesselring, Generalfeldmarschall Sperrle, Generalleutnant Martini, Kurt Tank, Otto Mader, Fritz Nallinger, Max Roux, Ernst Heinkel, Willy Messerschmitt, Claudius Dornier, Heinrich Koppenberg, and many others.
Civil and military aviation is covered fully so a great many popular and limited production Nazi aircraft are shown. The new Berlin airport at Tempelhof is shown and described as are research facilities like the Adlershof and various wind tunnels. There are even pictures of the beautiful Do 26 and the Fw 61.
The book is printed on very good quality white paper and at the back of the book there are fold-out maps of the Legion Condor air war in Spain and the air war over Poland in 1939.

This rare Luftwaffe book is complete and in good used condition. The spine has been scotch-taped and there is a round SS stamp on the front flyleaf, which was in the book when we purchased it in Europe.


The images and the entire text used on this and all other USMBOOKS web pages are the copyrighted property of USM Inc. Those images and the text may be used by others ONLY AFTER completion of a formal international licensing agreement and payment of a licensing fee! It is therefore, illegal for anyone to take any of the material found on USMBOOKS.com and use it for their own purposes without our written permission, irrespective of any excuse they may feel they have for doing so.
RARE NAZI AVIATION BOOK 1941
LUFTMACHT DEUTSCHLAND - LUFTWAFFE, INDUSTRIE, LUFTFAHRT (THE AIR MIGHT OF GERMANY - AIR FORCE, INDSUTRY, AIR TRAVEL)
WITH 180 UNIQUE PHOTOGRAPHS