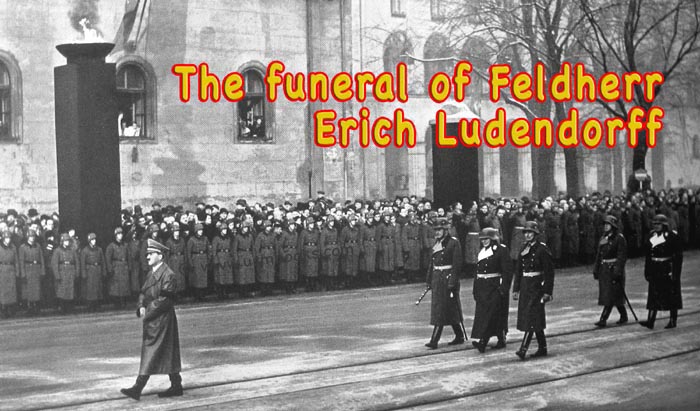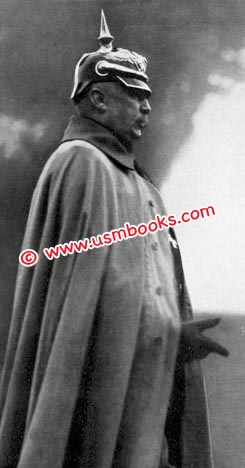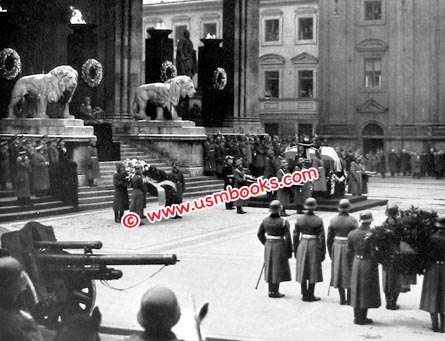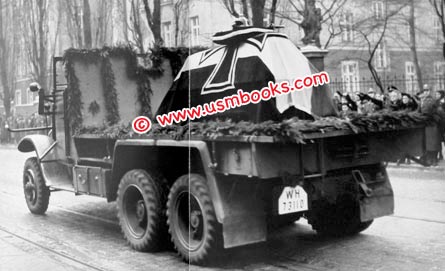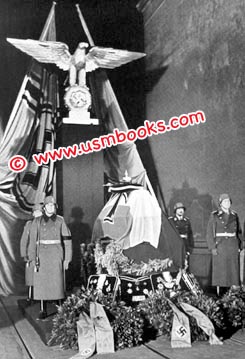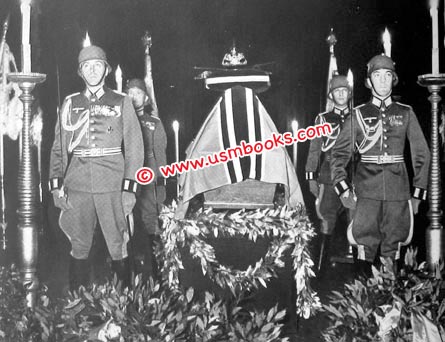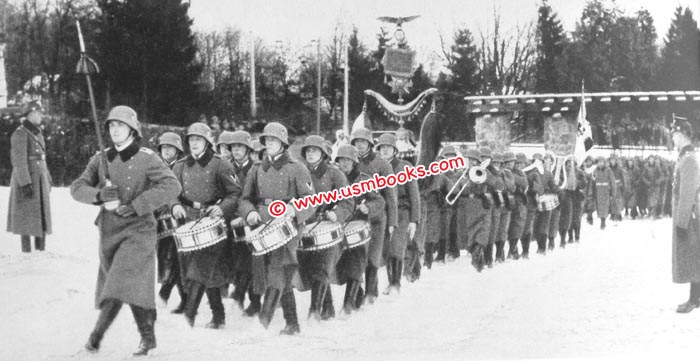 As Third Reich funeral books go, we think this is the best one of them all, including those of SS-Obergruppenführer Reinhard Heydrich, Dr. Fritz Todt, Generalfeldmarschall Erwin Rommel and others.

Published in 1938 by Ludendorffs Verlag in München (Munich), Germany, the 8 x 8-3/4 inch, 96 page, very heavily illustrated hard cover book Der letzte Weg des Feldherrn Erich Ludendorff (The Last Trip of the Commander in Chief Erich Ludendorff) covers every tiny aspect of the death and funeral of Hitler's favorite general in December 1937.

Printed entirely in the special "Postal Typeface" usually reserved for official seals, the book tells why the old Commander in Chief of the Armed Forces was so revered in Germany. The great bulk of the book then concentrates on Erich Ludendorff's death at 08:20 on 20 December 1937 and his subsequent funeral.
There are a few photos of Ludendorff alive and photos of his corpse, the bed in which he died, his casket, his wake, the funeral cortege, his body lying in state in the Victory Arch, the procession to the Feldherrnhalle which included several foreign military representatives, Ludendorff's medals, Hitler saluting the coffin, widow Dr. Mathilde Ludendorff, taking Ludendorff's body to the small Bavarian town of Tutzing for burial, and shoveling dirt on the casket in the local cemetery.
This excellent book provides a rare glimpse at Nazi Germany just prior to World War II. The mix of the old Imperial with the modern Nazi culture is truly stunning. The coverage of every aspect of the funeral and its attendant Nazi ceremony is very impressive.

This rare 76+ year old book has wear to the hard covers, but it is complete and in overall good used condition.
This hardcover book on the Nazi State Funeral of Erich Ludendorff is for
sale for $145.00 delivered by Media Mail in the continental USA.


USM book #55b
• IF you prefer Priority Mail shipping with USPS Tracking add $5.95.
• IF you wish to purchase highly recommended, but optional insurance, add $3.45.
• We will be happy to ship abroad at additional cost. Please inquire.


The images and the entire text used on this and all other USMBOOKS web pages are the copyrighted property of USM Inc. Those images and the text may be used by others ONLY AFTER completion of a formal international licensing agreement and payment of a licensing fee! It is therefore, illegal for anyone to take any of the material found on USMBOOKS.com and use it for their own purposes without our written permission, irrespective of any excuse they may feel they have for doing so.
NAZI COMMEMORATIVE FUNERAL BOOK - SUPERB - LUDENDORFF
THE SUPERB 1938 NAZI COMMEMORATIVE PHOTO BOOK OF THE FUNERAL OF ERICH VON LUDENDORFF, FORMER COMMANDER IN CHIEF OF THE GERMAN ARMED FORCES