The images and the entire text used on this and all other USMBOOKS web pages are the copyrighted property of USM Inc. Those images and the text may be used by others ONLY AFTER completion of a formal international licensing agreement and payment of a licensing fee! It is therefore, illegal for anyone to take any of the material found on USMBOOKS.com and use it for their own purposes without our written permission, irrespective of any excuse they may feel they have for doing so.
IMPORTANT! Warum wir Kämpfen und Siegen! (Why we Fight and Win!) is an extremely anti-Jewish book of the most direct sort imaginable, printed in a very small edition in 1942. It is a historical Third Reich document of a kind that is virtually impossible to acquire anywhere today. If you are easily upset by historical anti-Semitism, please read no further, and return to the previous USMBOOKS web page.
About Dr. Robert Ley:
Few people are aware of it, but Dr. Ley was the genius behind most of the organization of the Nazi Party. As Reichs Organization Leader (a cabinet level post) he was responsible for the publication of the Organisationsbuch der NSDAP which outlined how every Nazi paramilitary unit from the SS to the Hitler Youth was organized, what uniforms they wore and what their mission was. Dr. Robert Ley, Reichsorganisationsleiter and DAF Reichsleiter, was the man who established the Ordensburgen, made the Volkswagen and developed countless building projects throughout the Greater German Reich, from the time of his service in World War I through May 1945.

Der Deutsche Arbeitsfront (DAF or German Labor Front) was the principal Nazi organization under direct control Dr. Robert Ley. He was the organizer of the annual Reichsparteitag in Nürnberg. He published Der Schulungsbrief (The Party Directive) magazine and wrote part of the text of the Nazi Party member book Ich Kämpfe. Dr. Ley was one of the principal figures of the Nazi Party and an early NSDAP cabinet member in 1933. He was a World War I veteran, an old friend of Adolf Hitler and his degree was in the field of chemistry.

As Reichsleiter of the DAF Dr. Ley built the Ordensburg Castles at Vogelsang, Crössensee and Sonthofen. He built the towns and factories that produced everything from Volkswagens to tanks, and airplanes to ships and plywood. He oversaw every laborer that worked on the Reichsautobahn or elsewhere in Nazi Germany.

On 16 May 1945, Dr. Robert Ley was arrested at his villa in Berchtesgaden by American troops. On 25 October 1945, four days after being indicted at the Nürnberg War Crimes Trials, he committed suicide in his prison cell by hanging himself, thus cheating the Allies out of the chance to try the most anti-Semitic man in Germany. Much of the genius of Dr. Ley was never exposed as he was never put on trial or found responsible for the institutionalized anti-Semitism in Germany. Ley's work as Reichsorganisationsleiter was overshadowed by the high profile war work of Albert Speer who was not hung at Nürnberg, and thus survived the war to become his own best publicist.
Warum wir kämpfen und Siegen by Reichsorganisationsleiter and DAF Reichsleiter Dr. Robert Ley was printed in 1942 by Verlag der Deutschen Arbeitsfront. The rare, heavily illustrated 5-½ x 8-? inch, 32 page booklet that explains the reason why war against England was necessary and why Germany and Italy would win and end British oppression of others.

According to Dr. Ley, consistent hard work by German citizens would eventually defeat Great Britain and the effect of its blockade of Germany and Italy, as well as the Bolshevist threat coming from the East.

This original 1942 example of Warum wir Kämpfen und Siegen! is for sale
for $145.00 delivered by 1st Class Mail in the continental USA.


USM book # 827
• IF you prefer faster and safer Priority Mail shipping with USPS Tracking add $6.45.
• IF you wish to purchase highly recommended, but optional insurance, add $3.45.
• We will be happy to ship abroad at additional cost. Please inquire.
WHY WE FIGHT AND WIN!
A RARE ORIGINAL 1942 NAZI PROPAGANDA PUBLICATION BY DR. ROBERT LEY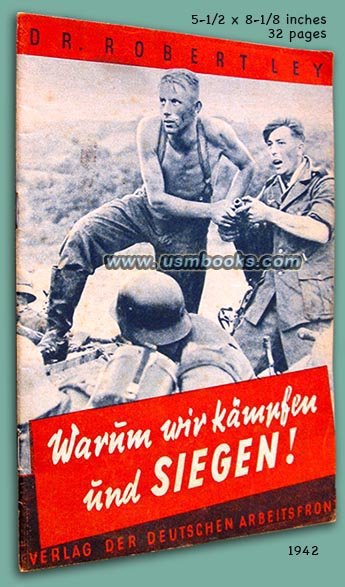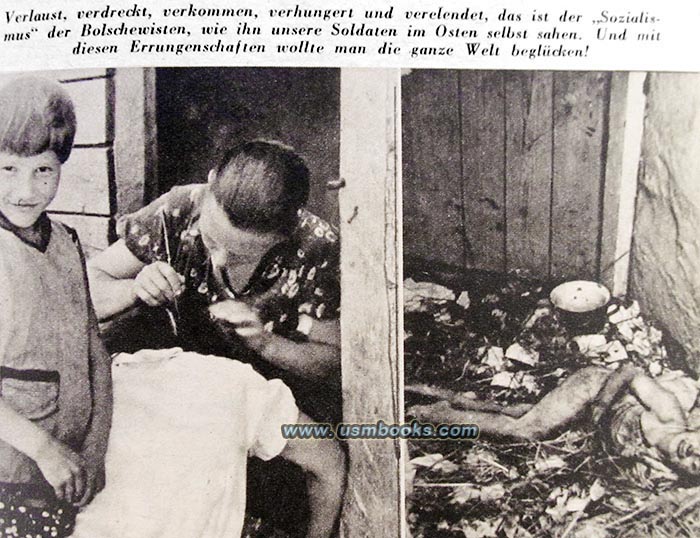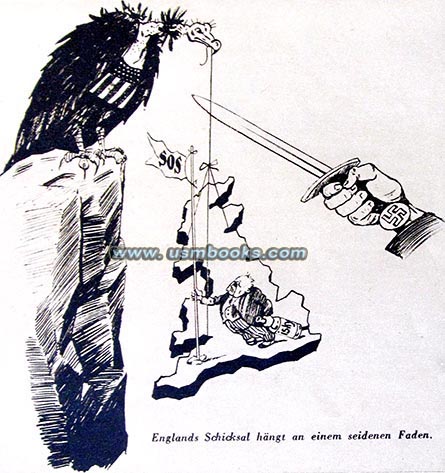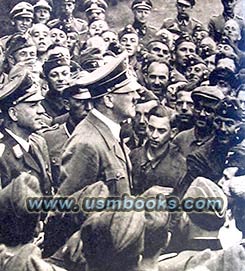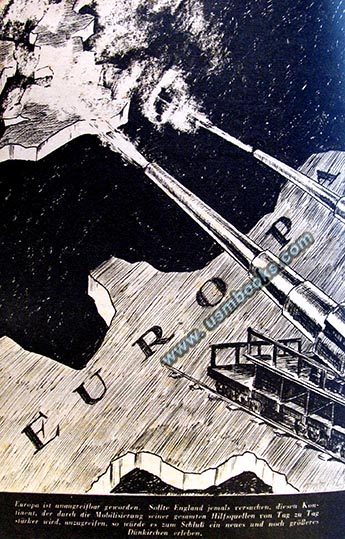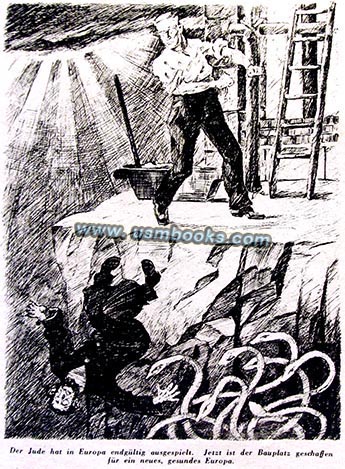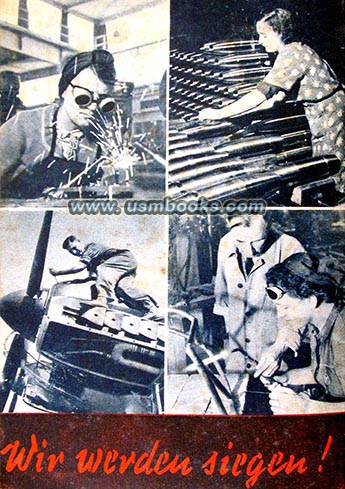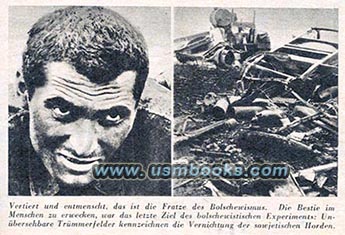 Photos show Adolf Hitler with German factory workers, the powerful Wehrmacht, Russian and English POWs, new German factories with modern facilities and housing for its workers, skilled German workers producing quality materiel for the war effort, KdF entertainment and KdF social welfare troops, etc. These photos are all shown opposite illustrations and photos of very negative situations in the Soviet Union and England.

Dr. Ley writes that social importance of the work done by the Kraft durch Freude (KdF or Strength through Joy) organization showed the world Germany cared about its people and that no foreign influence should be able to undo this, or turn back the clock. That is why we fight and win!
The text in Warum wir kämpfen und Siegen! also strongly emphasizes that Nazi Germany is for all citizens, an inclusive country unlike the United States, England or the Soviet Union where rich citizens benefit, and where poor people suffer and live in horrible circumstances.

Warum wir kämpfen und Siegen! contains illustrations by Arno Krause and photos by Heinrich Hoffmann Verlag, Keystone View Company, Ludwig Lang and a few other German photo companies. This original 1942 example is complete and in very nice, little used condition.
EXTREMELY ANTI-JEWISH BOOK BY DR. ROBERT LEY