The images and the entire text used on this and all other USMBOOKS web pages are the copyrighted property of USM Inc. Those images and the text may be used by others ONLY AFTER completion of a formal international licensing agreement and payment of a licensing fee! It is therefore, illegal for anyone to take any of the material found on USMBOOKS.com and use it for their own purposes without our written permission, irrespective of any excuse they may feel they have for doing so.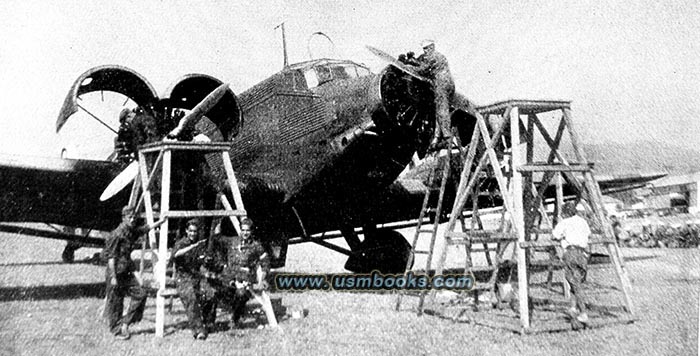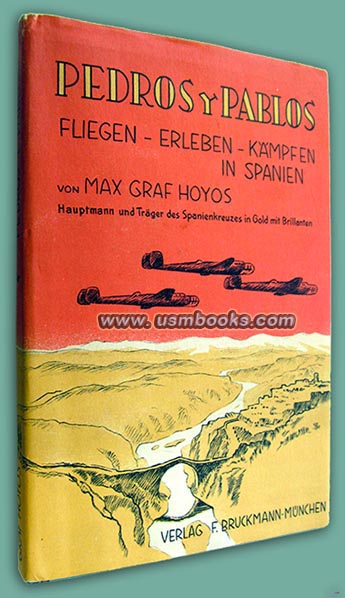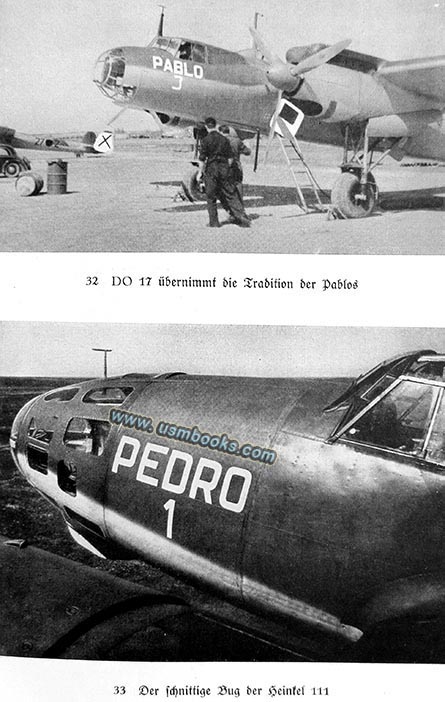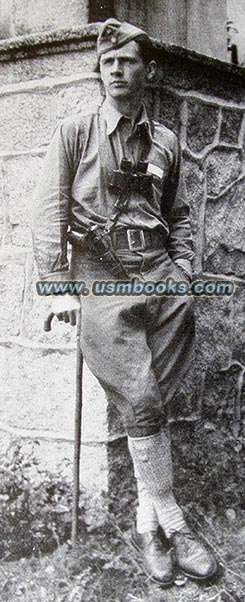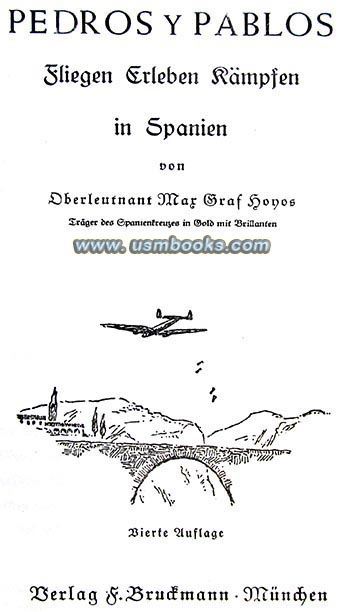 Pedros y Pablos - Fliegen - Erleben - Kämpfen in Spanien (Pedros y Pablos - Flying, Experiencing, Fighting in Spain) is a Third Reich book about the German participation of the Condor Legion in the Civil War of Spain, written by a man who was in the center of it all right from the start.

The unusual name of this book does not refer to people named Pedro or Pablo but to Legion Condor German aircraft which were referred to as Pablo and Pedro in nose art (see photo below).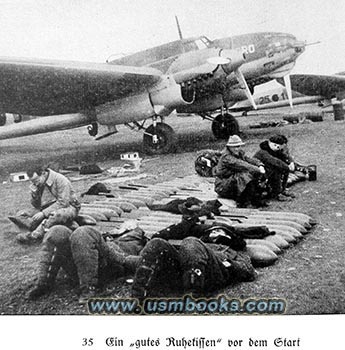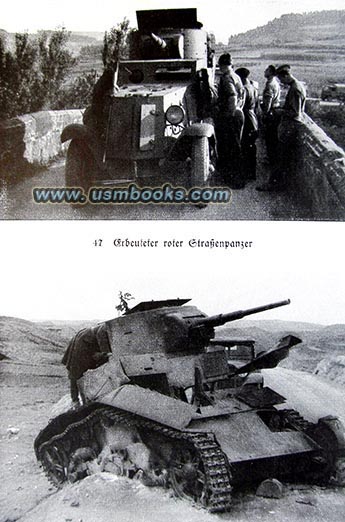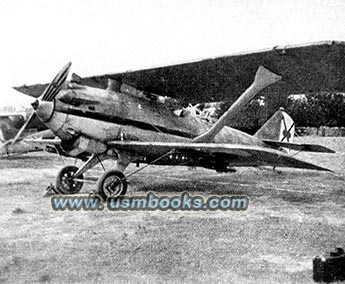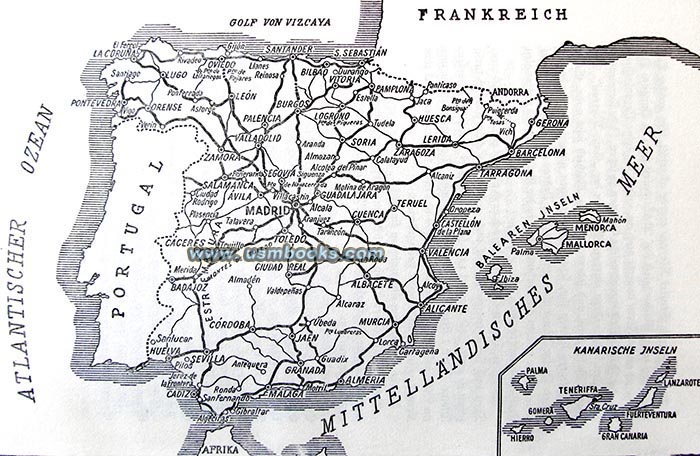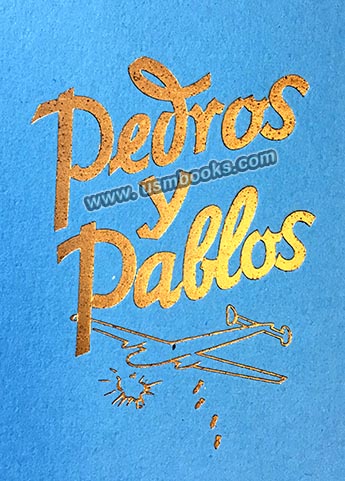 This Fliegerbuch has 66 black & white photos (printed on glossy paper) of the author in uniform and in civilian clothes, German and Spanish airplanes, a wrecked Curtiss, aerial combat, General Francisco Franco, battle damage in Spanish cities, Tetouan (the capital of the Spanish protectorate of Morocco), German Flak positions, etc. The last page in the book is a map of Spain.
Author Max Stanislaus Graf Hoyos flew combat missions in Ju52 planes from the summer of 1936 onwards with Kampfgruppe 88 (K/88) of the Condor Legion. He received the Spanish Cross in Gold and Diamonds for his heroic efforts and leadership (Luftwaffe Hauptmann Hoyos was later shot down in combat and killed in France on 12 August 1940).
As this book was written by a pilot, it has background information about the battles and behind-the-scene experiences, as well as Hoyos' point of view about the country and the people of Spain, where he had traveled extensively before and during the Spanish Civil War.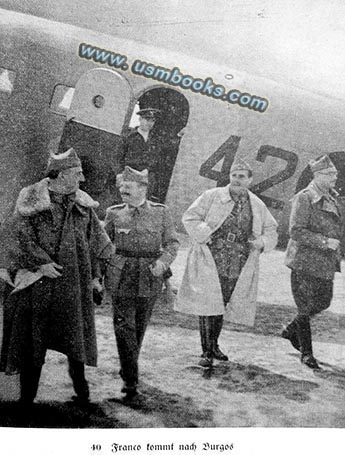 Published by F. Bruckmann of Munich in 1939, this 6 x 9 inch, 136 page heavily illustrated Fourth Edition of Pedros y Pablos has blue hard covers with gold blocking on the front and spine. The original dust jacket shows minimal wear and the book itself is in very nice condition.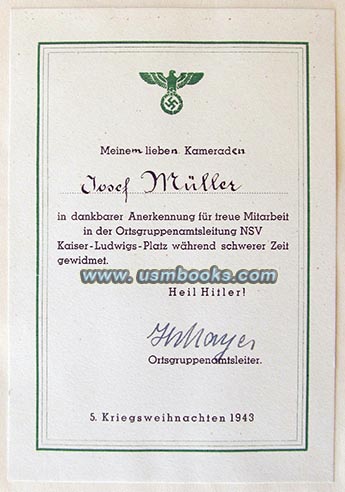 On the front flyleaf there is an original Third Reich presentation plate with a Nazi eagle and swastika at the top, dating to the "5th War Christmas 1943". It shows the book was given by Ortsgruppenamtsleiter Mayer to Josef Müller, thanking him for his work during difficult times at the Ortsgruppenamtsleitung NSV Kaiser-Ludwigs-Platz.
This 1939 Nazi Pedros y Pablos Spanish Civil War photo book is
for sale for $125.00 delivered by Media Mail in the continental USA.


USM book #884
• IF you prefer faster and safer Priority Mail shipping with USPS Tracking add $6.95.
• IF you wish to purchase highly recommended, but optional insurance, add $3.50.
• We will be happy to ship abroad at additional cost. Please inquire.
1939 CONDOR LEGION NAZI PHOTO BOOK PEDROS Y PABLOS
PEDROS Y PABLOS,
A HARDCOVER SPANISH CIVIL WAR LEGION CONDOR PHOTO BOOK WITH 66 UNUSUAL PHOTOS