The images and text used on this and all other USM web pages are the copyrighted property
of USM Inc. Those images and the text may be used by others ONLY AFTER completion
of a formal international licensing agreement and payment of a licensing fee!
Have a look at two other original Third Reich Fallschirmjäger books
(one & two) for sale on USMBOOKS.com.
This superb 1942 Nazi paratrooper book is **SOLD**.


USM book #418
• IF you prefer Priority Mail shipping with USPS delivery confirmation add $5.95.
• IF you wish to purchase optional insurance, add $4.75.
• We will be happy to ship abroad at additional cost. Please inquire.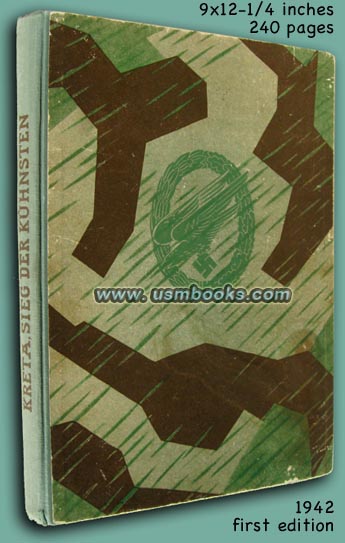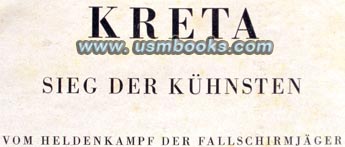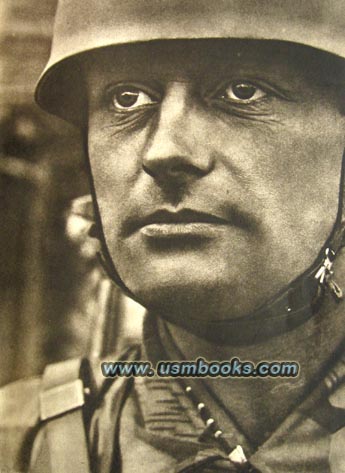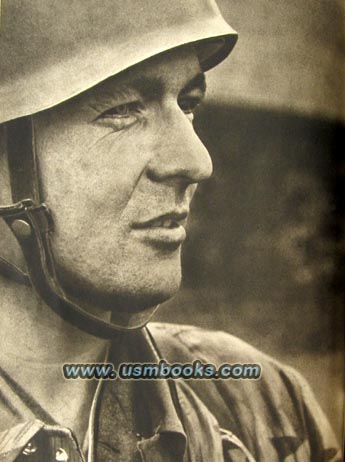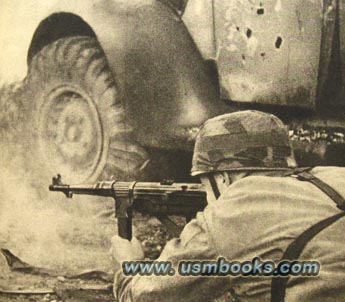 Far and away the best illustrated history of the use of German Fallschirmjäger (paratroopers) during the Third Reich is this big 8-1/2 x 12-1/4 inch, 240 (unnumbered) page, very, very heavily illustrated hardcover book Kreta, Sieg der Kühnsten - von Heldenkampf der Fallschirmjäger (Crete, Victory of the Daring Ones - the Heroic Battle of the Paratrooper) published at the direction of Luftwaffe General Student in 1942 by Steirische Verlagsanstalt in Graz, Germany.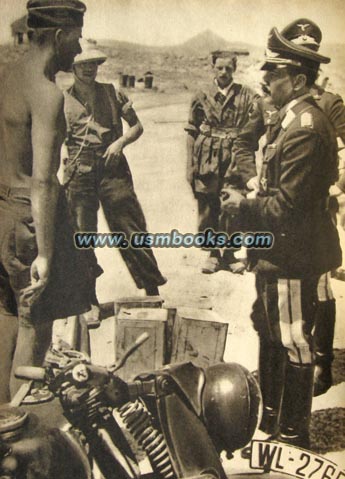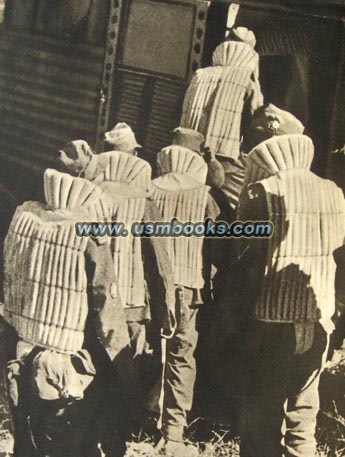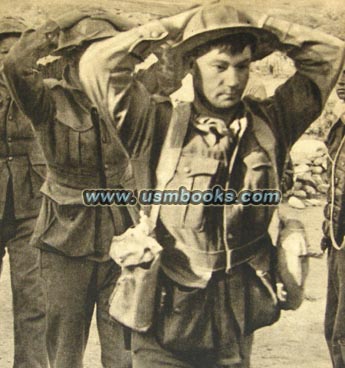 The covers of the book are cleverly designed using reproductions of Fallschirmjäger camouflage material emblazoned with a huge 3-3/4 inch reproduction of a Nazi Luftwaffe Fallschirmjaeger badge in the center. Following a foreword by Reichsmarschall Hermann Göring, the first 31 pages contain a brief written overview of the subject of paratroopers.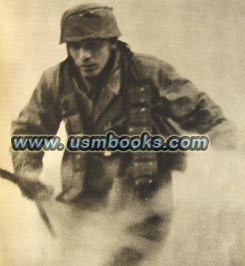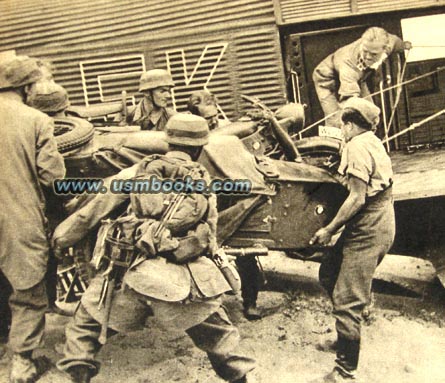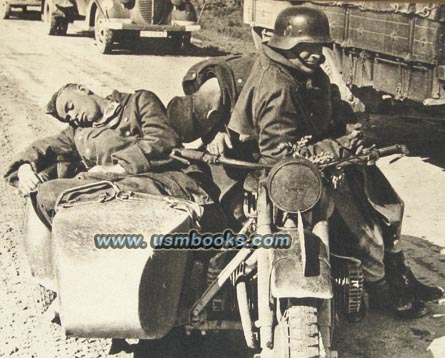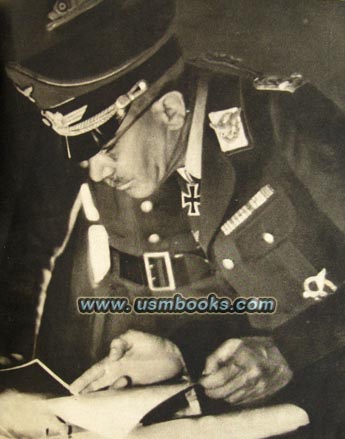 The rest of Kreta, Sieg der Kühnsten is composed entirely of the very best huge half-page, full-page and double-page spread photographs of Fallschirmjäger and Gebirgsjäger (mountain troops) in action taking the Greek island of Crete from the heavily armed, dug in British defenders. The German Fallschirmjäger succeeded in the desperate and heroic battle for Crete (Kreta in German) but suffered enormous casualties.
What this book does better than any other, is show the German paratrooper with his arms and equipment UP-CLOSE. There are fine photos of everything from jump clothing and helmets, to camo smocks, flotation gear, weapons and even the Knights Cross of the Iron Cross. There is a photo of a Nazi flame thrower in use, photographs of dead Brits, wrecked towns, prisoners of war, captured equipment, Nazi motorcycles, vehicles and planes, and German soldiers being decorated by their officers.
In short, if you have an interest in German paratroopers of World War II, you should have this book. This example is complete and in good used condition, with a handwritten dedication by an Obergefreiter on the front fly leaf.
NAZI FALLSCHIRMJAEGER (PARATROOPER) BOOK - THE BEST!
THE VERY BEST ILLUSTRATED NAZI FALLSCHIRMJÄGER (PARATROOPER) BOOK
OF THE WW2 PERIOD -
KRETA,
SIEG DER KÜHNSTEN
(CRETE, VICTORY OF
THE DARING ONES)
This USM Books website is Copyright © 2011 by USM, Inc., and the text and images on it are fully protected by international copyright law. It is therefore, illegal for anyone to take any of the material found here and use it for their own purposes without our written permission, irrespective of any excuse they may feel they have for doing so.