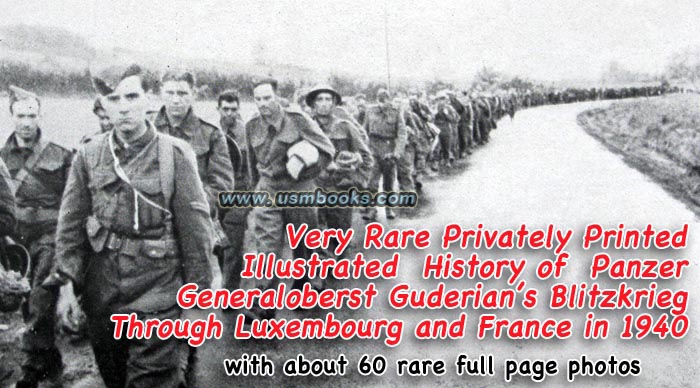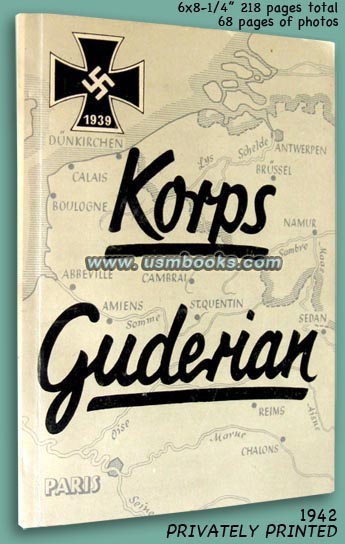 KORPS GUDERIAN
A PRIVATELY PUBLISHED, LIMITED EDITION COMMEMORATIVE PHOTO BOOK FOR WEHRMACHT MEMBERS WHO PARTICIPATED IN GENERAL GUDERIAN'S VICTORIOUS BATTLES IN LUXEMBOURG, BELGIUM AND FRANCE IN MAY 1940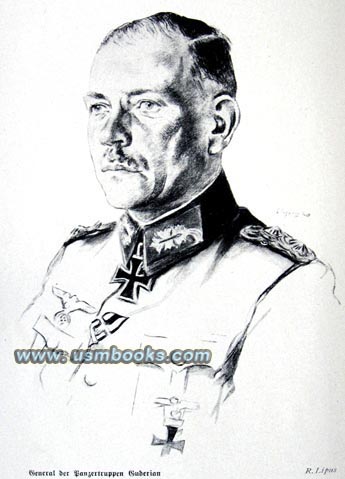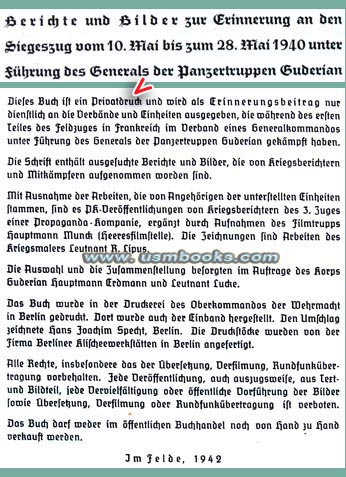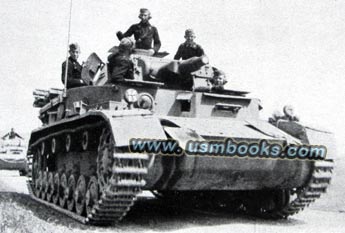 According to information on the title page, Korps Guderian contains field reports and war correspondent pictures commemorating the victorious campaign from 10 - 28 May 1940 under the leadership of General der Panzertruppen Guderian. The book was published privately, a commemorative book only for members of the units involved in the 10 - 18 May battles in the west. On page 2 it clearly states that the book was NOT TO BE SOLD IN BOOK SHOPS!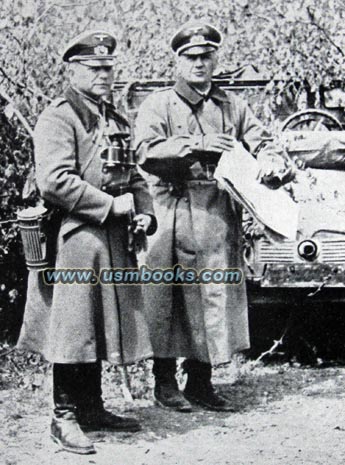 Korps Guderian contains reports by war correspondents, photos by front line combat photographers and army film crews as well as a few drawings by Leutnant Lipus. All the material was collected, edited and assembled by Hauptmann Erdmann and Leutnant Lucke, and the book was printed in a very limited edition by the printing company of the Oberkommando der Wehrmacht in Berlin.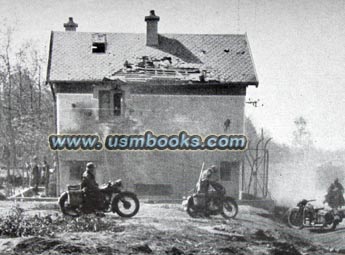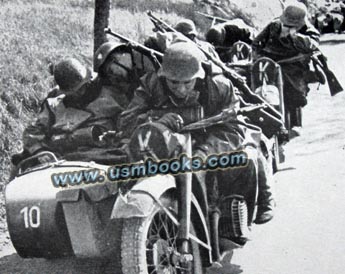 The contents of the 6 x 8-1/4 inch, 218 page soft cover book is fascinating! It starts with a map (western Germany to the English Channel) and chronological table of the battle and an introduction by General Heinz Guderian himself. The written portion of this book contains eyewitness reports about specific experiences and overall battle information.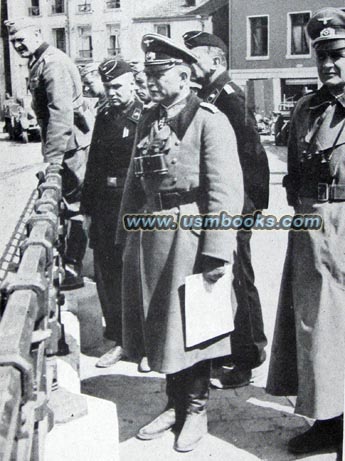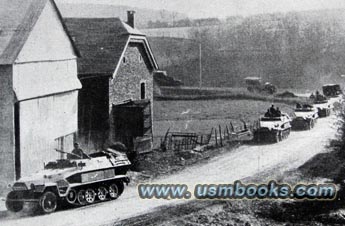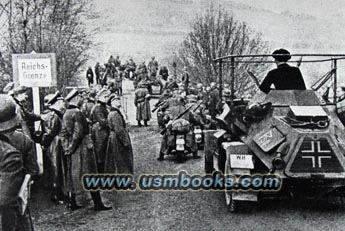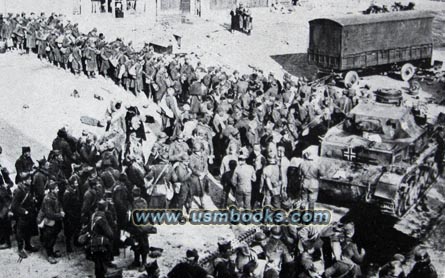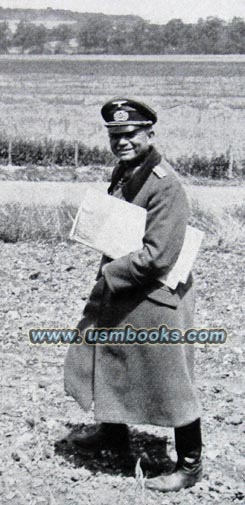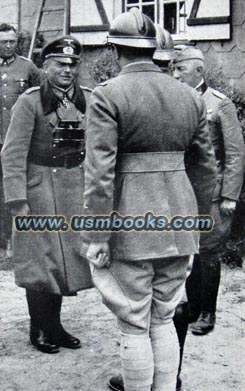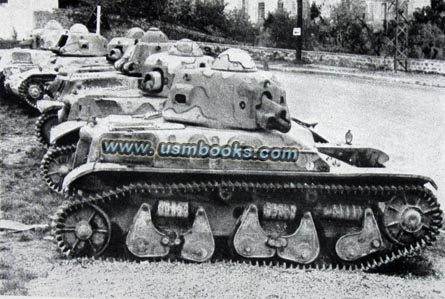 The 68-page photo section contains photographs not found in other Third Reich book about the victorious Nazi Feldzug in Frankreich. Tanks, battle destruction, photos of Guderian (during battle and even talking to a captured French officer), huge artillery pieces, Nazi motorcycle troops, wrecked French military equipment, bridges and towns, mixed-race POWs, and much, much more.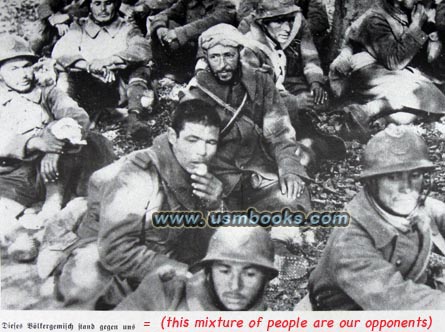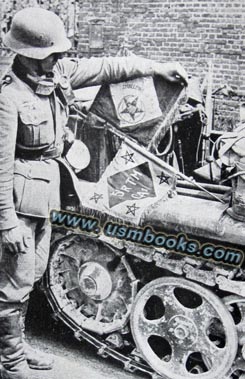 A very rare 1942 Nazi Panzer history book in very good condition. Handwritten presentation on a separate sheet tipped in between the front cover and the fly leaf. Rarely seen - not even found in the biggest libraries.


The images and the entire text used on this and all other USMBOOKS web pages are the copyrighted property of USM Inc. Those images and the text may be used by others ONLY AFTER completion of a formal international licensing agreement and payment of a licensing fee! It is therefore, illegal for anyone to take any of the material found on USMBOOKS.com and use it for their own purposes without our written permission, irrespective of any excuse they may feel they have for doing so.
This rare privately published commemorative photo book Korps Guderian
is **SOLD**


USM book # 632
• IF you prefer faster and safer Priority Mail shipping with USPS Tracking add $6.80.
• IF you wish to purchase highly recommended, but optional insurance, add $3.50.
• We will be happy to ship abroad at additional cost. Please inquire.
VERY RARE, PRIVATELY PUBLISHED LIMITED EDITION COMMEMORATIVE PHOTO BOOK ABOUT PANZER KORPS GUDERIAN IN FRANCE