The images and the entire text used on this and all other USMBOOKS web pages are the copyrighted property of USM Inc. Those images and the text may be used by others ONLY AFTER completion of a formal international licensing agreement and payment of a licensing fee! It is therefore, illegal for anyone to take any of the material found on USMBOOKS.com and use it for their own purposes without our written permission, irrespective of any excuse they may feel they have for doing so.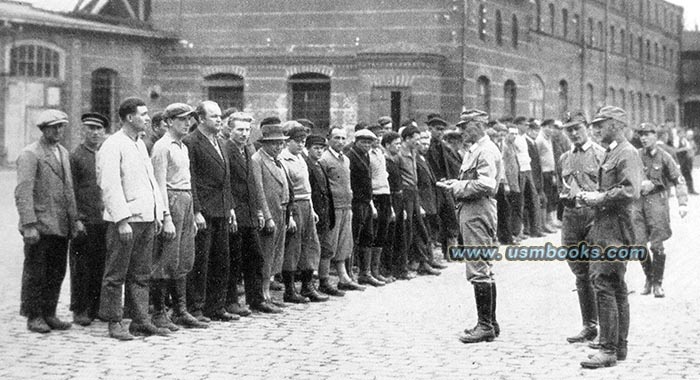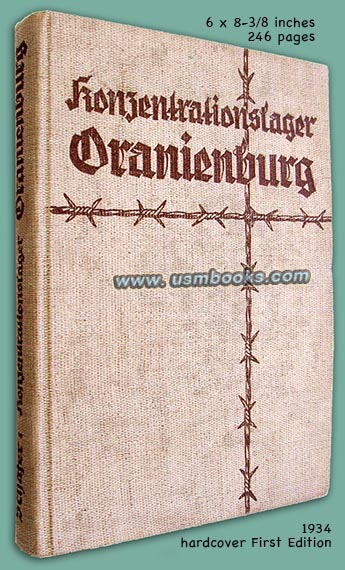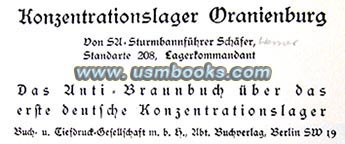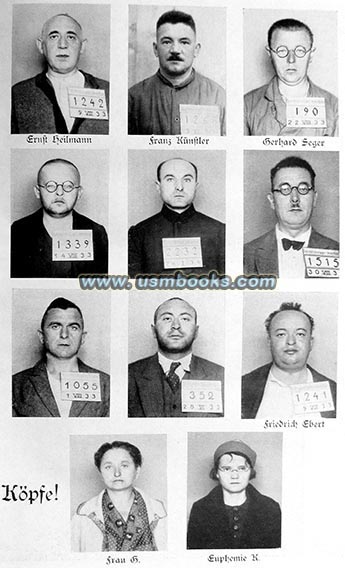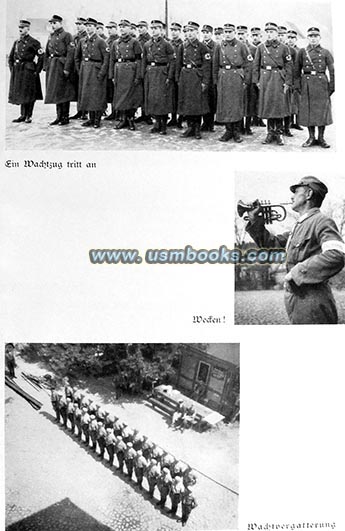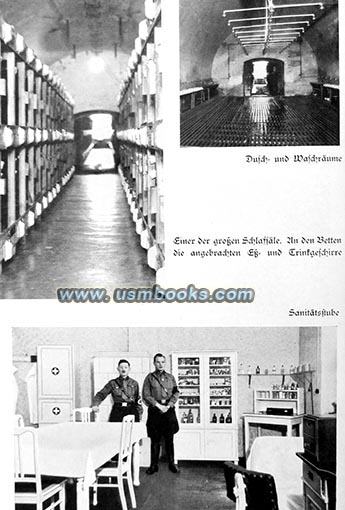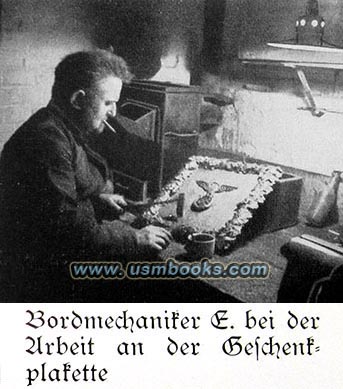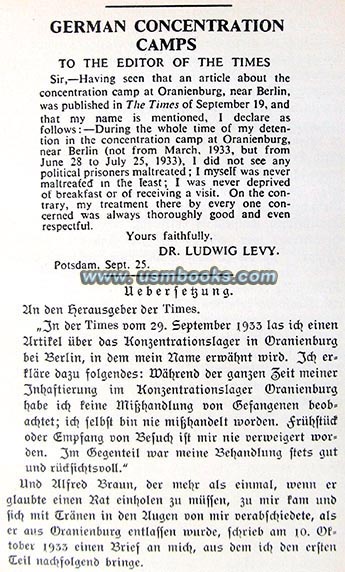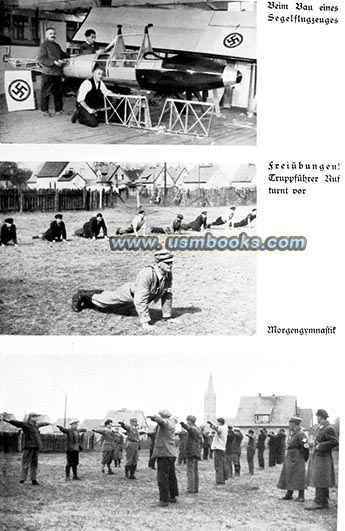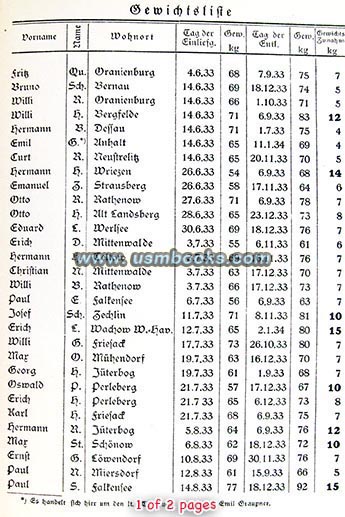 This Third Reich book also has photos of inmates at KZ Oranienburg during roll call, peeling potatoes, reading newspapers, exercising, mugshots of male and female prisoners, confiscated weapons and dum-dum ammunition, the inmate canteen, washing facilities and barracks, and during Christmas in 1933. There are also several photos of inmates at work building a sail plane, sewing, woodworking, repairing shoes, etc. One inmate is even shown at work on a "Gift Plaque" featuring a large framed eagle and swastika.
This is a hardcover 1934 First Edition of the book Konzentrationslager Oranienburg, das Anti-Braunbuch über das erste deutsche Konzentrationslager by SA-Sturmbannführer Schäfer, Standarte 208, the Lagerkommandant or Camp Commandant of Oranienburg. KL Oranienburg, or KLO, was the first concentration camp opened in Nazi Germany (KL Dachau got its first prisoners on 22 March 1933) for political prisoners from Berlin and the surrounding Brandenburg area. On 21 March 1933 the first 40 Häftlinge arrived, supervised by SA men of Standarte 208 who were in charge of the camp (the SS took over control of KLO on 4 July 1934).
In his foreword, Leader of SA-Truppe Berlin-Brandenburg Karl Ernst, praises author SA-Sturmbannführer Werner Schäfer (both shown above right) for the honest report of his experiences as Lagerkommandant of Oranienburg concentration camp, north of Berlin. The foreword also mentions the need to take anti-National Socialist enemies of the state out of society. He writes that it would be easy to lock these people up in inhumane circumstances, but praises the soldier-like "Men of the Brown Storm Troops" for helping these Volksgenossen or fellow Germans achieve a better mentality and work ethic.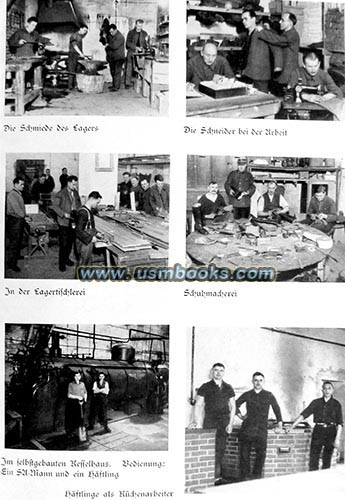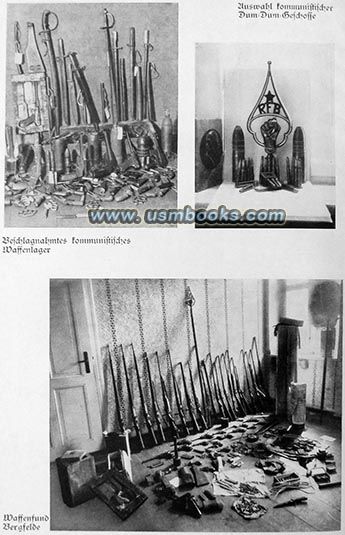 Chapters deal with the history, construction and organization of KL Oranienburg, inmates ("Communist Sub-Humans", politicians and others) as well as their behavior before the National Socialist Revolution and after imprisonment, anti-Nazi propaganda in foreign and Jewish newspapers about the first Nazi concentration camp at Oranienburg, the difficulty of the work of SA Men to re-educate the prisoners, etc.
There are several copies of letters written to Lagerkommandant Schäfer by people who had toured the camp to take a look for themselves. On page 243 there is one in English, written by a young Englishman who writes he will tell the people of Great Britain the Truth about German Concentration Camps. During his visit George C. Thomas had been "astonished by the splendid healthy quarters, the very good food, the cleanliness, and facilities for sport and recreation". There is another letter in English (shown left) from a Dr. Ludwig Levy of Potsdam to the Editor of The Times in England, stating he had been a prisoner at Oranienburg from 28 June - 25 July 1933 and that he had been always been treated "thoroughly good and even respectful".
The last page of the book has a long list of inmates with the date they arrived and were released from Konzentrationslager Oranienburg, and their weight on arrival and departure - see image below. All had gained several kilograms!
This is a First Edition published by Buch- u. Tiefdruck-Gesellschaft/Buchverlag of Berlin in 1934. The 6 x 8-3/8 inch, 246 page book has a linen hardcover featuring barbed wire and is in very good used condition. Complete, no odor.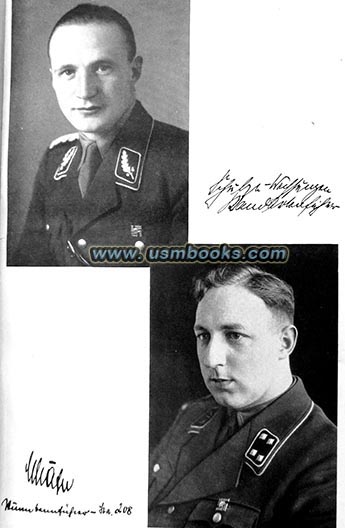 This First Editon Nazi book on Konzentrationslager Oranienburg is **SOLD**


USM book # 856
• IF you prefer faster and safer Priority Mail shipping with USPS Tracking add $6.75.
• IF you wish to purchase highly recommended, but optional insurance, add $4.75.
• We will be happy to ship abroad at additional cost. Please inquire.
RARE NAZI BOOK ON ORANIENBURG CONCENTRATION CAMP
A RARE FIRST EDITION THIRD REICH BOOK WITH PHOTOS ABOUT KONZENTRATIONSLAGER ORANIENBURG, THE FIRST CONCENTRATION CAMP OPENED IN NAZI GERMANY