This
early example of Kampf um's Dritte Reich is
**SOLD**

USM book # 147
•IF you prefer faster and safer Priority Mail shipping with USPS Tracking add $7.95.
• IF you wish to purchase optional insurance, add $4.95.
• We will be happy to ship abroad at additional cost. Please inquire.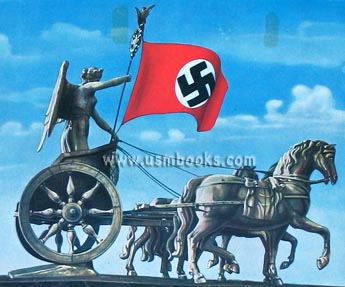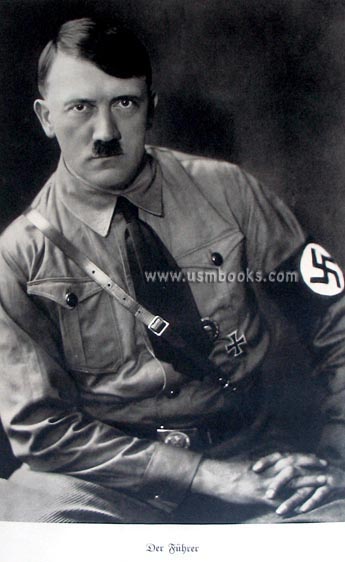 This is a very good example of the 9-1/2 x 12-1/2 inch, 92 page full-color, stiff softcover book Kampf um's Dritte Reich (Battle for the Third Reich) as published by Cigaretten Bilderdienst of Altona-Bahrenfeld, Germany.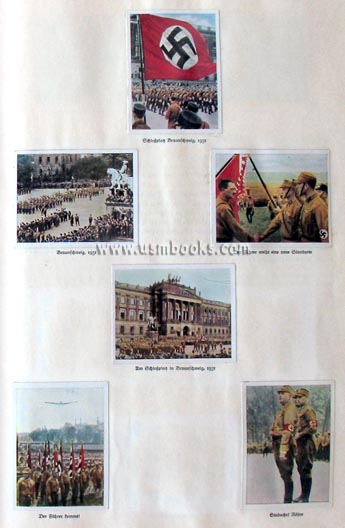 Beyond its beautiful embossed front cover, this book purports to tell the story of the Nazi Party rise to power in Germany. It does so using about 275 1-1/2 x 2-1/4 inch color cigarette cards and five big full-page plates. There are photographs of Adolf Hitler from 1914 onward and photographs of NSDAP functions from 1922 onward. This book was published before Ernst Röhm was eliminated and it is one of the rare examples in which photos of Röhm are not obliterated.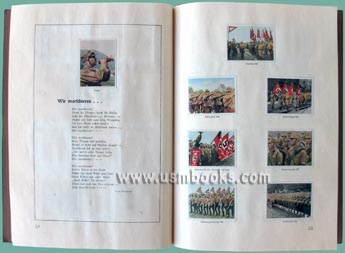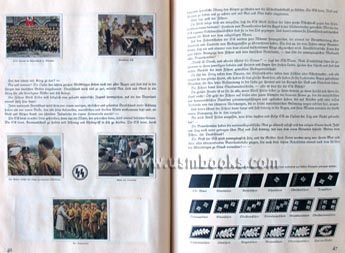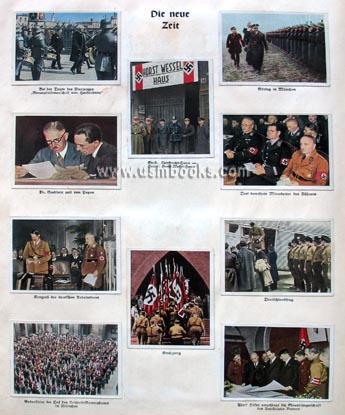 There are pictures categorized in chapters such as Hitler - The Unknown German; Hitler Putsch 1923; Rebuilding; the Brown House; the Führer on His Big Trip; Battling the System; the NSBO; the SA and NSKK; Youth in Battle; Brown Shirts; the Führer and the German Worker; We March; Hermann Göring; Ernst Röhm; the Führer in the Kaiserhof; Reich Youth Day in Potsdam; the Last Battle; 30 January 1933; Drums and Pipes; Dr. Goebbels; the Führer in the Reichschancellery; New Times; the Führer at Home, etc.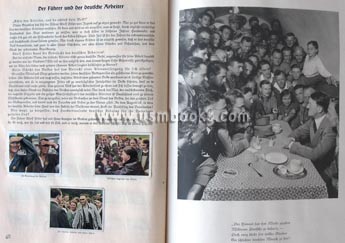 Almost everybody that was anybody in the early days of the Nazi Party shows up in pictures in this book. Those people include Sepp Dietrich, Reinhard Heydrich, Julius Streicher, Ernst Röhm, Rudolf Hess, Horst Wessel, Dr. Robert Ley, Dr. Joseph Goebbels, Alfred Rosenberg, Hermann Göring, Heinrich Himmler, etc.

There are photos of the Berghof (Haus Wachenfeld), Hitler's dog Blondie, the burning of the Reichstag, the Braunes Haus, SA, SS and NSKK formations, Deutscher Tag in 1927, etc., etc.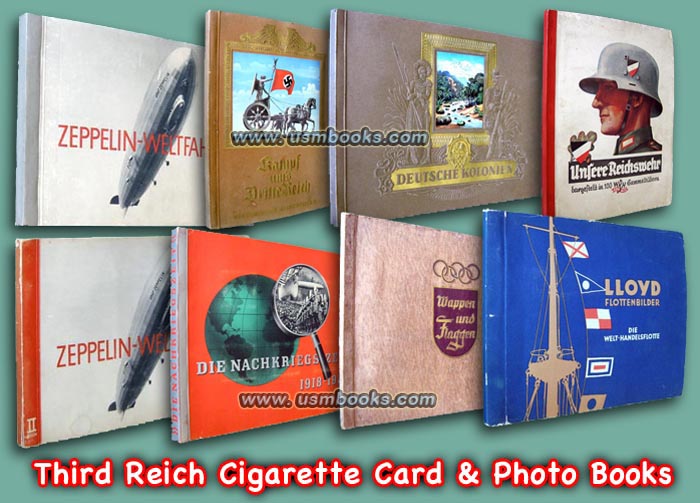 This is a rare Third Reich book in good used condition with all its colorful cigarette card photos. Note that a small piece of swastika flag and sky next to it on the color illustration on the front cover is damaged. It looks like at one time the swastika was covered up and that the damage occurred when the paper or tape was removed.
RARE NAZI CIGARETTE CARD ALBUM BATTLE FOR THE THIRD REICH
THE RARE NAZI
COLOR CIGARETTE
CARD ALBUM
KAMPF UM'S DRITTE REICH
(BATTLE FOR
THE THIRD REICH)
WITH OVER
270 COLOR PHOTOS


The images and the entire text used on this and all other USMBOOKS web pages are the copyrighted property of USM Inc. Those images and the text may be used by others ONLY AFTER completion of a formal international licensing agreement and payment of a licensing fee! It is therefore, illegal for anyone to take any of the material found on USMBOOKS.com and use it for their own purposes without our written permission, irrespective of any excuse they may feel they have for doing so.