The images and text used on this and all other USM web pages are the copyrighted property
of USM Inc. Those images and the text may be used by others ONLY AFTER completion
of a formal international licensing agreement and payment of a licensing fee!
This original 1943 Japanese Consulate Wien grouping is offered
for sale for $85.00 delivered worldwide.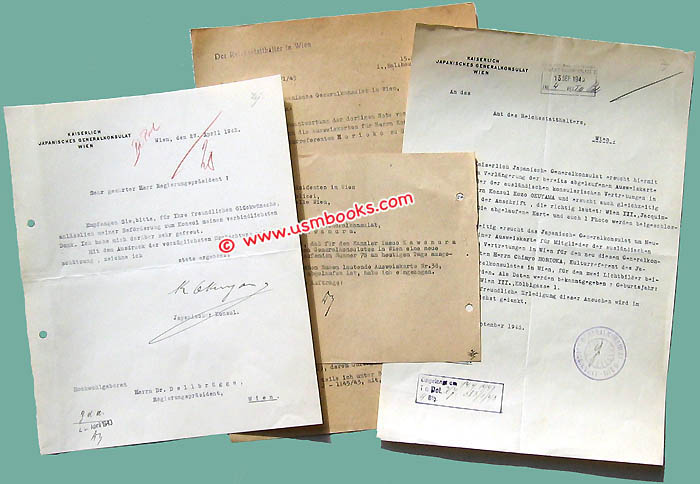 This grouping consists of two original letters written on the stationary of the Imperial Japanese General Consul in Wien (Vienna) and a response from the Reichsstatthalter (the highest Nazi civil authority in the Gau).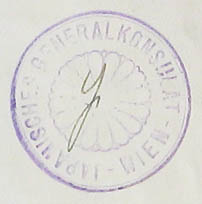 The larger of the two consular letters is dated 11 September 1943 and addressed to the Reichsstatthalter, bears the official 38 mm purple seal of the Japanese Consulate and requests an extension of the expiration date of diplomatic identity documents for members of the staff of Consul Kozo OKUYAMA, and the correction of the residential address for the Consul. The Consulate also enclosed two photos and personal information with this letter and asked the Reichsstatthalter to issue diplomatic identification documents for Mr. Chimyo HORIOKA, the new Japanese Cultural Attaché.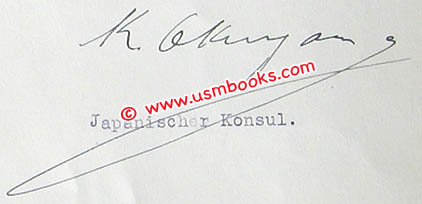 The smaller of the two consular letters is dated 27 April 1943 and is signed in ink by hand by General Consul Kozo Okuyama. It expresses his thanks to Dr. Hans Dellbrügge, the Nazi Head of Government in Vienna, for the best wishes Dellbrügge sent to Okuyama upon his appointment as Consul.
The last two items in this grouping are the responses of the Reichsstatthalter to the letter from the Japanese Consulate dated 11 September 1943 and both are dated 15 September 1943. The smaller of these is the official response granting Okuyama's request for diplomatic documents. The larger of the two is a copy of the official response with annotations showing that the information contained in Okuyama's letter was passed on to the Geheime Staatspolizei (Gestapo) Staatspolizeileitstelle in Wien.

Very interesting diplomatic correspondence at the highest level of government that shows the involvement of the Gestapo in every activity in Germany during the Third Reich. In very nice condition, guaranteed to be authentic Third Reich correspondence.
JAPAN CONSULATE LETTERS TO THE REICHSSTATTHALTER
LETTERS FROM THE JAPANESE CONSULATE IN
WIEN REGARDING OFFICIAL BUSINESS
This USMBOOKS web page is Copyright © 2014 by USM, Inc., and the text and images on it are fully protected by international copyright law. It is therefore, illegal for anyone to take any of the material found here and use it for their own purposes without our written permission, irrespective of any excuse they may feel they have for doing so.