The images and the entire text used on this and all other USMBOOKS web pages are the copyrighted property of USM Inc. Those images and the text may be used by others ONLY AFTER completion of a formal international licensing agreement and payment of a licensing fee! It is therefore, illegal for anyone to take any of the material found on USMBOOKS.com and use it for their own purposes without our written permission, irrespective of any excuse they may feel they have for doing so.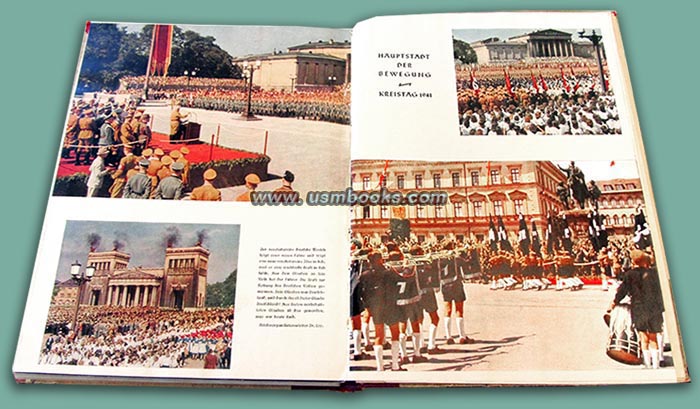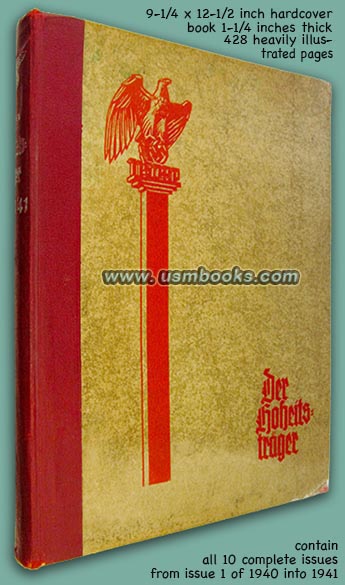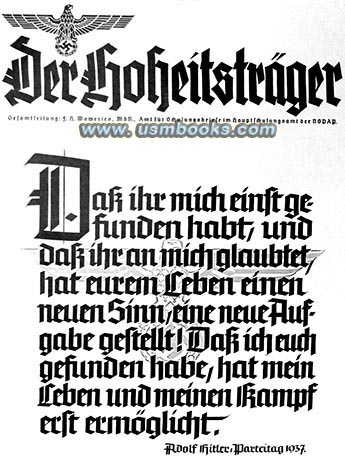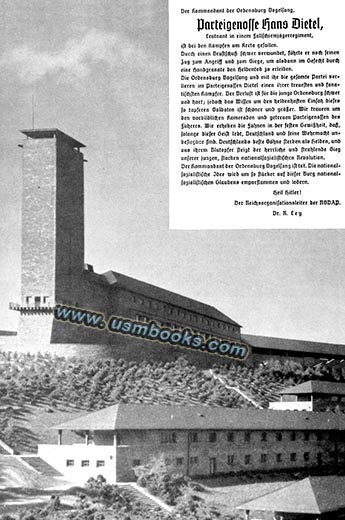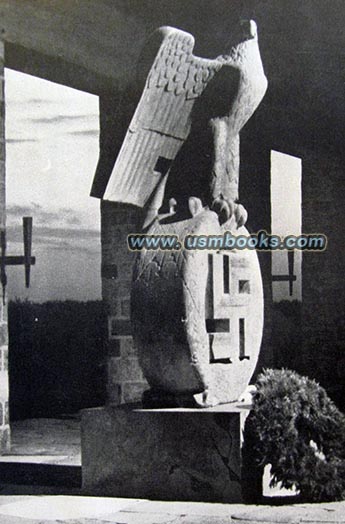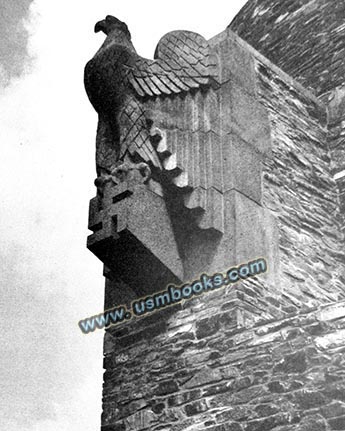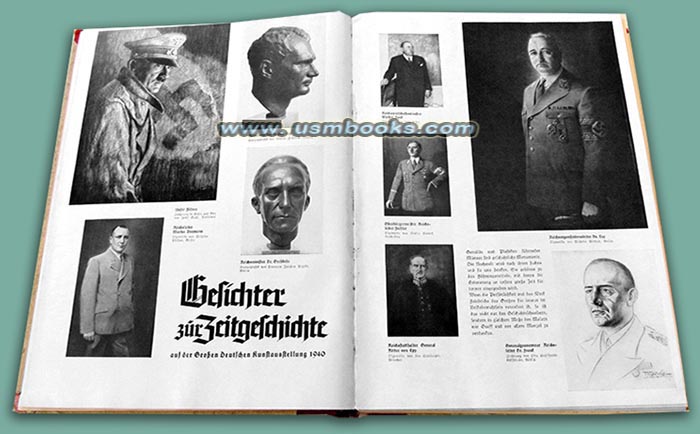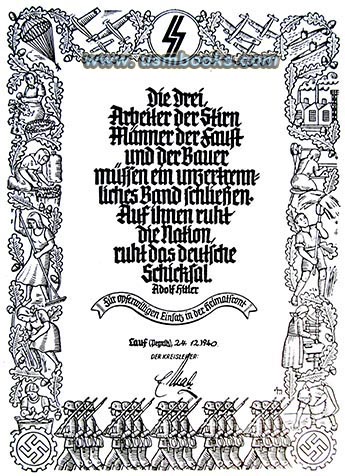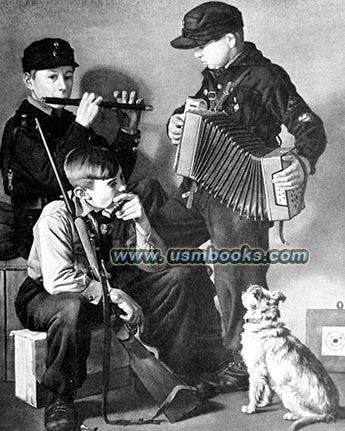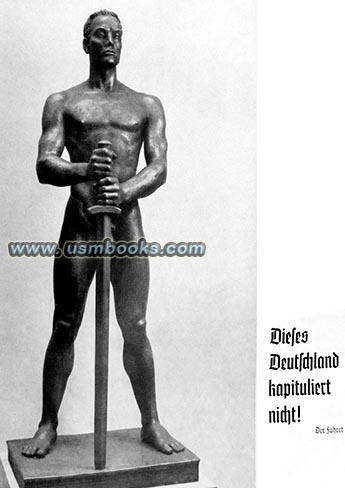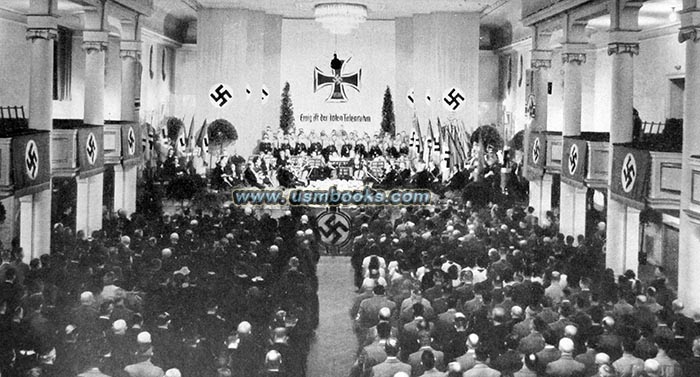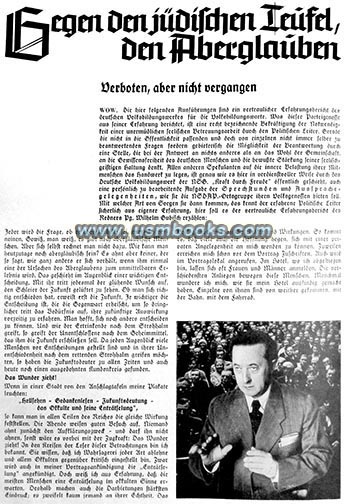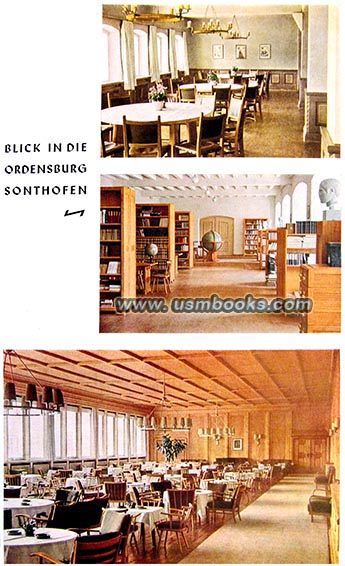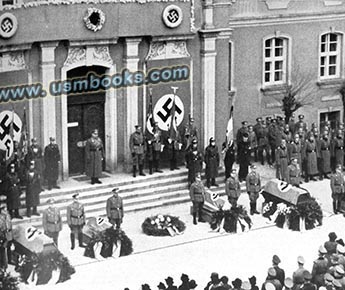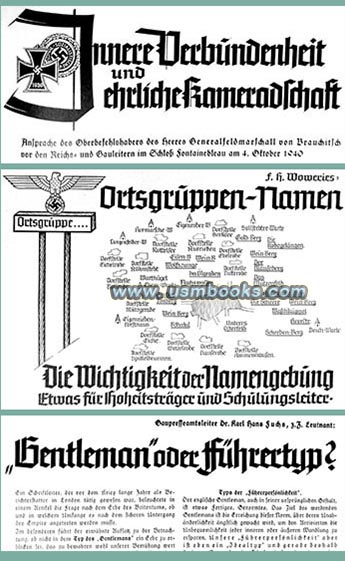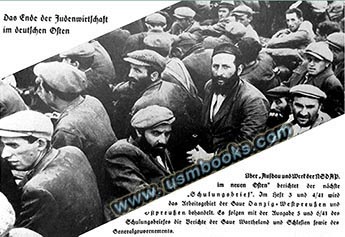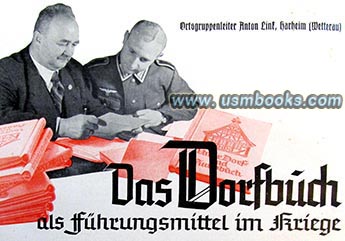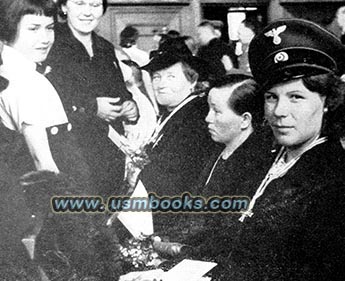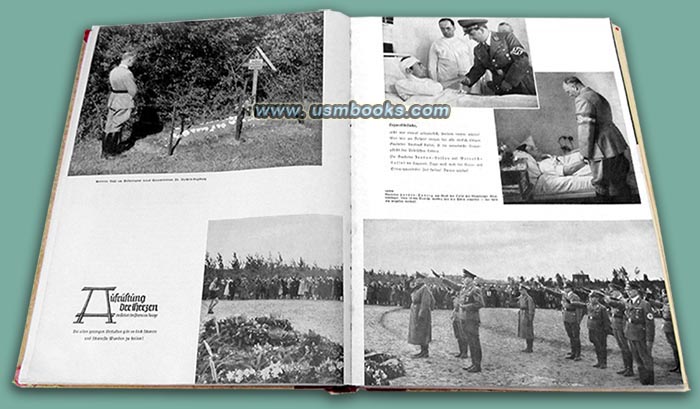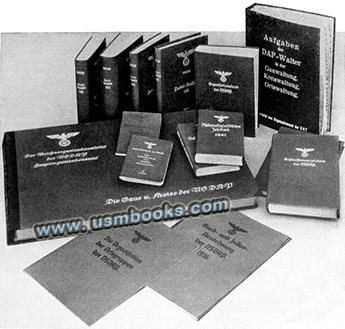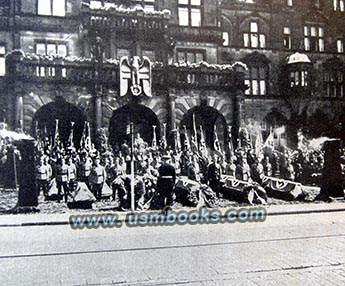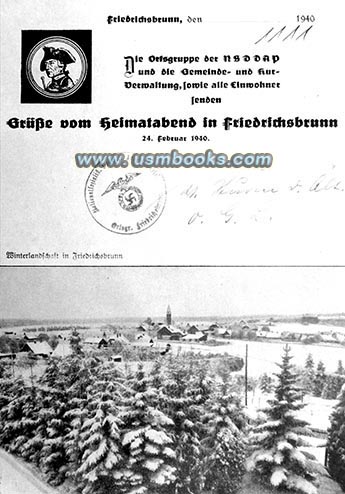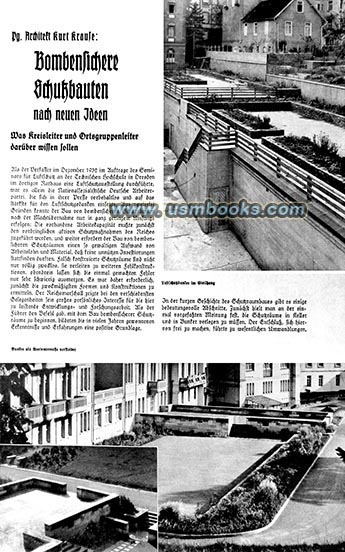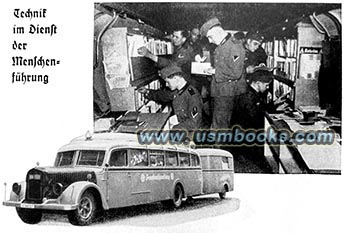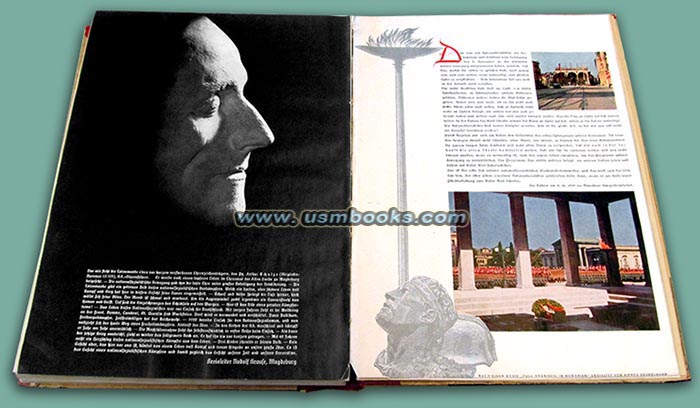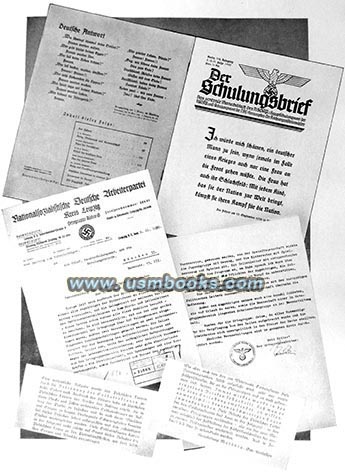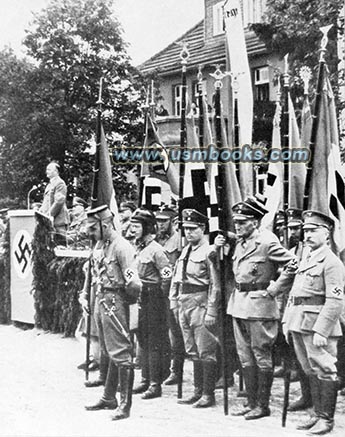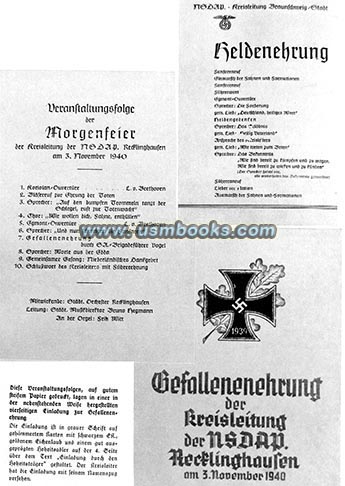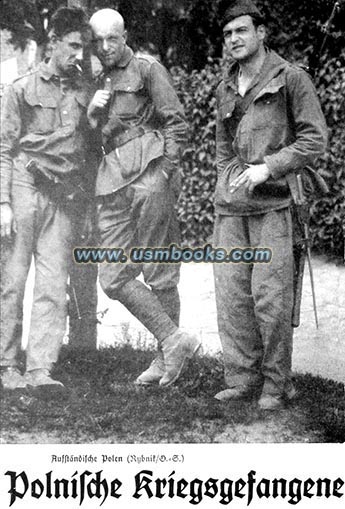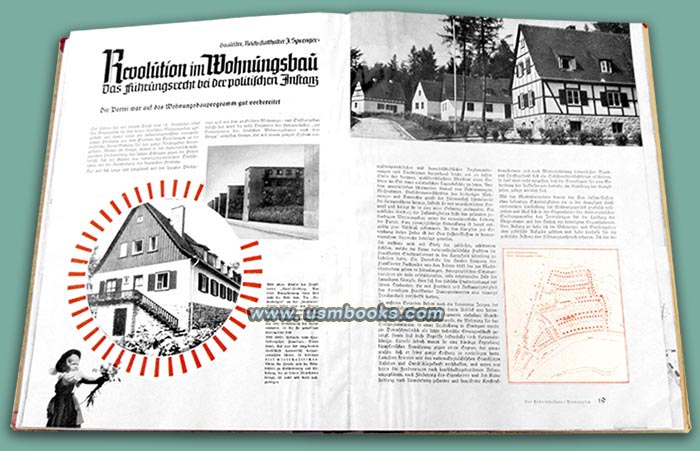 There was no more important magazine circulated in Nazi Germany than Der Hoheitsträger (The Standard Bearer). It was published during the Third Reich of Adolf Hitler for distribution to Gauleiters, Kreisleiters and some other high officials of the Nazi Party and its paramilitary organizations such as Generals of the SS, SA, NSFK, DAF, NSKK, etc. It was circulated to the Commandant and a select group of Officers at each of the Ordensburgen and to the highest ranking people in the Hitler Youth, Reichsarbeitsdienst, Deutsche Arbeitsfront, etc. The first issue (January 1940) of the magazines in this book has the word Vertraulich or Confidential printed on nearly every page!
So limited was the circulation of this 8-¾ x 12-¼ inch, 28-48 page heavily illustrated magazine that on every issue there was a serial number printed across a pad of lines on the back cover. Written in German across the bottom of the front cover of each issue was a statement that translates "Only For Service Use - Confidential".
Each issue contained very sensitive information about how to make the Nazi Party look better to the press and public, Nazi ceremonies, Nazi organization, race matters, book reviews and even a critique of the Nazis themselves.
These ten specific issues are those for January 1940 to December 1941. In order to bind them in book form, the magazines were stripped of their covers and the page content was bound in a half-leather hardcover book with silver blocking on the red spine that says Der Hoheitsträger 1940-1941. The tan front cover of the book has the logo of the magazine (an eagle and swastika at the top of a column) and the words Der Hoheitsträger on it in red.
There are articles on Rudolf Hess' new guidelines for
Feldpost
packages
for frontline soldiers, education during war-time, recycling during war-time, KdF art exhibitions for Wehrmacht soldiers, Nazi leadership in everyday life, the soldier death of Alfred Himstedt (author for
Hoheitsträger
sister magazine
Der Schulungsbrief
), agriculture as part of the war effort, NSDAP tasks of the future, educating the next generation of Nazi leaders, the dangers of mixing races, how to deal with foreigners in an
Ortsgruppe
, Christmas 1940, obligatory service for BdM girls,
Ortsgruppe
community buildings, ceremonies for fallen Wehrmacht heroes, what Kreisleiter and Ortsgruppenleiter need to know about air-raid shelters, ethnic Germans in the
Ortsgruppe
, art made by soldiers in Norway, Dr. Robert Ley on the Ordensburg Sonthofen, women at work for the war-effort (in factories, delivering mail), new Nazi Party buildings in Danzig, NSV children facilities, "Fighting the Jewish Devil", collecting taxes in the German occupied east, entertaining Wehrmacht troops, the RADwj during war, Polish POWs, social and mental help for soldiers, education in the German occupied east, housing communities for German workers, war-time harvests, the new UfA movie
Ohm Krüger
, population information of different Gaue in Greater Germany, Wilhelm II in exile, Reichsgesundheitsführer Dr. Conti reports about the battle against tobacco, 9th of November celebrations in Munich, Christmas 1941, Kinderland-Verschickung (including children from Holland in
Gau Oberdonau
), the Nazi view on medicine, etc.
Photos of Adolf Hitler, the Conrad Hommel portrait of Hitler, art from the 1940 Greater German Art Exhibition in Munich (busts of Hess, Goebbels and paintings of Reichsleiter Bormann, Ritter von Epp, Reichsleiter Fiehler, Dr. Robert Ley, Reichsleiter Frank, NSKK Korpsführer Hühnlein, etc.), Adolf Hitler and Reichsleiter Dr. Ley, Hitler sharing a meal with Wehrmacht soldiers, Nazi leadership visiting victims and graves after the Bromberger Blutsonntag (the murder of ethnic Germans in Poland in September 1939), war-time duties of NSDAP Kreisleiter, BdM girls, Heldengedenkfeier Recklingshausen, Ordensburg Sonthofen, Nazi funeral for air-raid victims in Stettin November 1940, Political Leader parade in Kassel, ethnic Germans on the move to Nazi Germany, Putsch anniversary celebrations in Munich, and many more.
Each issue also contains letters from Kreisleiter and Ortsgruppenleiter to the editor of
Der Hoheitsträger
, art by frontline soldiers, technical and organizational news, reviews of new books, Hitler quotes as well as information about upcoming articles in
Der Schlungsbrief
and
Böhmen und Mähren
magazines.
The back cover of this hardbound book was at one time damp and stained but after decades in the High Plains Desert climate of the Black Hills in western South Dakota, the book is perfectly dry and has no offensive odor. While the binding is somewhat weak, the ten magazines hardbound in this book are complete and fully readable and the illustrations are in very good condition.
This Third Reich hardbound book with ten 1940-1941 issues of
Der Hoheitsträger is for sale for $995.00 PLUS postage
(see options below).

• For Priority Mail shipping with USPS Tracking add $13.60
OR
$9.95 for Media Mail.
• IF you wish to purchase highly recommended, but optional insurance, add $13.50.
• We will be happy to ship abroad at additional cost. Please inquire.
TEN RARE ISSUES OF NAZI HOHEITSTRÄGER MAGAZINES
BOUND AS A BOOK 1940-1941
10 RARE ISSUES OF THE NSDAP KREISLEITER / GAULEITER LEVEL MAGAZINE
DER HOHEITSTRÄGER
(THE STANDARD BEARER)