This First Edition 1939 Hoffmann photo book about Hitler's 50th birthday celebrations is **SOLD**.


USM book #113
• IF you prefer Priority Mail shipping with USPS delivery confirmation add $6.50.
• IF you wish to purchase highly recommended, but optional insurance, add $3.45.
• We will be happy to ship abroad at additional cost. Please inquire.
Ein Volk ehrt seinem Führer (A Nation Honors its Leader) shows in pictures how all of Nazi Germany celebrated the 50th birthday of Adolf Hitler on 20 April 1939. This superb photo book was published by Professor Heinrich Hoffmann in cooperation with Zeitgeschichte-Verlag Wilhelm Andermann in Berlin and contains a foreword by Reichsorganisationsleiter Dr. Robert Ley.
IMPORTANT: this is an original Third Reich publication, not a modern reprint. The dust jacket is a fascimile of an original in our archive.
Hitler is shown surrounded by SS men and leaders of the NSDAP in the Mosaic Hall in the Reichschancellery in Berlin, receiving congratulations from Generalfeldmarschall Hermann Göring, Deputy Führer Rudolf Hess, Reichsführer-SS Heinrich Himmler, SS General Sepp Dietrich, Foreign Minister Joaching von Ribbentrop, Dr. Frick, Walther Darré, Reichsorganisationsleiter Robert Ley, Lord Mayor of Munich Karl Fiehler, Sister Pia, Blood Order recipients and many NSDAP cabinet members. There are pictures of Hitler looking at presents with pilot Hans Bauer, models of fortifications in the west and holding hands with children.
Central Berlin was decorated for this special occasion with giant eagles, swastikas, Nazi flags and banners. The capital of Hitler's Greater Germany was the perfect back drop for the enormous military parade that took place on 20 April. Full-page and double page pictures show the LSSAH, Fallschirmjäger, Kriegsmarine troops, cavalry men on horseback, artillery pieces, tanks and Luftwaffe squadrons overhead. The audience consisted of the Nazi high leadership, generals, military attachés from many European countries and Hitler's guest of honor, Czech President Dr. Emil Hacha (wearing a black coat and top hat amidst a sea of stunning Nazi uniforms).
This original First Edition 1939 Nazi photo book Ein Volk ehrt seinem Führer is in very good used condition and comes with a dust jacket that is a photocopy of an original in our archive.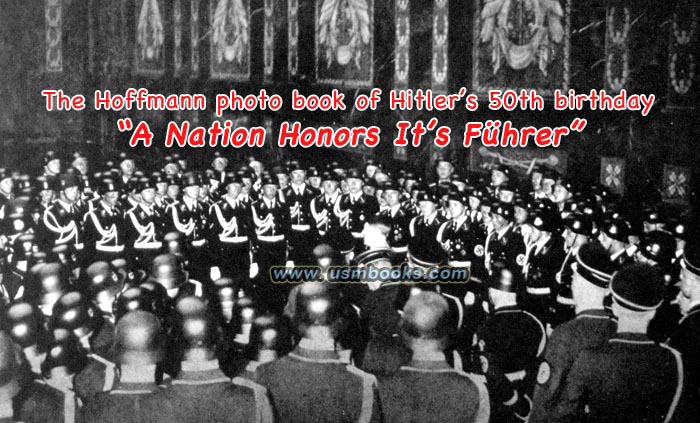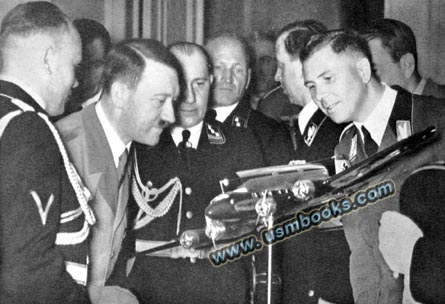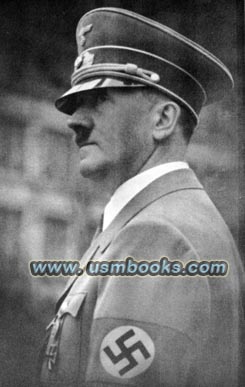 Ein Volk ehrt seinem Führer measures 7-1/2 x 10-3/8 inch and has 64 pages filled with photographs of the official events that took place in Berlin on the eve of, and on 20 April 1939, the 50th birthday of Führer und Reichskanzler, Adolf Hitler.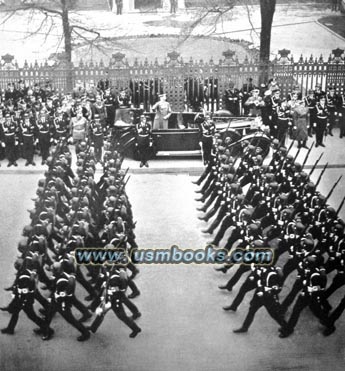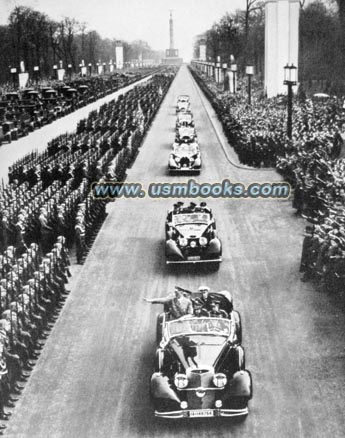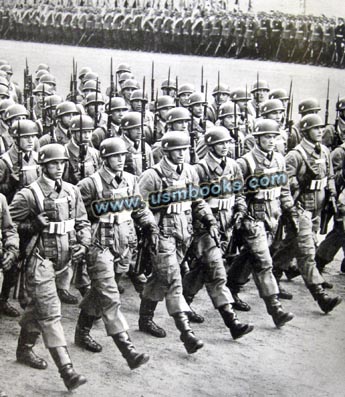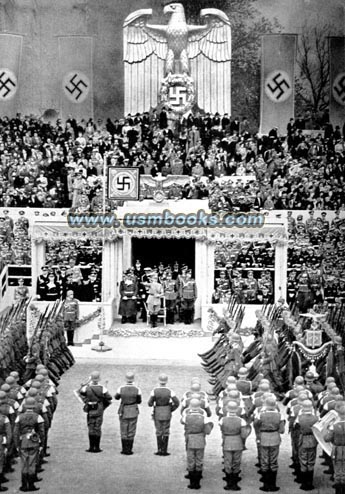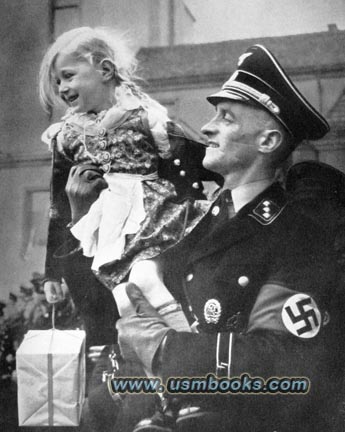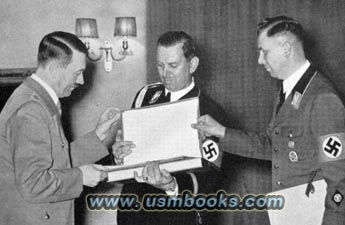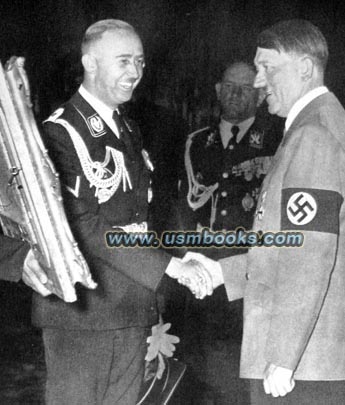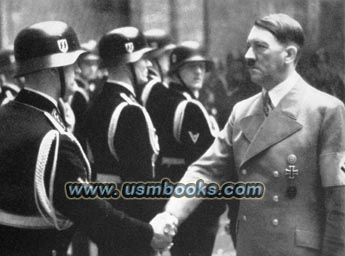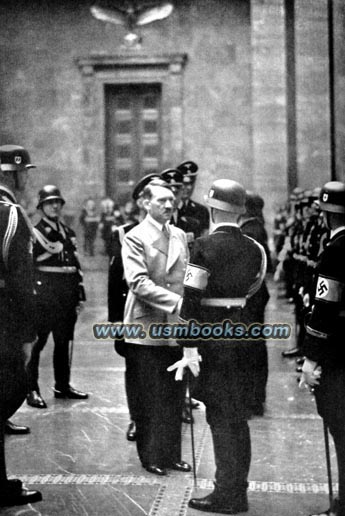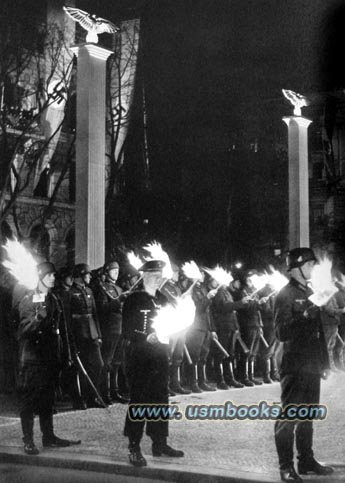 NAZI PHOTO BOOK BY HEINRICH HOFFMANN - ORIGINAL
1939 FIRST EDITION HITLER'S 50th BIRTHDAY
1939 HOFFMANN PHOTO BOOK ABOUT HITLER'S 50th BIRTHDAY CELEBRATIONS
EIN VOLK EHRT SEINEN FÜHRER
(A NATION HONORS
ITS LEADER)



The images and the entire text used on this and all other USMBOOKS web pages are the copyrighted property of USM Inc. Those images and the text may be used by others ONLY AFTER completion of a formal international licensing agreement and payment of a licensing fee! It is therefore, illegal for anyone to take any of the material found on USMBOOKS.com and use it for their own purposes without our written permission, irrespective of any excuse they may feel they have for doing so.