The images and text used on this and all other USM web pages are the copyrighted property
of USM Inc. Those images and the text may be used by others ONLY AFTER completion
of a formal international licensing agreement and payment of a licensing fee!
This rare original Third Reich Hoch- und Deutschmeister book is
SOLD .


USM book # 390a
•IF you prefer Priority Mail shipping with USPS delivery confirmation add $5.45.
• IF you wish to purchase optional insurance, add $3.25.
• We will be happy to ship abroad at additional cost. Please inquire.
THE RARE MEMORIAL BOOKLET FROM
DEUTSCHMEISTERTAG 1941
IN ST. JEAN D'ANGELY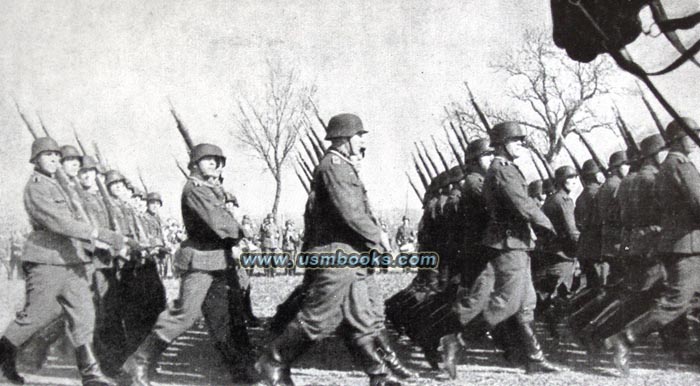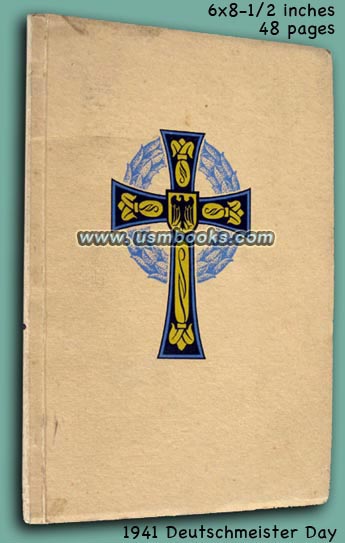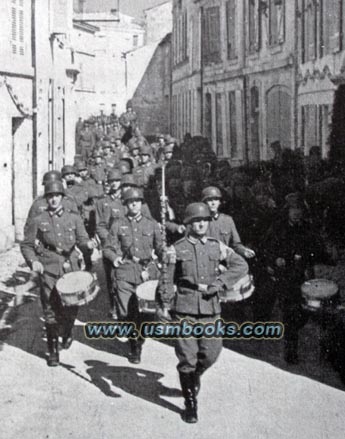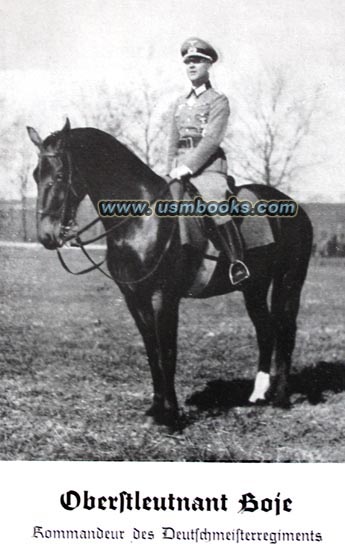 Anything associated with the renown Hoch-und Deutschmeister Regiment of the Wehrmacht during World War II has to be considered quite rare, and this 6 x 8-1/2 inch, 48 page book is no exception. The 134 Infantry Regiment Hoch-und Deutschmeister or just Deutschmeister had a history of almost 250 years by the time it was posted to the west coast of France at the beginning of World War II. Under the command of Oberstleutnant Arthur Boje, the regiment was headquartered in the beautiful small town of Saint-Jean-d'Angély in the French Department of Poitou-Charentes. That was the location of the Deutschmeistertag 1941 which is the subject of this book.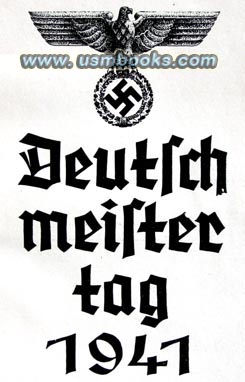 The band of the jubilant unit marched through the streets and coffee, pie and ice cream was served under the palm trees. The barracks were decorated and there was a religious service in the field. The highlight of the day was a great parade with many officers and men on horseback and plenty of towed equipment and infantry. There was even a sports fest featuring riders, the hand grenade throw and the long march as well as tumbling and horse jumping.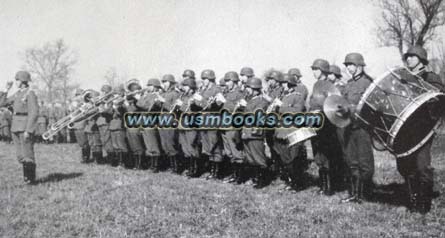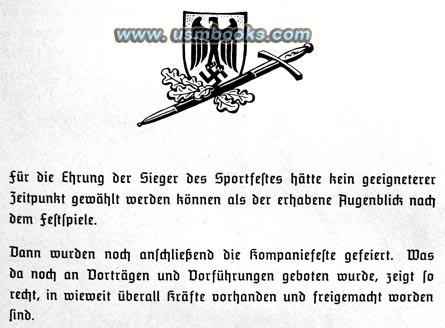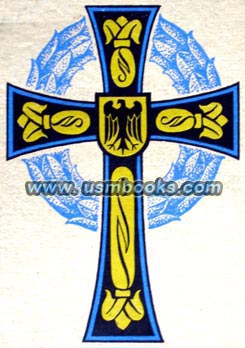 Few copies of the regiment's memorial book have survived into the 21st century. This one is complete in very good condition with many photos of the great day.
RARE NAZI HOCH UND DEUTSCHMEISTER BOOK 1941
This USMBOOKS web page is Copyright © 2014 by USM, Inc., and the text and images on it are fully protected by international copyright law. It is therefore, illegal for anyone to take any of the material found here and use it for their own purposes without our written permission, irrespective of any excuse they may feel they have for doing so.