The images and the entire text used on this and all other USMBOOKS web pages are the copyrighted property of USM Inc. Those images and the text may be used by others ONLY AFTER completion of a formal international licensing agreement and payment of a licensing fee! It is therefore, illegal for anyone to take any of the material found on USMBOOKS.com and use it for their own purposes without our written permission, irrespective of any excuse they may feel they have for doing so.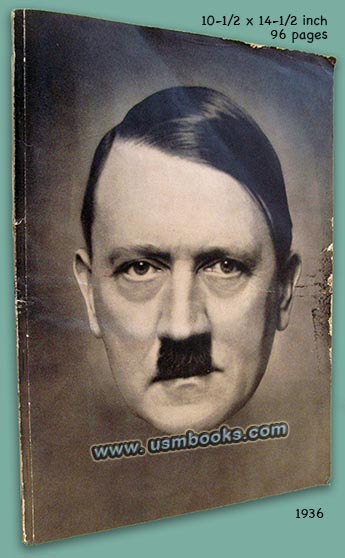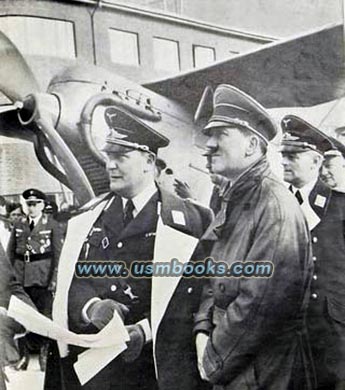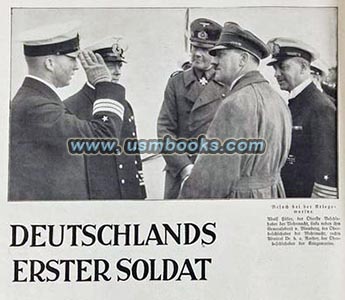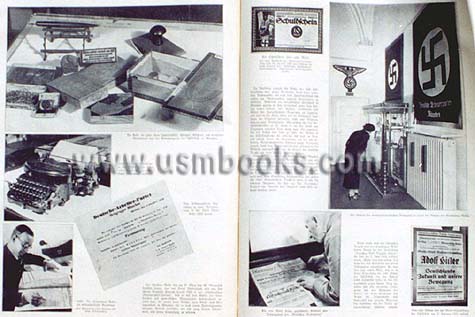 Hitler is seen with his SS men, during speeches, but he is also seen visiting with, smiling and touching men, women, children and his old World War I comrades in stark contrast to the image one sees of him today on cable TV.

Hitler's service in World War I is well covered in text and photographs as is the first Reichsparteitag (Nazi Party Day) in January 1923 and his 1924 trial and subsequent term in prison.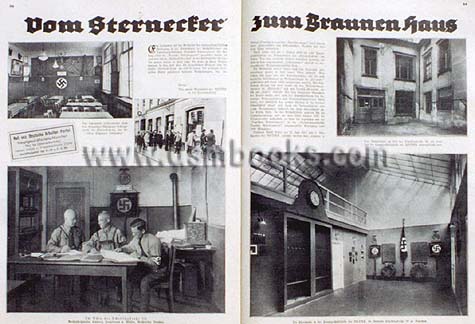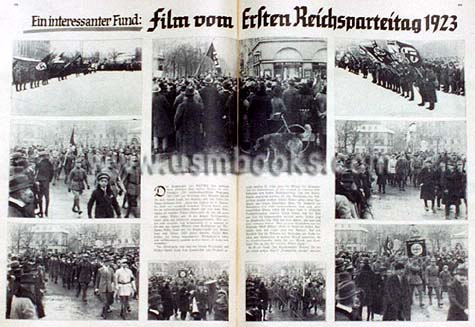 This is a remarkable, rare Third Reich photo document, the majority of the photos taken by Heinrich Hoffmann, Hitler's personal photographer.

This 81 year old example is complete and in used condition. The damage that is visible on the right edge of the cover affects the right edge of every page, but none of the fantastic photo content.
This is an original example of the huge 10-1/2 x 14-1/2 inch, very heavily illustrated 96 page softcover book ADOLF HITLER - EIN MANN UND SEIN VOLK (Adolf Hitler - A Man and his Nation) as published by Verlag Franz Eher, Nachfolger (the Central Publishing House of the Nazi Party) in München (Munich) for the Illustrierter Beobachter (Illustrated Observer Newspaper) in 1936.

Starting with pictures from the earliest moments in the political life of Adolf Hitler (1914 - 1920) this Third Reich publication concentrates on the seldom seen personal side of the everyday life of Germany's 23rd Chancellor.
The photos of the historical artifacts in the NSDAP archive (Rehse Sammlung) in the Braunes Haus are fascinating, as are those of new Nazi Party construction, Hitler campaigning for Nazi Party candidates for the Reichstag, the Ordensburg Vogelsang, the Wehrmacht, etc. There are photos showing the change is Hitler between 1916 and 1936, Hitler in and around the Berghof, sculptor Hedwig Maria Ley working on a Hitler bust, Hitler surrounded by jubilant fans, Hitler in his campaign aircraft and aboard a Mitropa train, at Tannenberg Memorial, etc.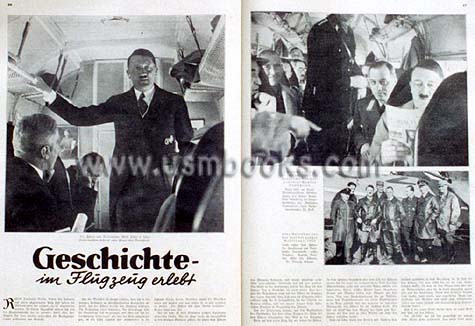 There are photos of Chancellor Hitler with many of his cabinet ministers and party leaders: Reichsführer-SS Heinrich Himmler, Rudolf Hess, Field Marshal Hermann Göring, Dr. Robert Ley, Dr. Fritz Todt, Baldur von Schirach, Dr. Joseph Goebbels, Dr. Hans Frank, Dr. Wilhelm Frick, Franz Ritter von Epp, Reichsleiter Philipp Bouhler, and more.
This 1936 Nazi photo publication about Adolf Hitler is offered for sale
for $125.00 delivered by Media Mail in the continental USA.


USM book #873
• IF you prefer faster and safer Priority Mail shipping with USPS Tracking add $8.95.
• IF you wish to purchase highly recommended, but optional insurance, add $3.50.
• We will be happy to ship abroad at additional cost. Please inquire.
HUGE ILLUSTRATED HITLER PHOTO PUBLICATION 1936
ADOLF HITLER EIN MANN UND SEIN VOLK
(ADOLF HITLER,
A MAN AND HIS NATION)