The images and the entire text used on this and all other USMBOOKS web pages are the copyrighted property of USM Inc. Those images and the text may be used by others ONLY AFTER completion of a formal international licensing agreement and payment of a licensing fee! It is therefore, illegal for anyone to take any of the material found on USMBOOKS.com and use it for their own purposes without our written permission, irrespective of any excuse they may feel they have for doing so.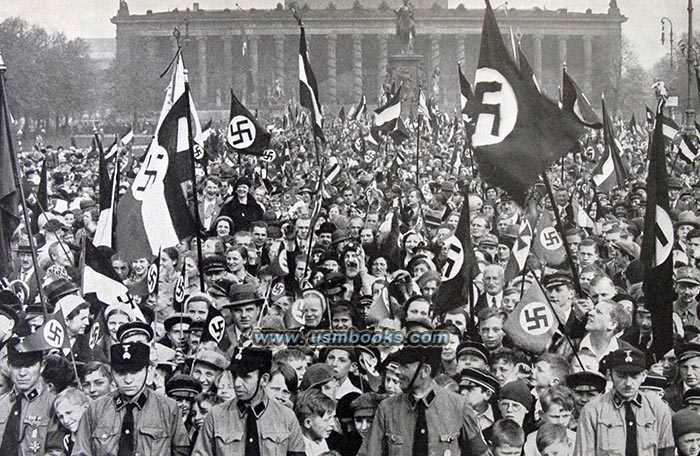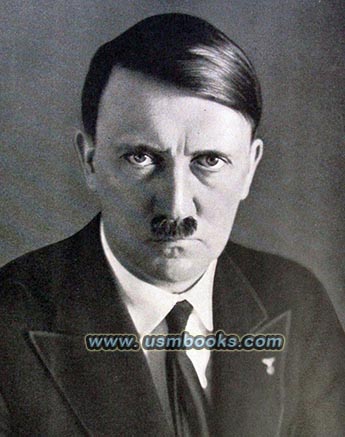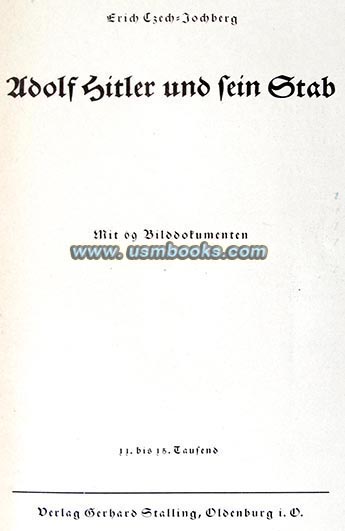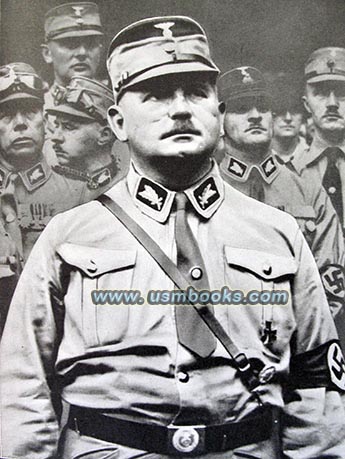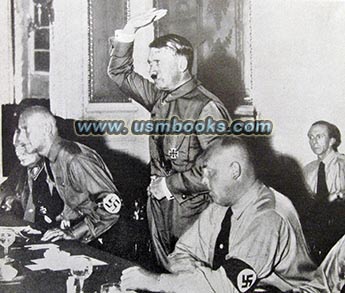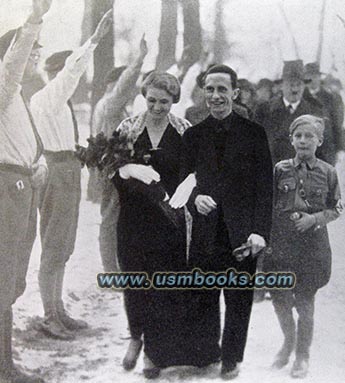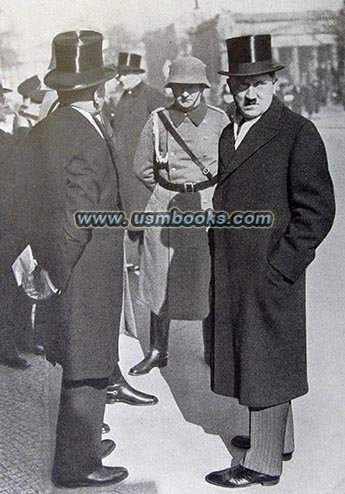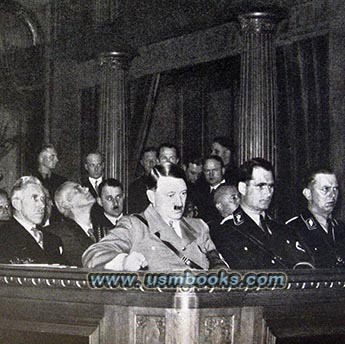 In this 1933 Nazi photo book Adolf Hitler und sein Stab, author Erich Czech-Jochberg introduces Adolf Hitler and his staff, the members of his first National Socialist cabinet.

Published by Stalling Verlag of Oldenburg this 7-1/8 x 9-7/8 inch 112 page softcover book with 69 photos comes with its original dust jacket (we will be happy to include a perfect 'as-new' facsimile dust jacket with this antique book if requested to do so by the buyer).
REPRODUCTION DUST JACKET:

if you have an original example of this rare book in your collection, it is likely that the dust jacket is in very poor condition.

We can supply a perfect facsimile of the original dust jacket for only $12.50 plus postage in the USA.
For many Germans the pictures in this book were their first opportunity to have a look at many of those who surrounded Hitler in the very early days of the Nazi Party. Material of this sort that depicts the very earliest days of Nazi victory in Germany has become very difficult to find and very desirable in the 21st century.
The Heinrich Hoffmann-type photo book starts with a chapter about Adolf Hitler and the people he trusted - the people that had just helped him become Chancellor of Germany in 1933. That section contains photographs of Hitler with President Paul von Hindenburg, with members of the SA and SS, meeting with the foreign press and foreign diplomats, and the first National Day of Labor (Tag der Arbeit).
The rest of the book covers Adolf Hitler's new cabinet members and the Nazi crowds that cheered them on:

Reichsbauernführer Walter Darré, Generalleutlant and Reichsstatthalter of Bavaria Ritter von Epp, Reichstag member Hermann Esser (who was also the editor of the Nazi newspaper the Völkischer Beobachter), Minister of the Interior Dr. Wilhelm Frick, Propaganda Minister Joseph Goebbels, Prussian Prime Minister Hermann Göring, Hitler's Deputy Rudolf Hess, SA Stabchef Ernst Röhm, leader of the Nazi Party's foreign political office Alfred Rosenberg and Adolf Hitler's economic advisor Dr. Otto Wagener.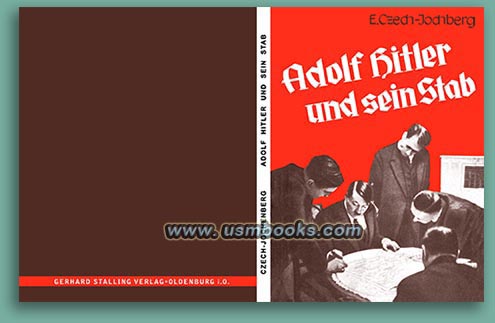 Those men are shown and the text explains their background and why they were qualified for their important new position in Nazi Germany. They are shown with and without Hitler, in uniform and civilian clothes, during speeches and public appearances - in many rare photographs that do not appear in more common Third Reich photos books.
The author of this book, Erich Czech-Jochberg, was an Austrian journalist who had moved to Germany in 1929. He was an early member of the Nazi Party and wrote several other highly complimentary books about Adolf Hitler and the Nazi Movement. However, he fell out of favor in 1935 and Adolf Hitler und sein Stab, was added to the "List of Damaging and Undesirable Literature" and was outlawed by the Nazi Party.
The example of Adolf Hitler und sein Stab for sale on this USMBOOKS web page is an original 84 year old book, it is NOT a modern reprint. It is complete and in nice used condition and comes with its rare original but well-worn dust jacket.
This rare 1933 Nazi photo book Adolf Hitler und sein Stab is
**SOLD**


USM book #815
• IF you prefer faster and safer Priority Mail shipping with USPS Tracking add $6.95.
• IF you wish to purchase highly recommended, but optional insurance, add $4.75.
• We will be happy to ship abroad at additional cost. Please inquire.
VERY RARE, EARLY NAZI PHOTO BOOK 'HITLER AND HIS STAFF' 1933
OUTLAWED IN NAZI GERMANY AFTER 1935!
ADOLF HITLER
UND SEIN STAB
A VERY RARE, VERY EARLY THIRD REICH PHOTO BOOK INTRODUCING HITLER'S CABINET MEMBERS - WITH ORIGINAL DUST JACKET